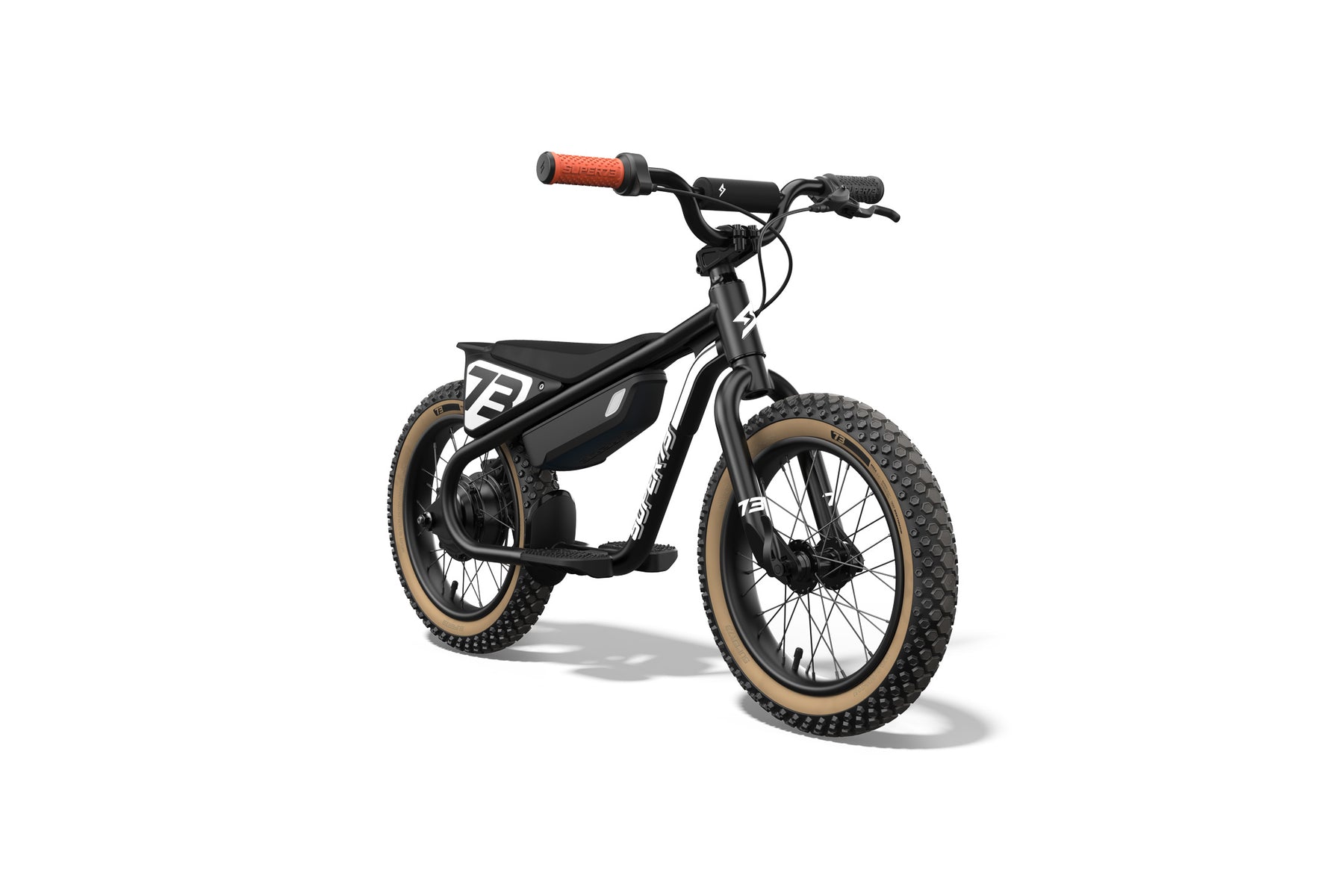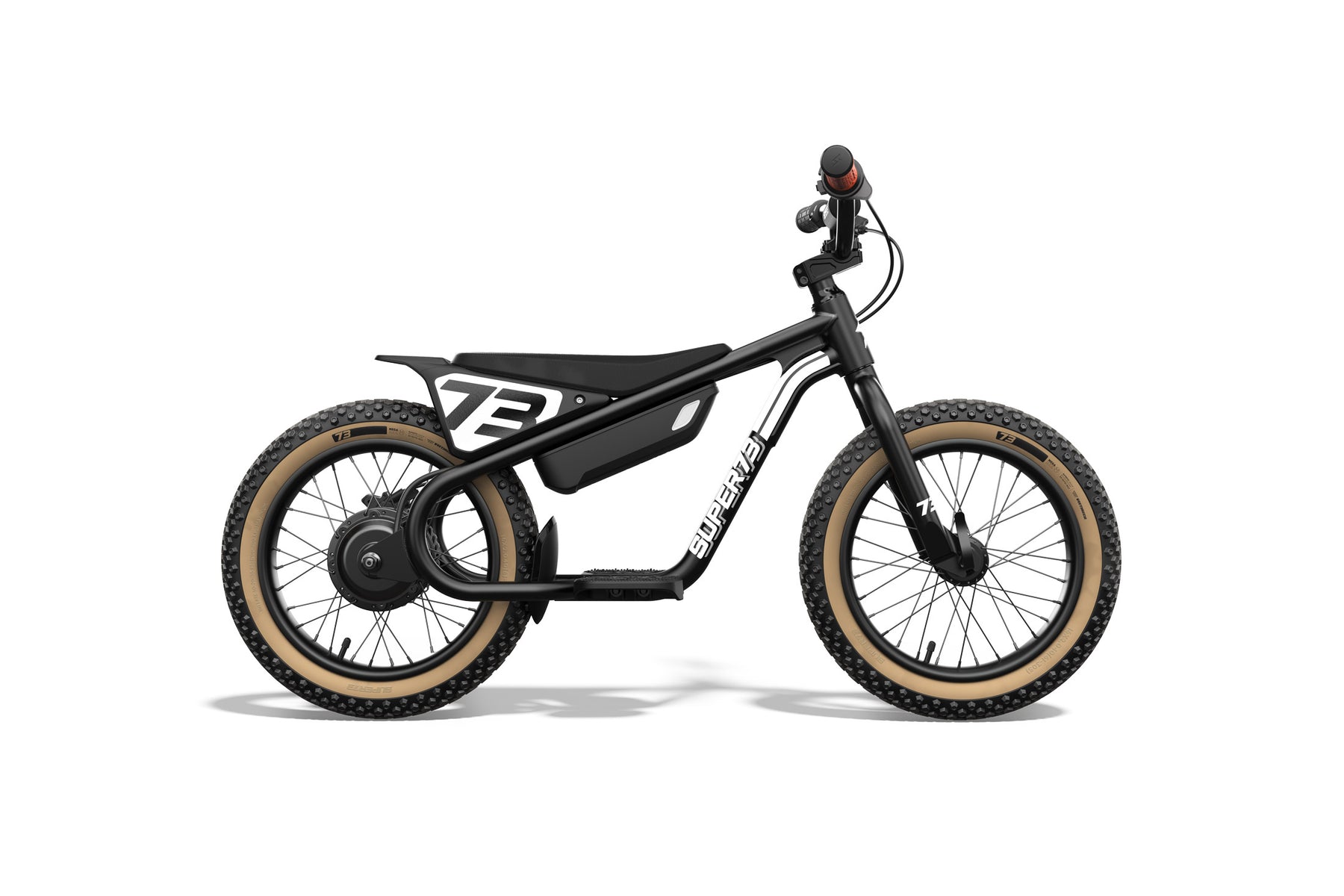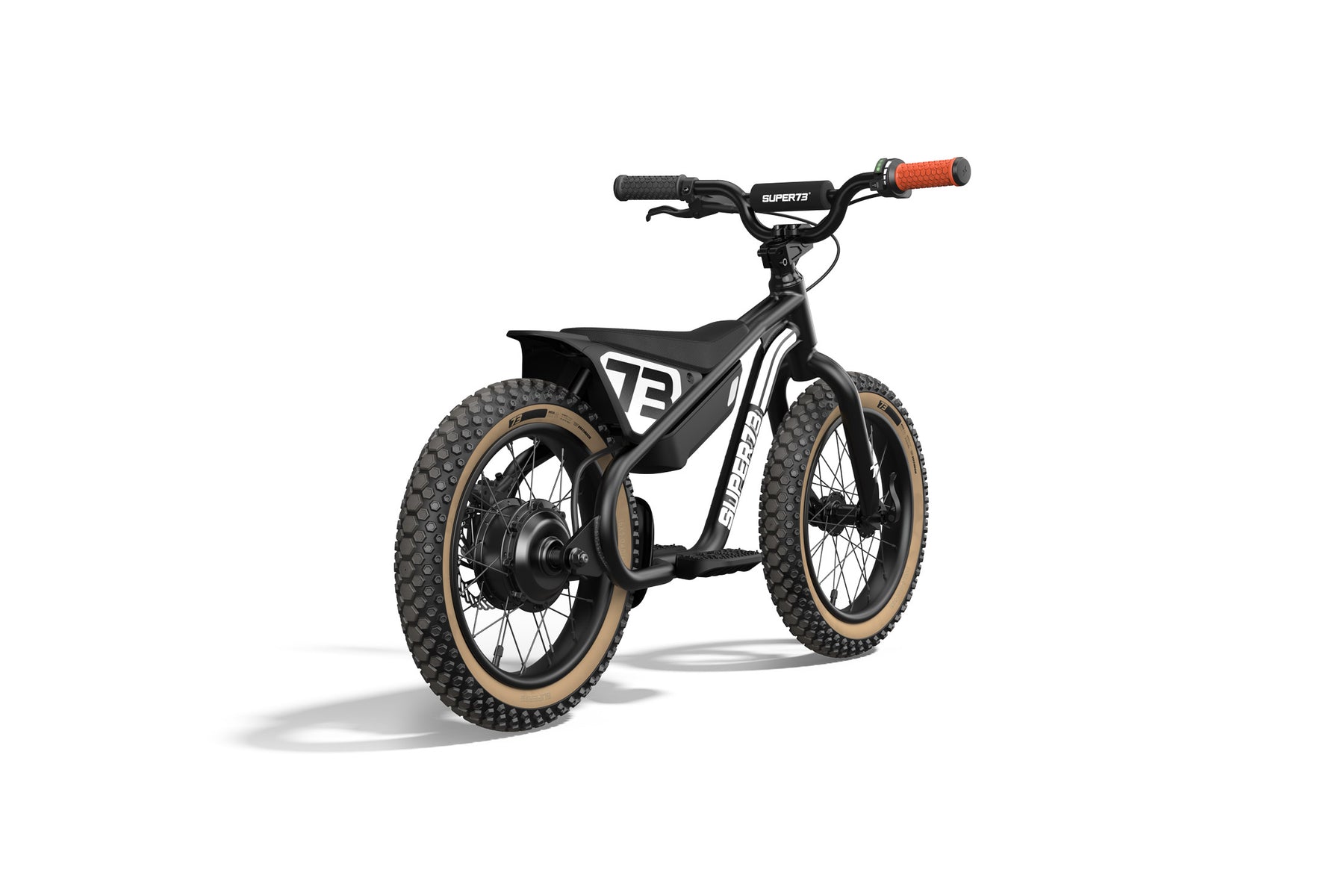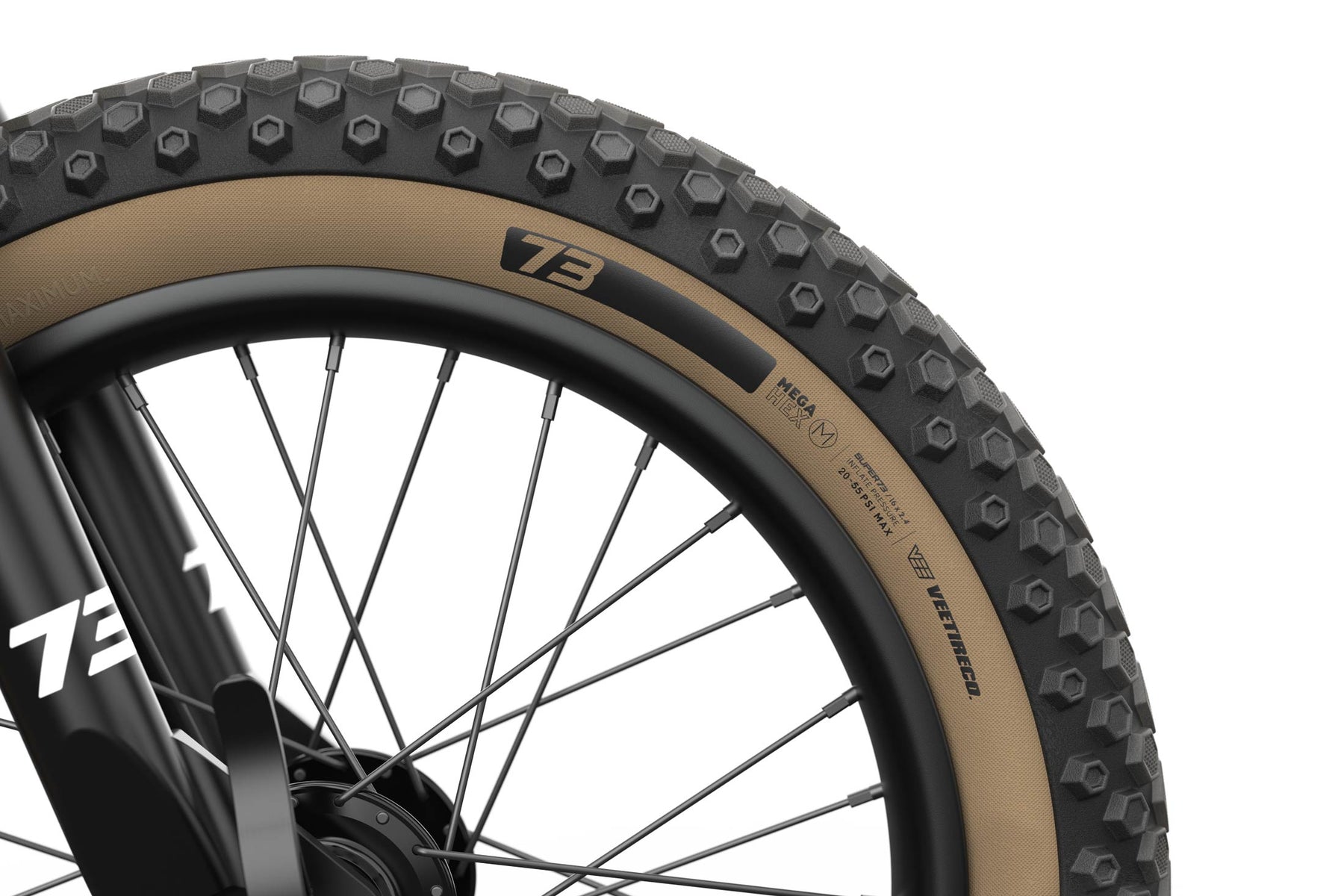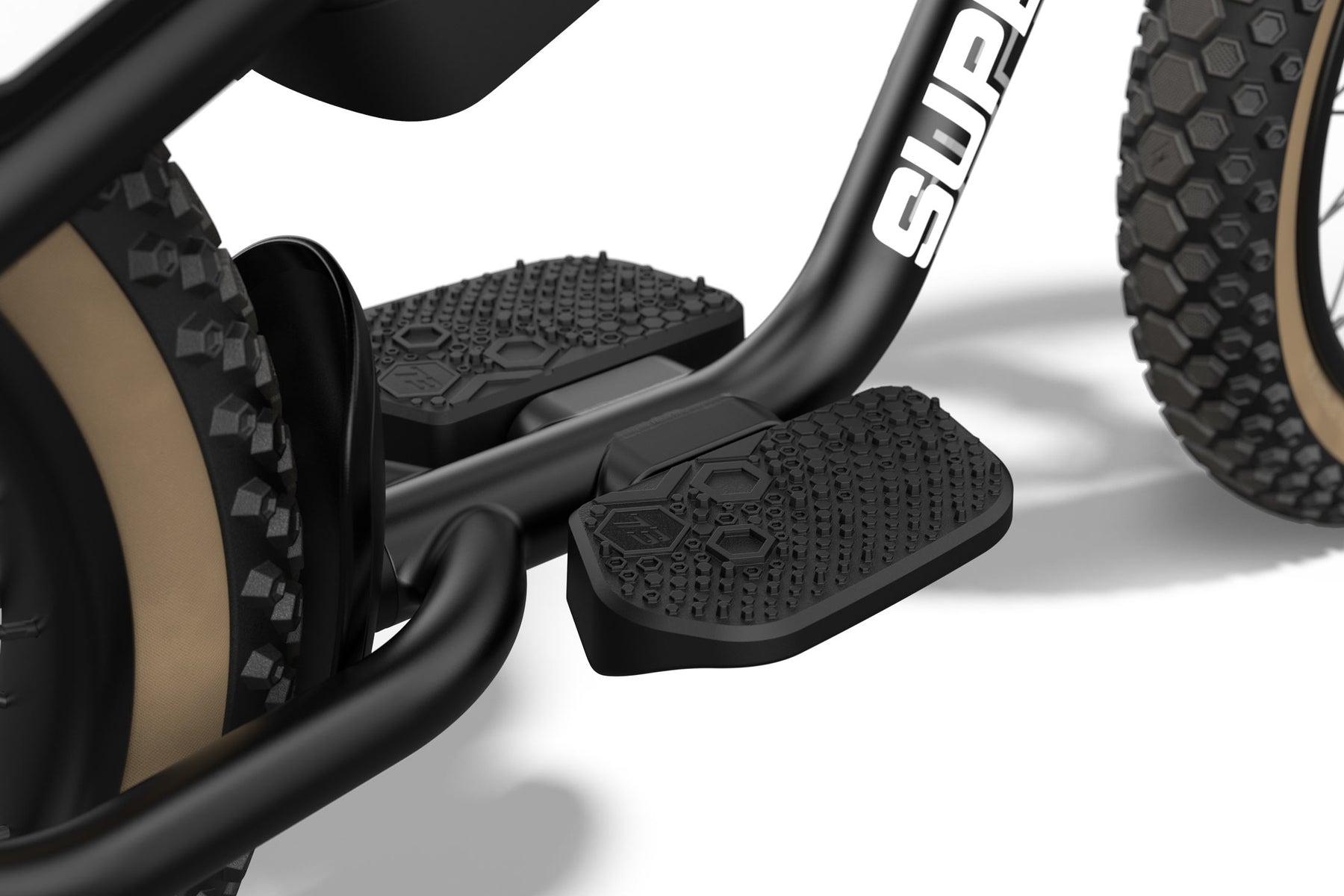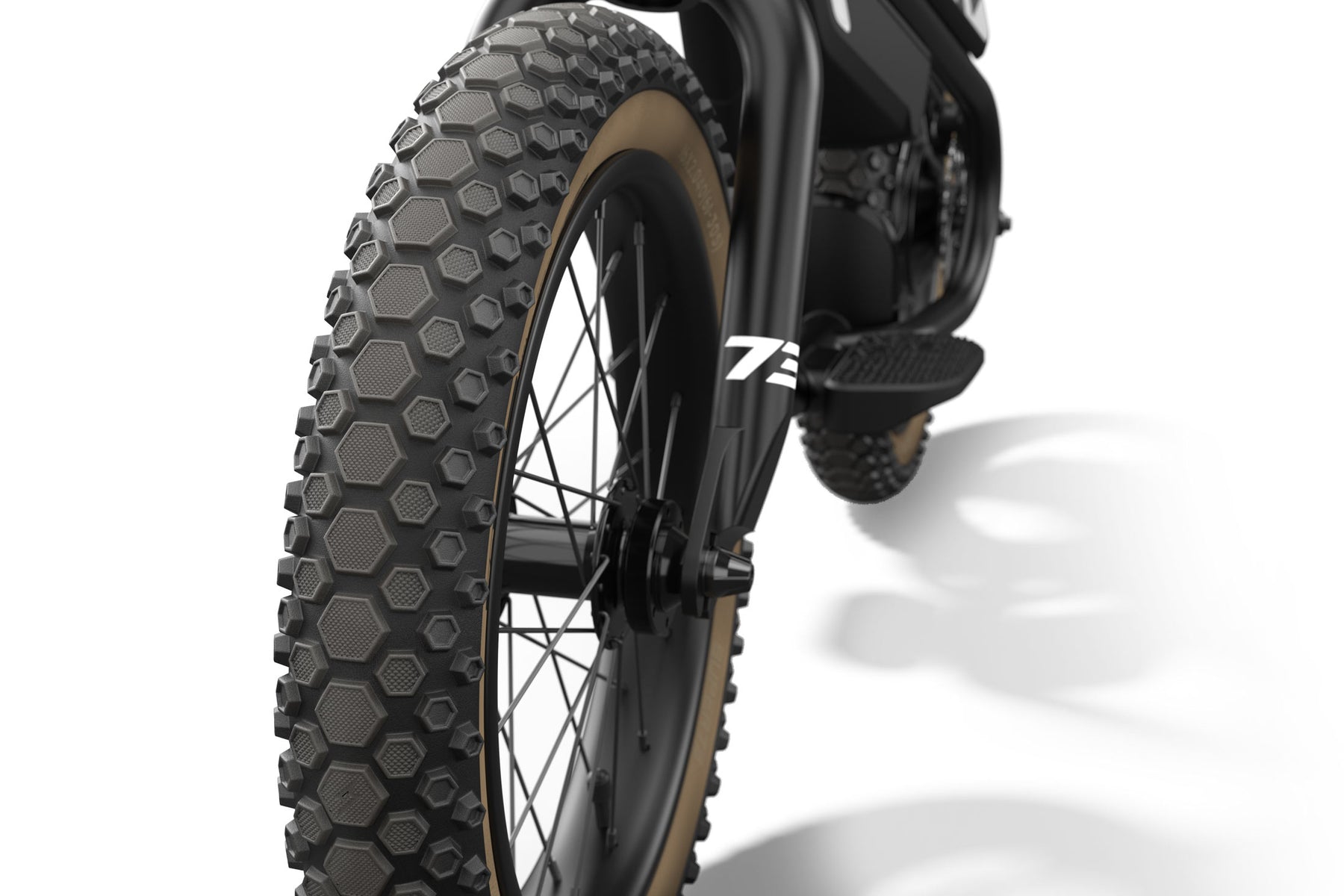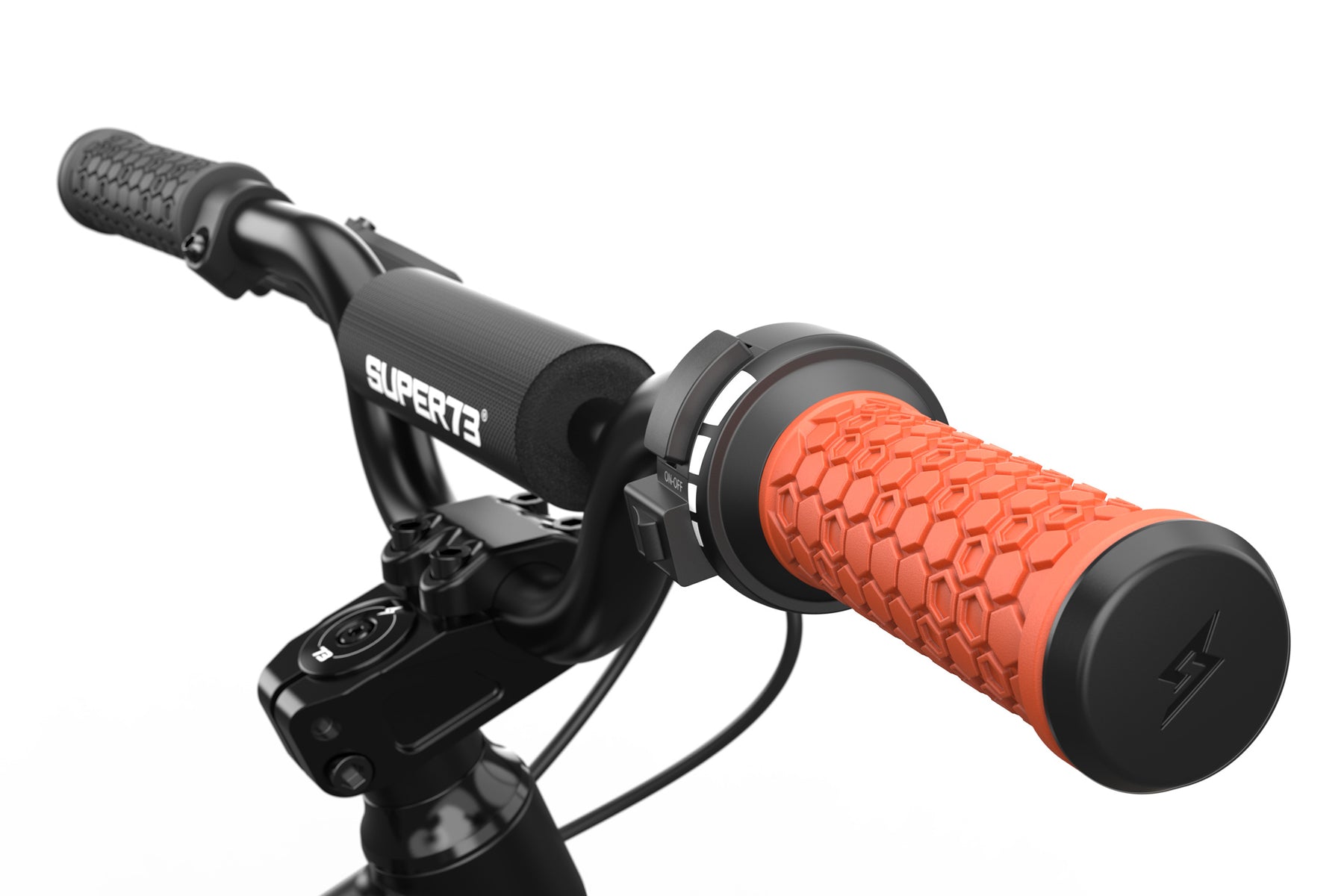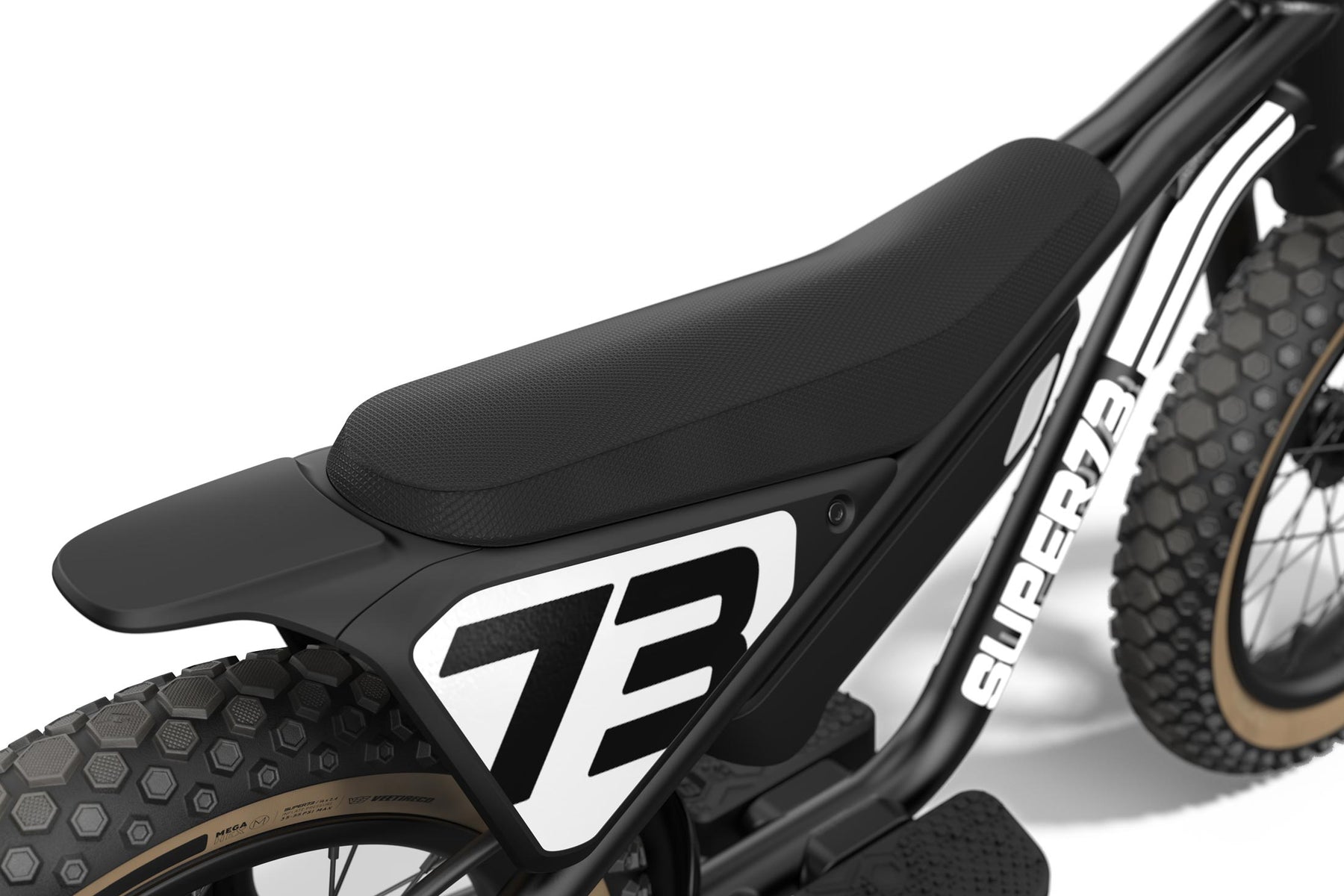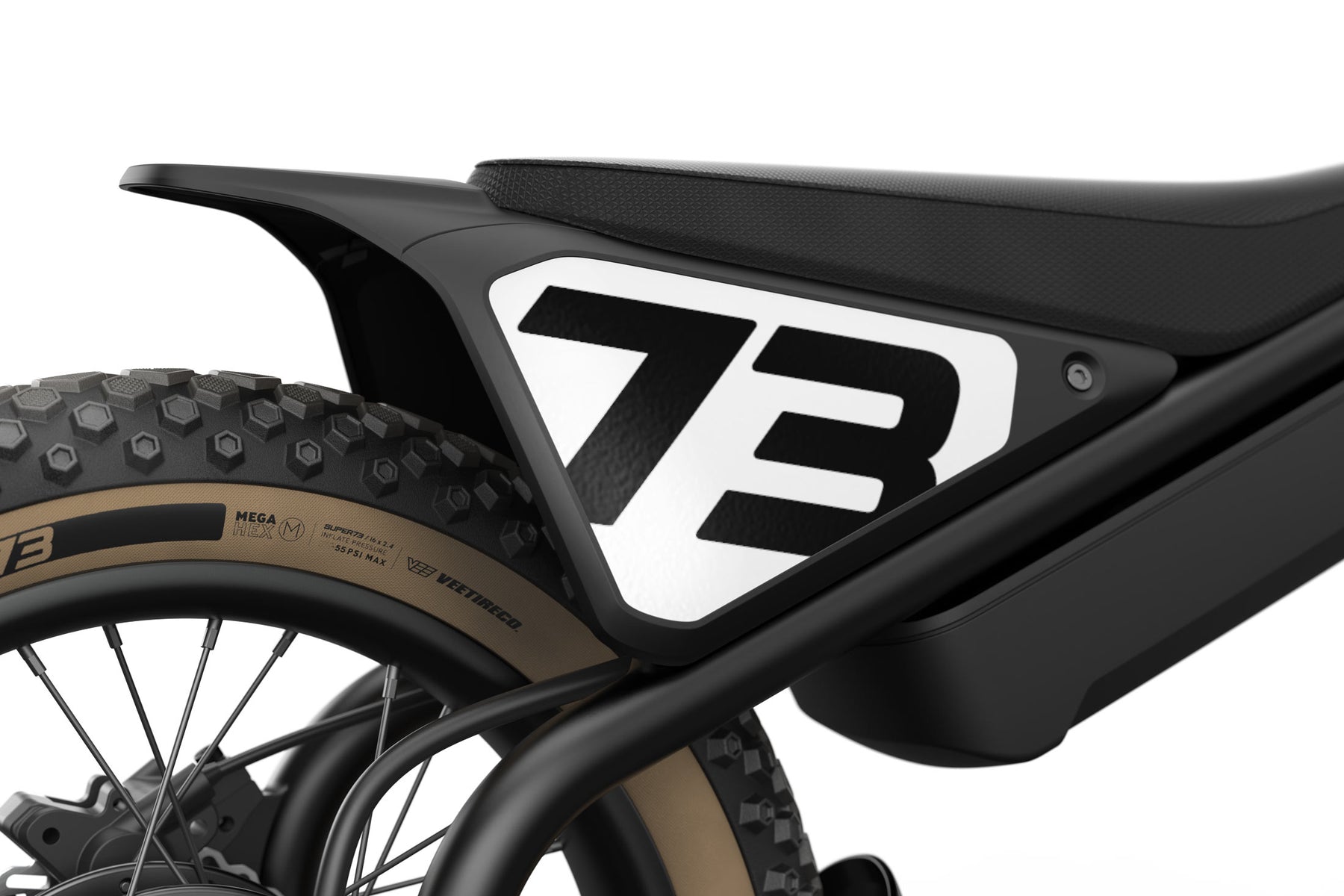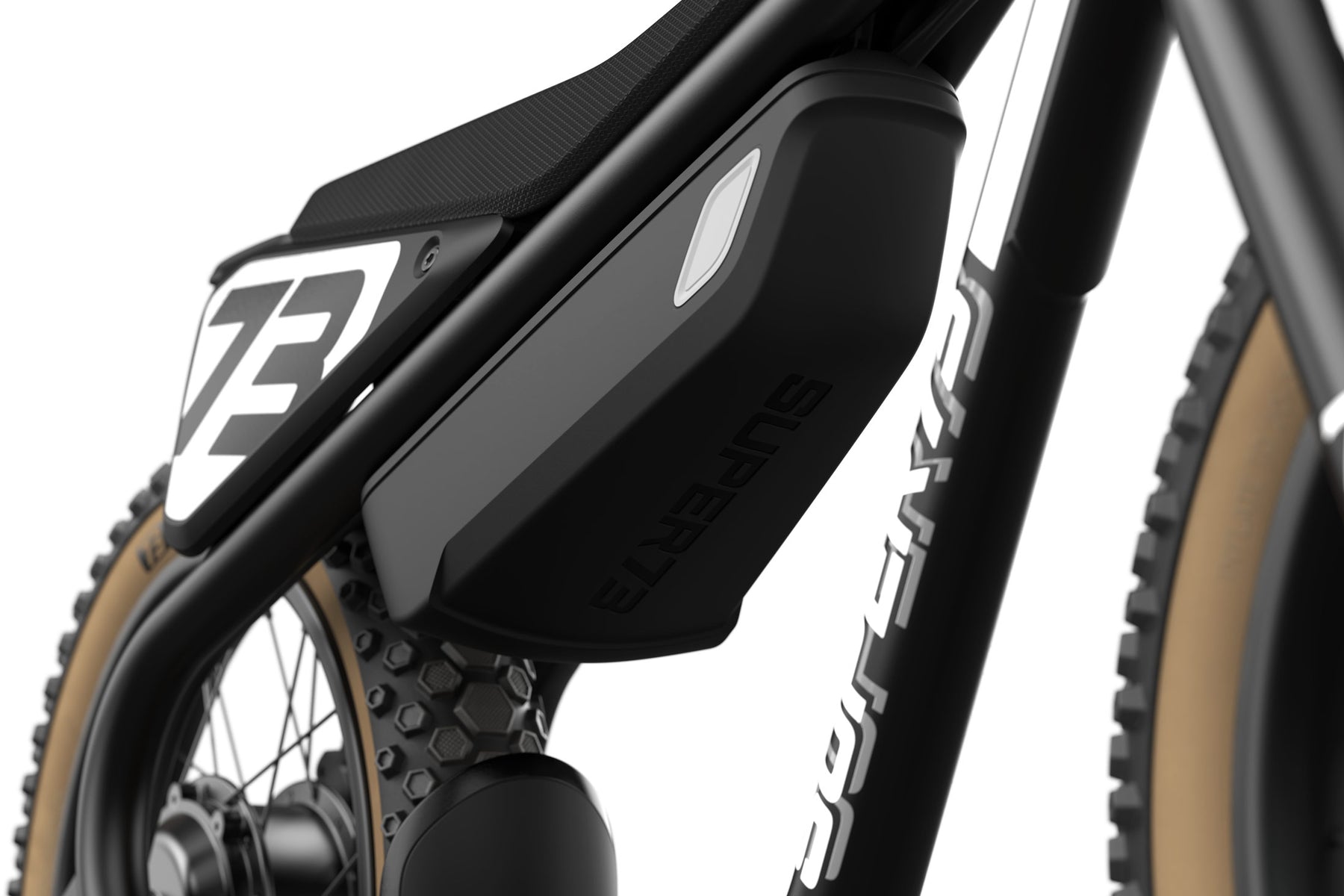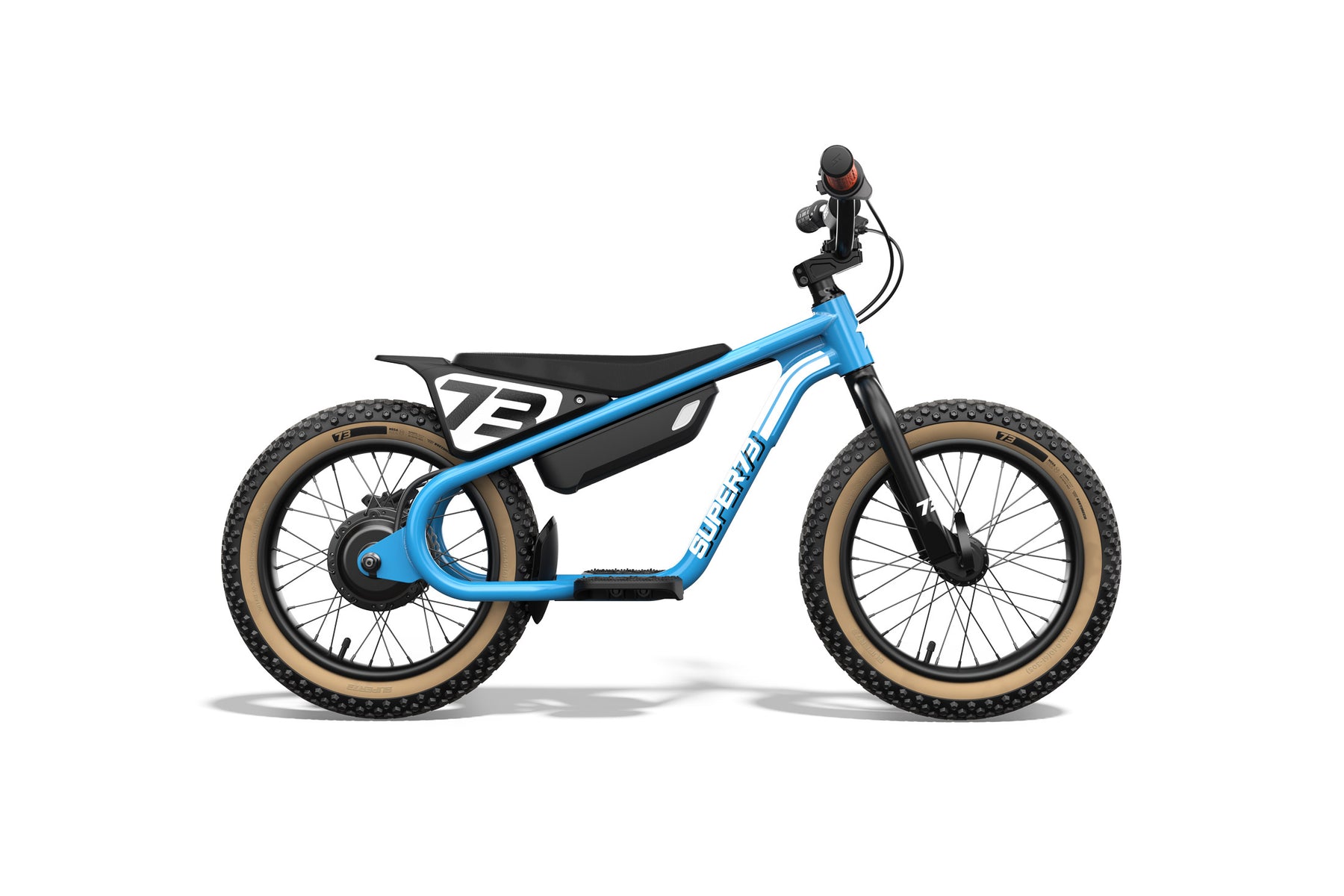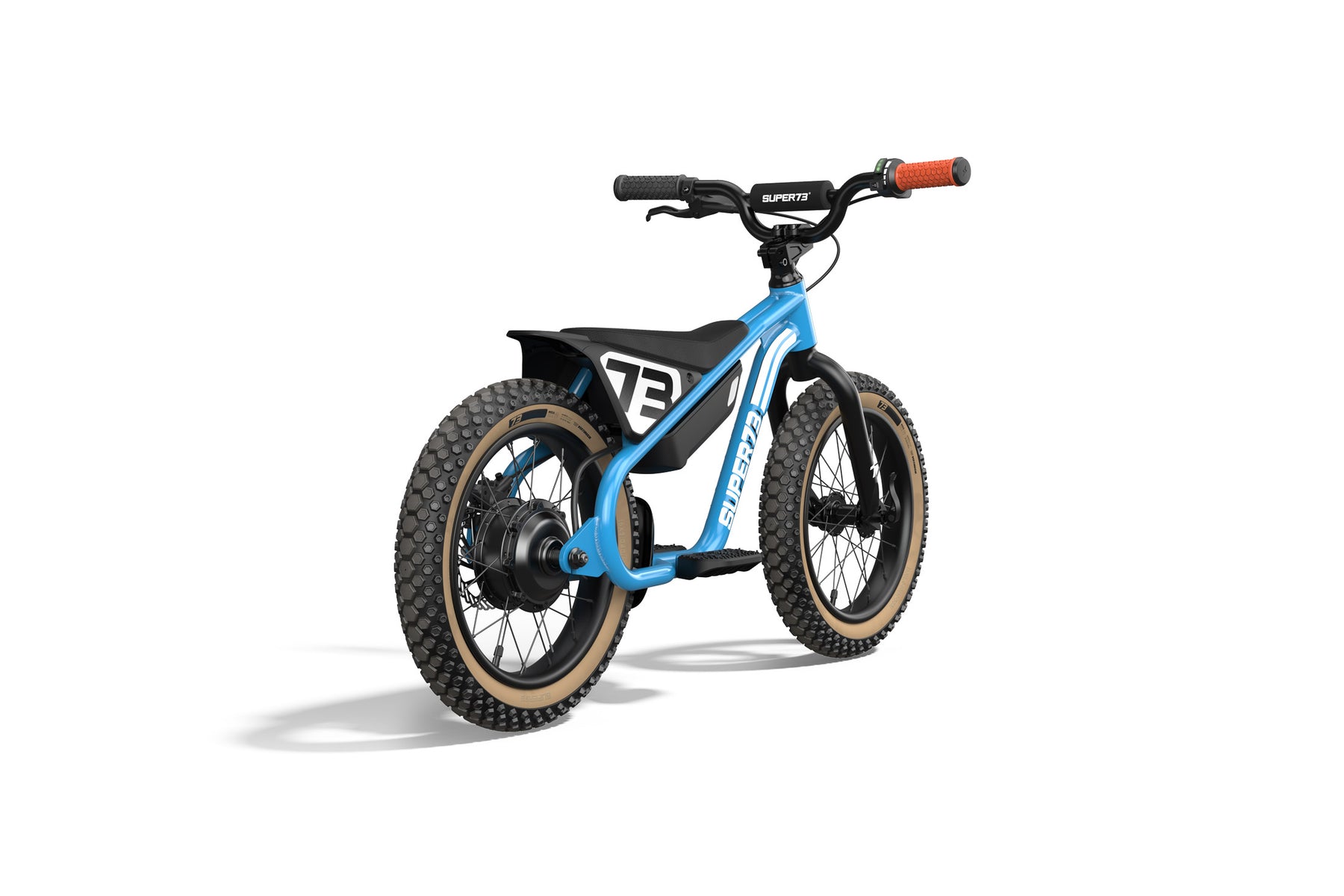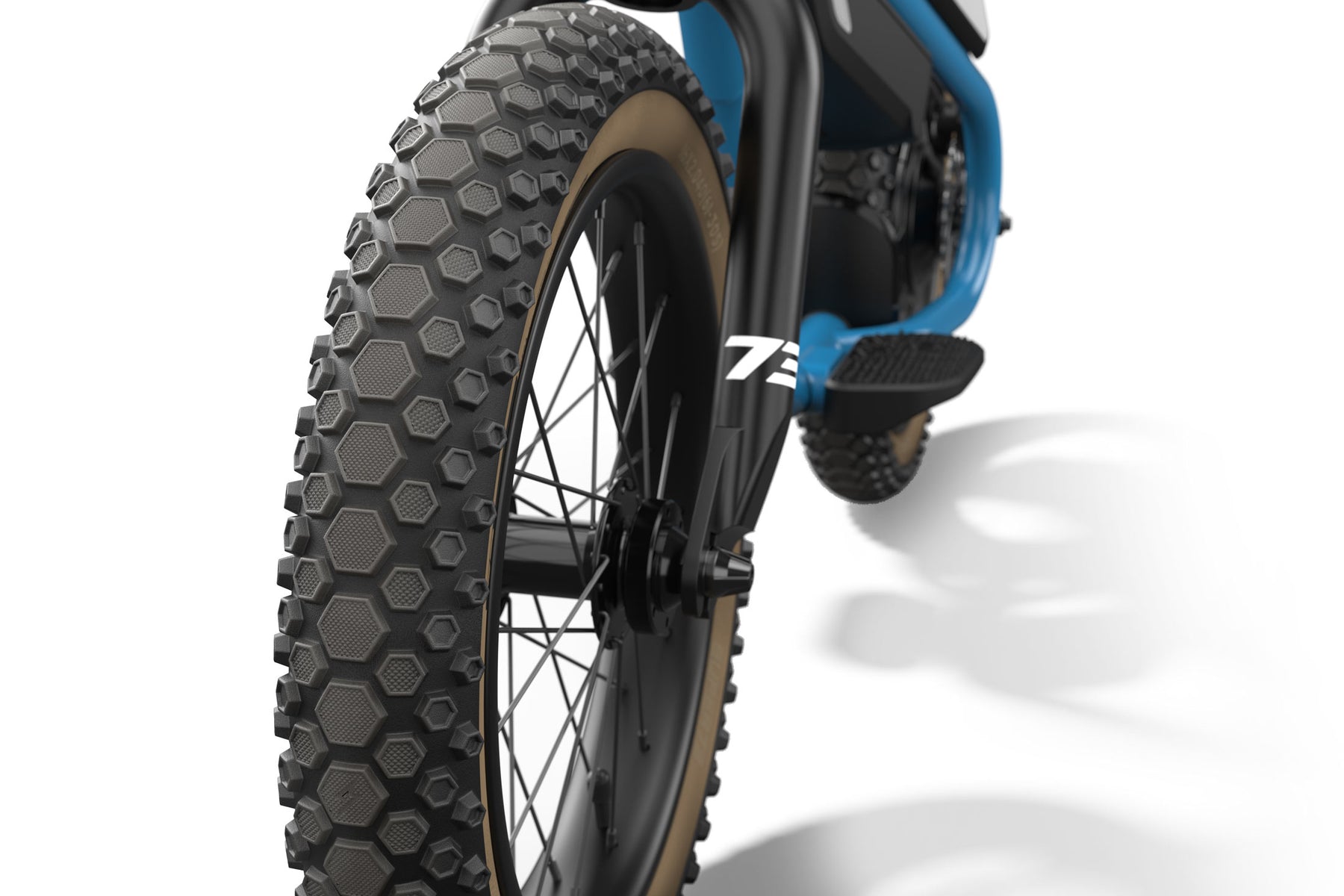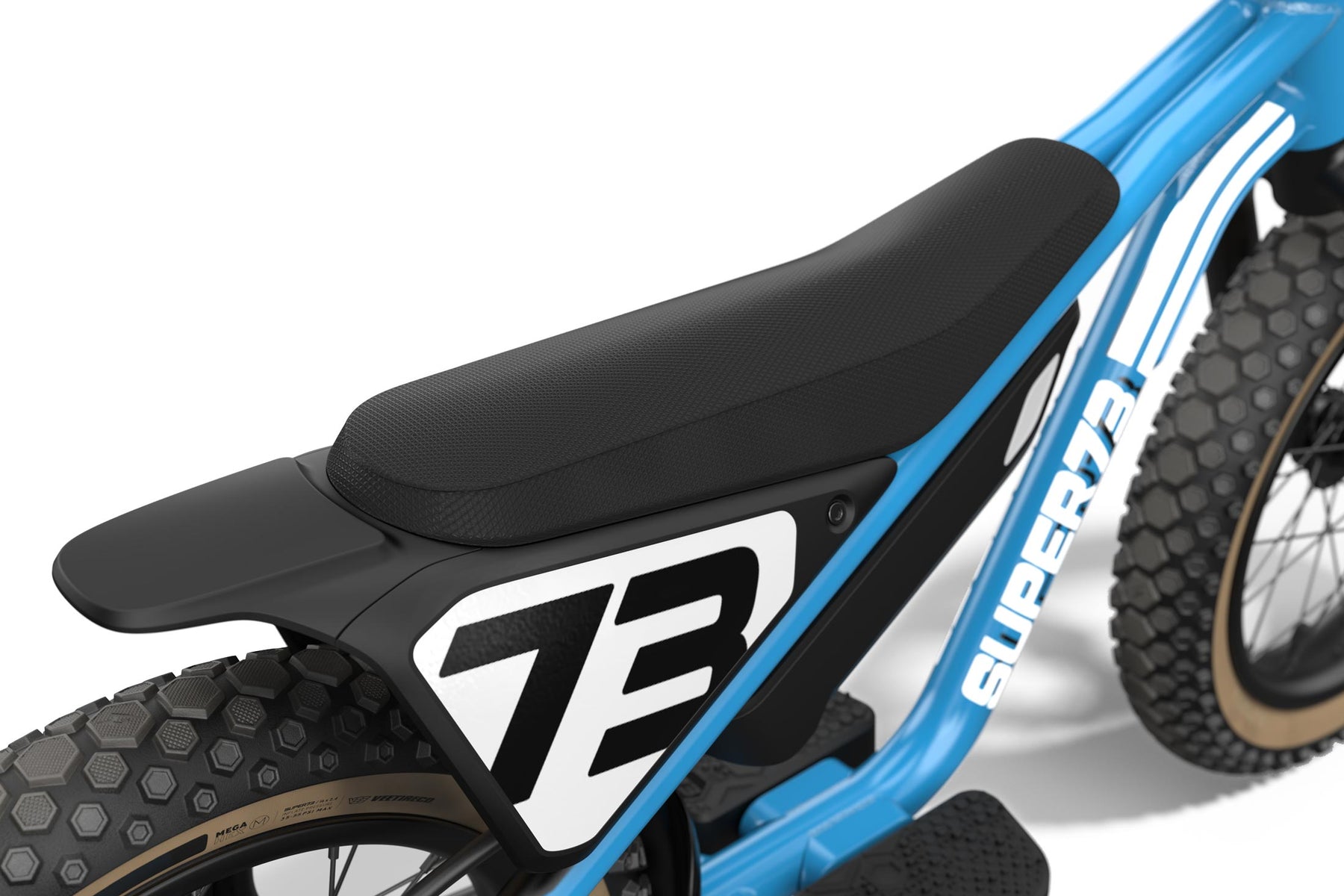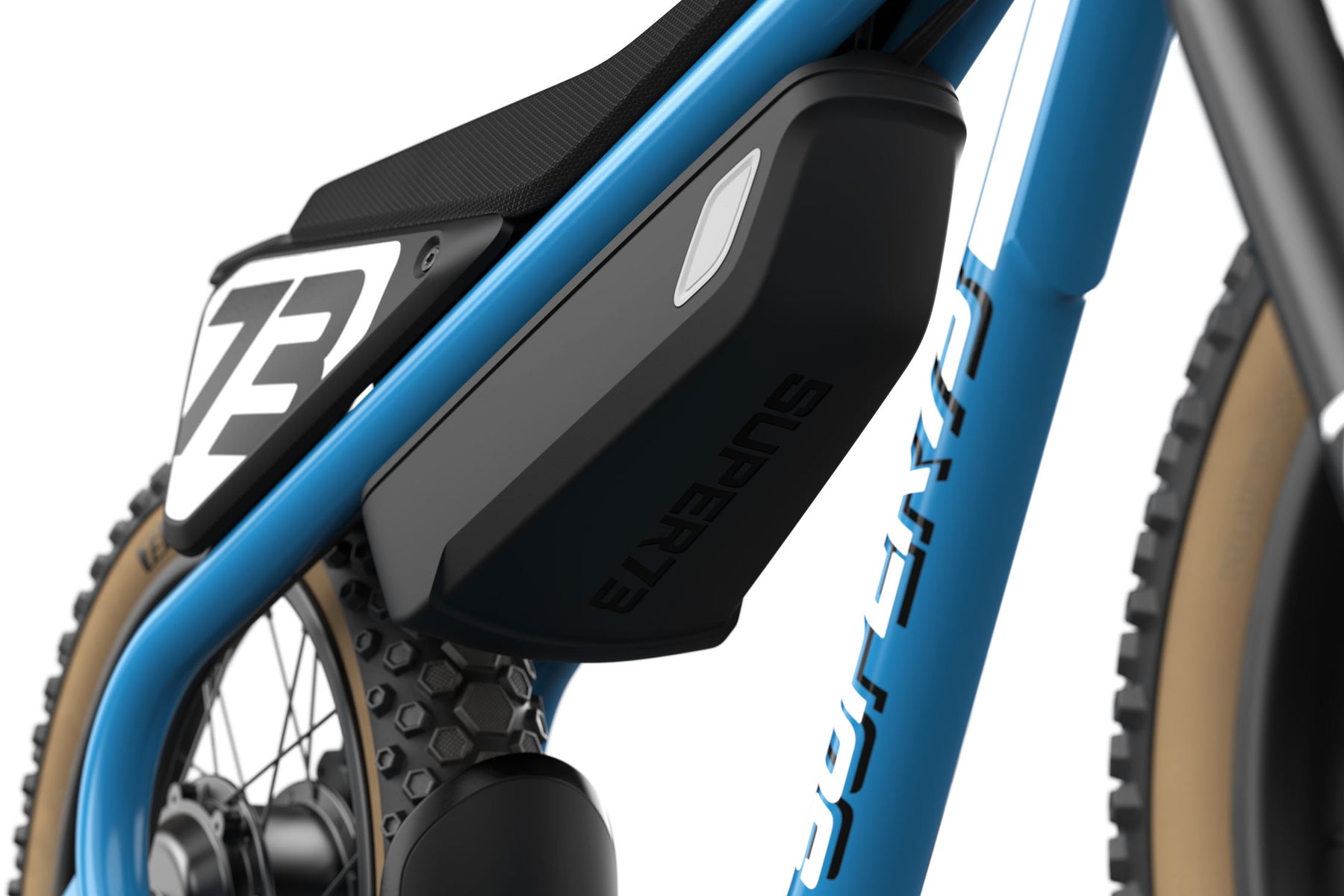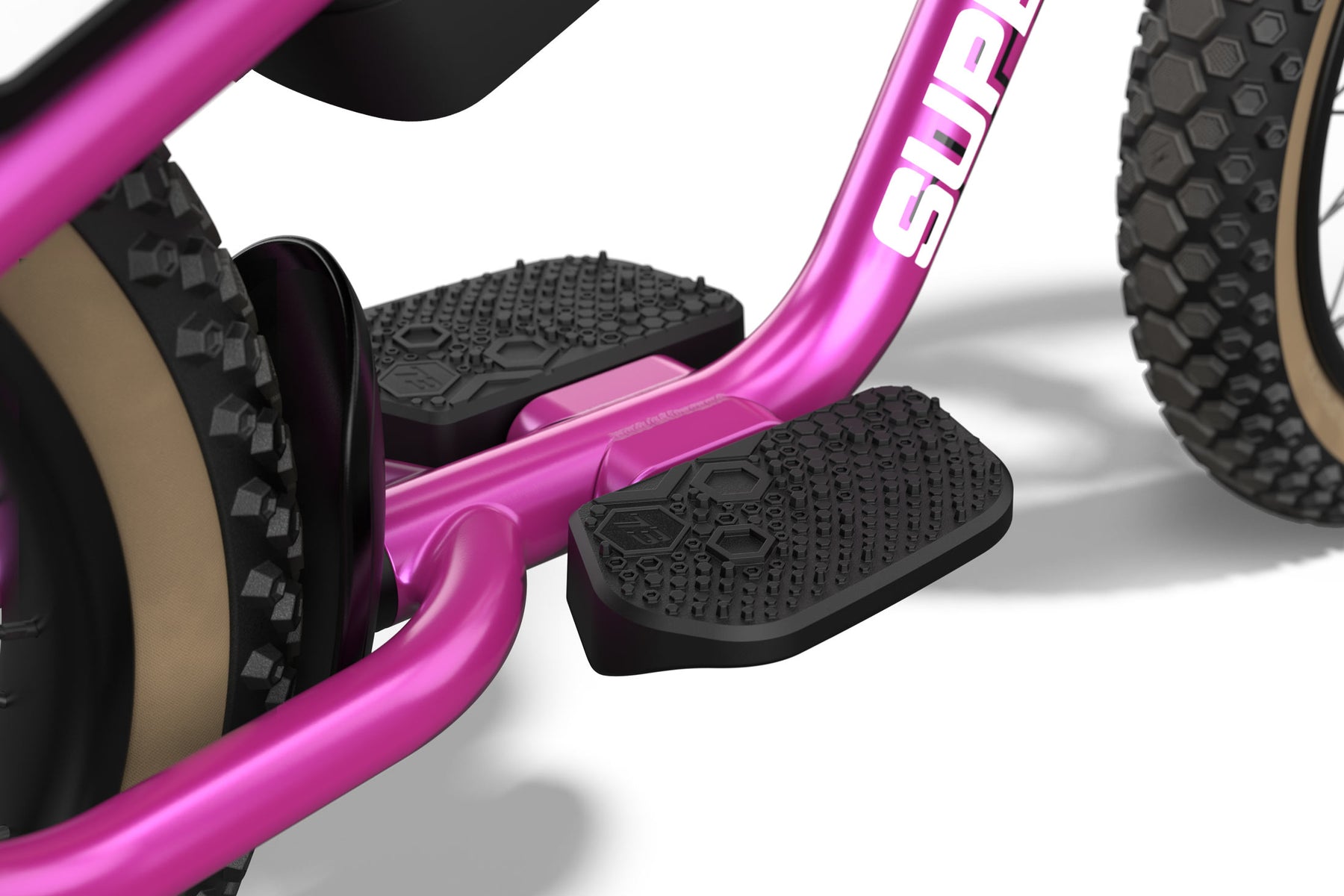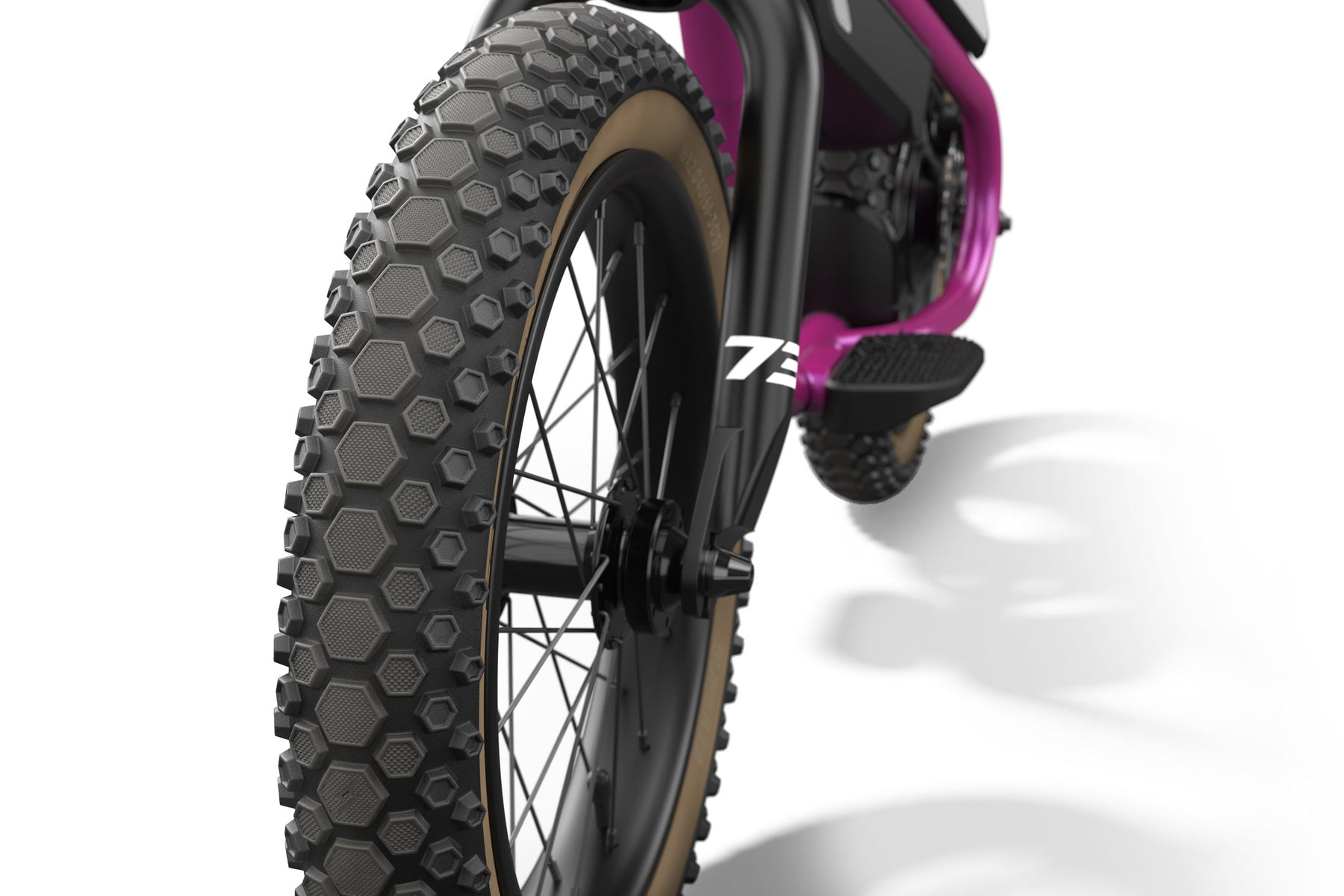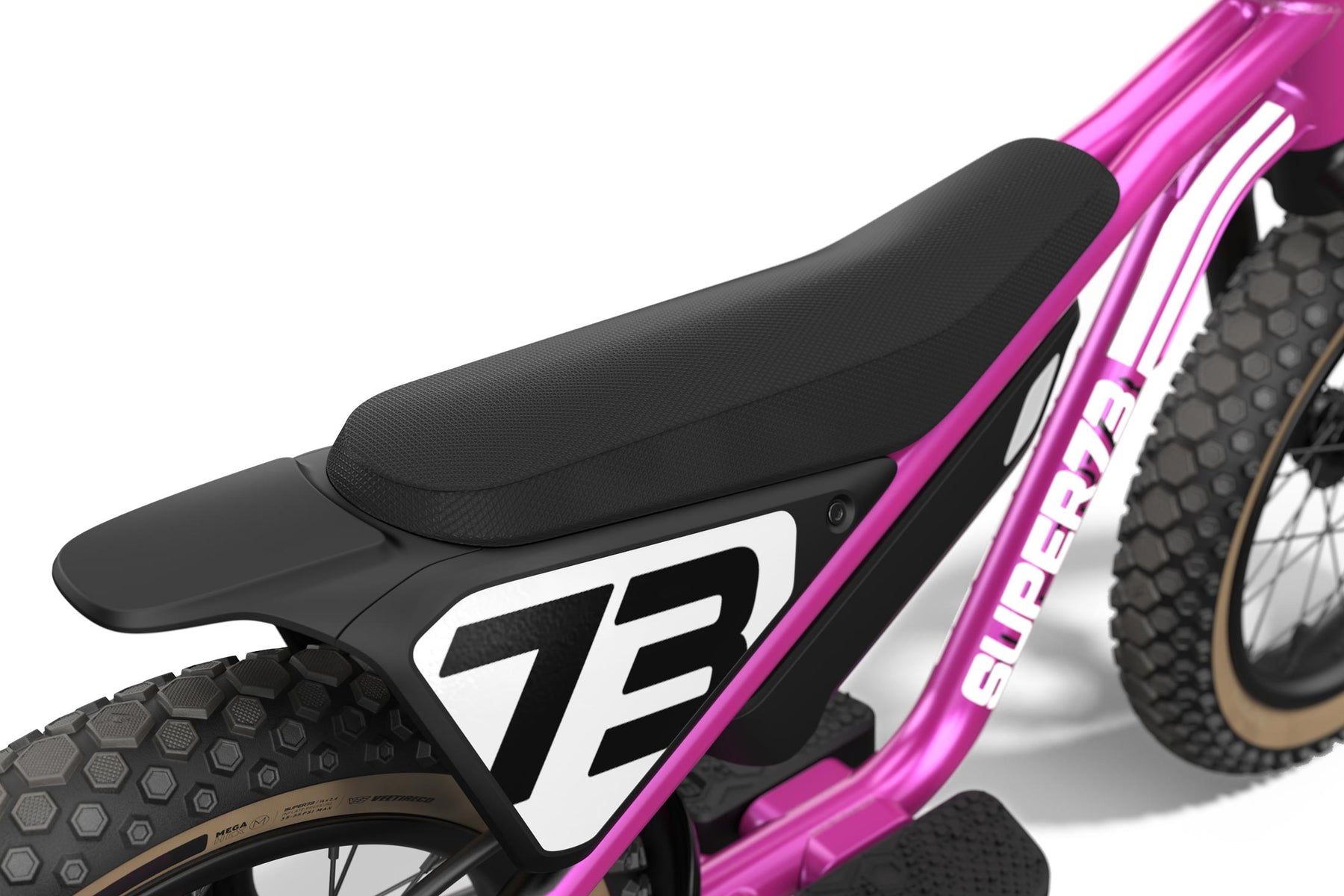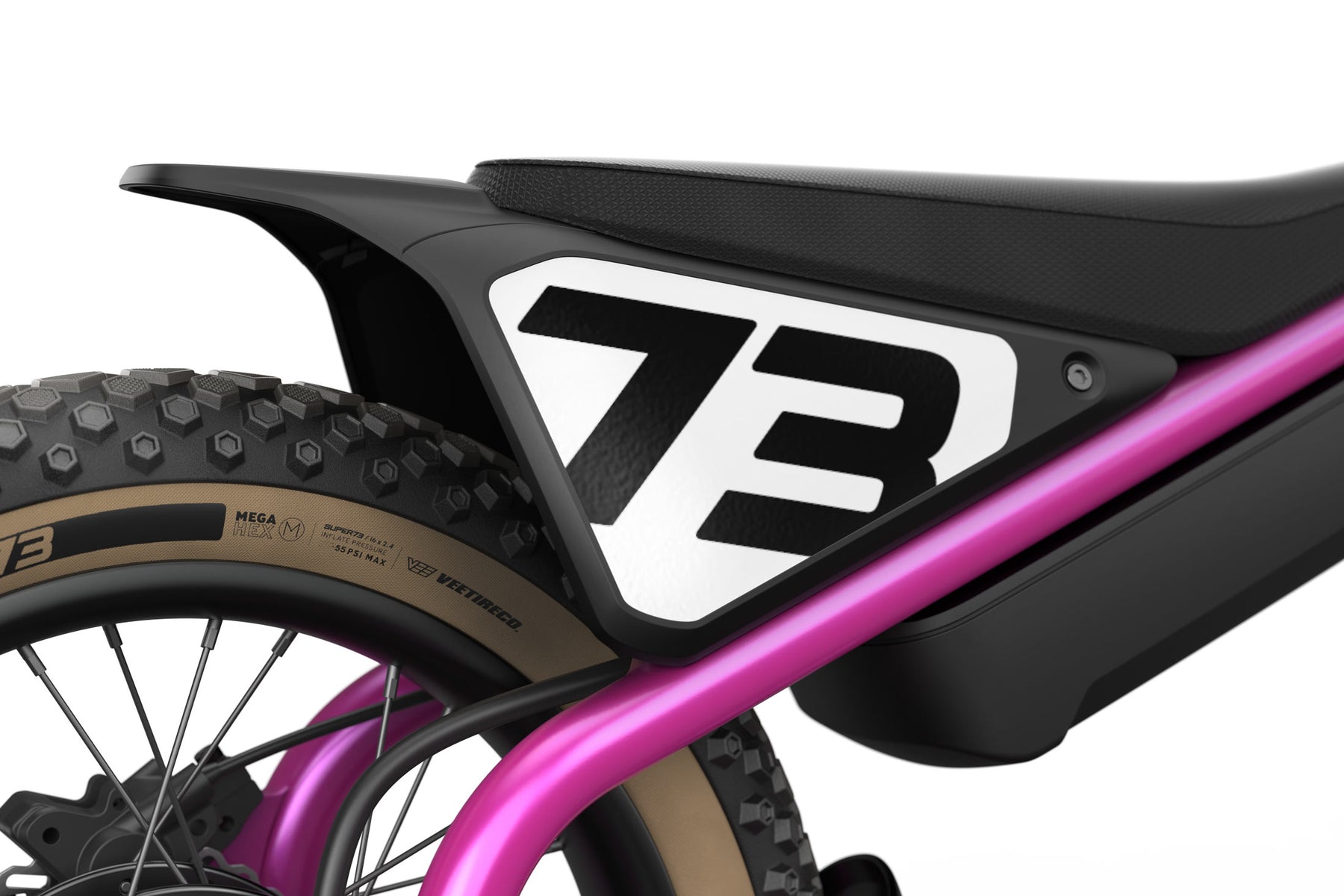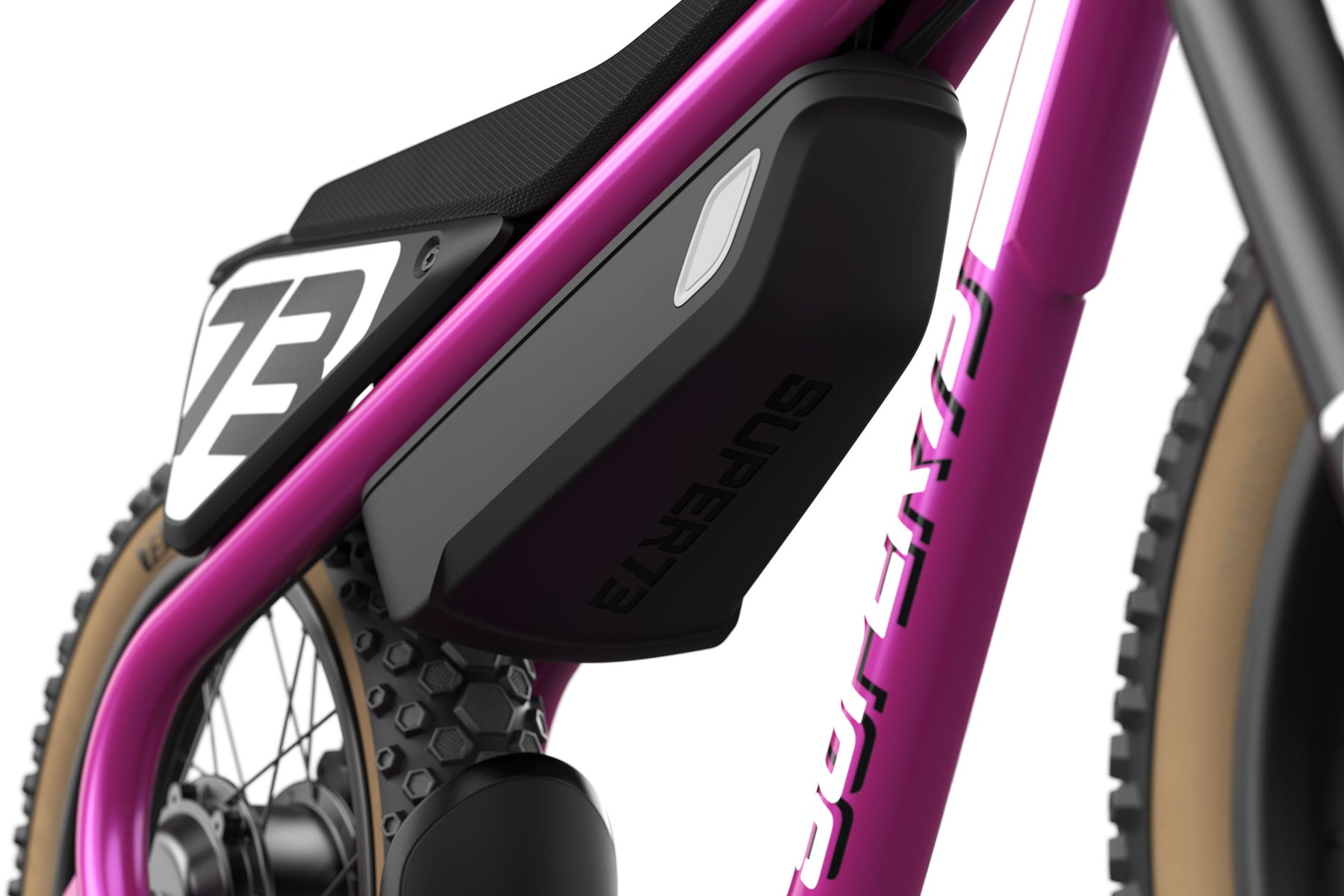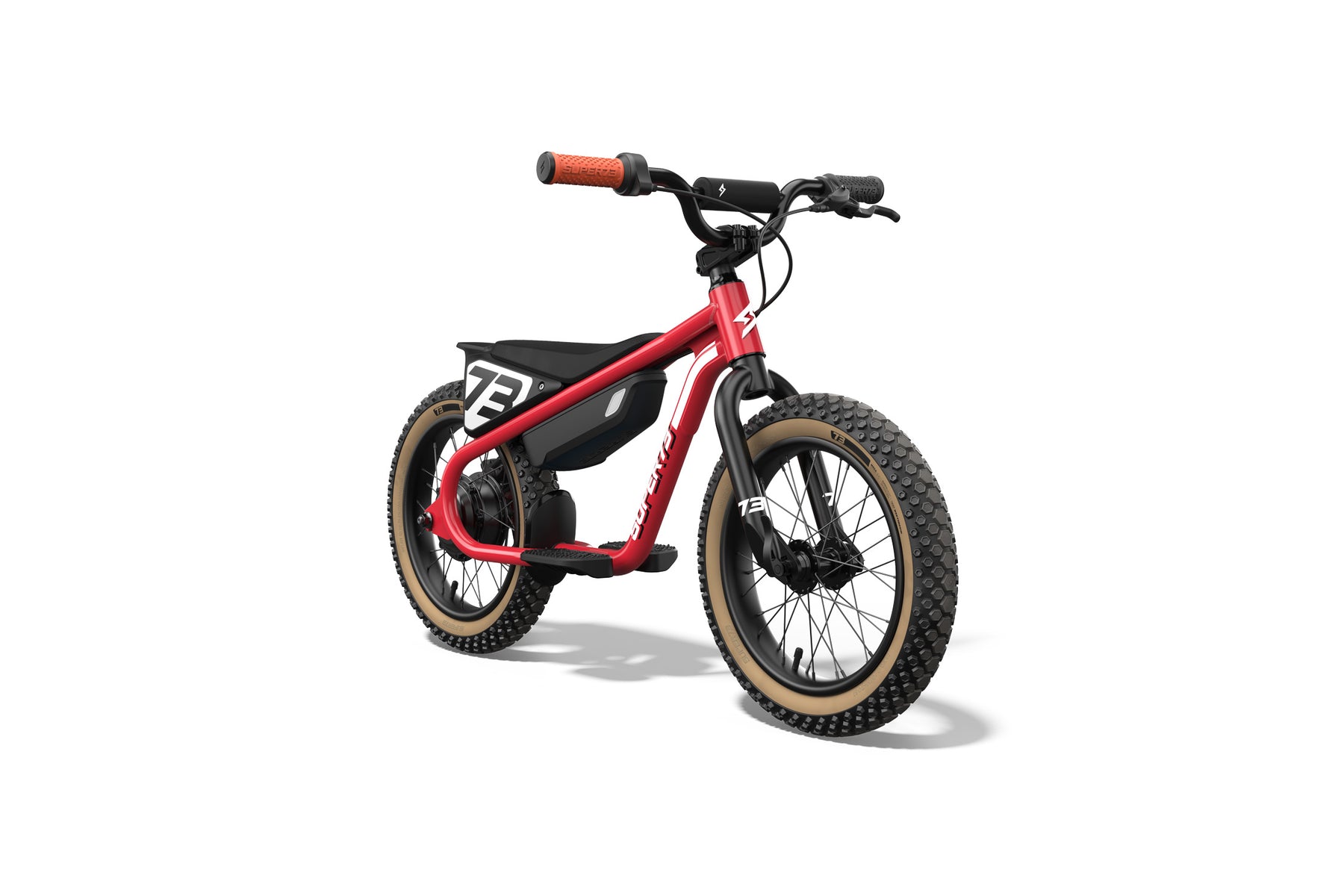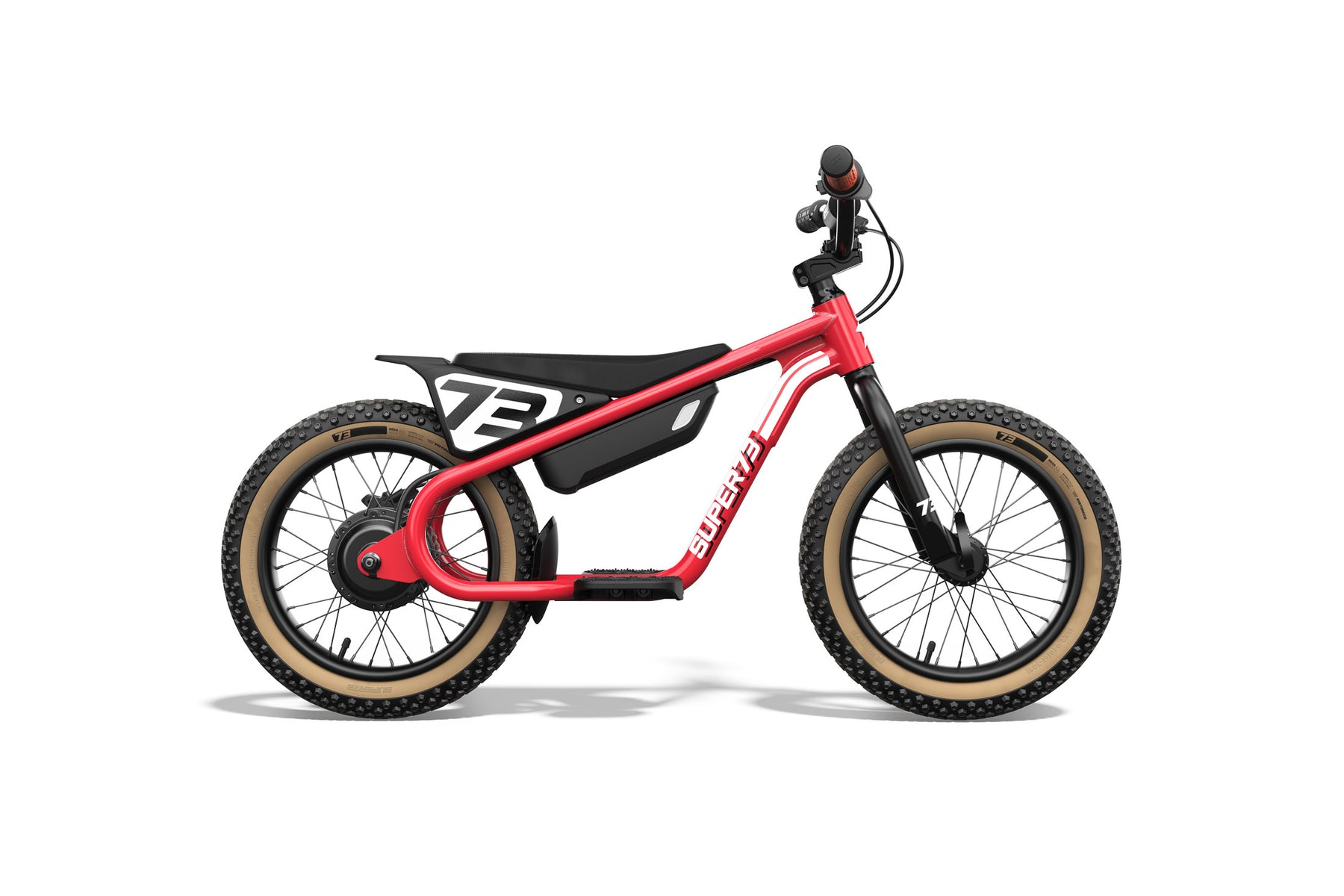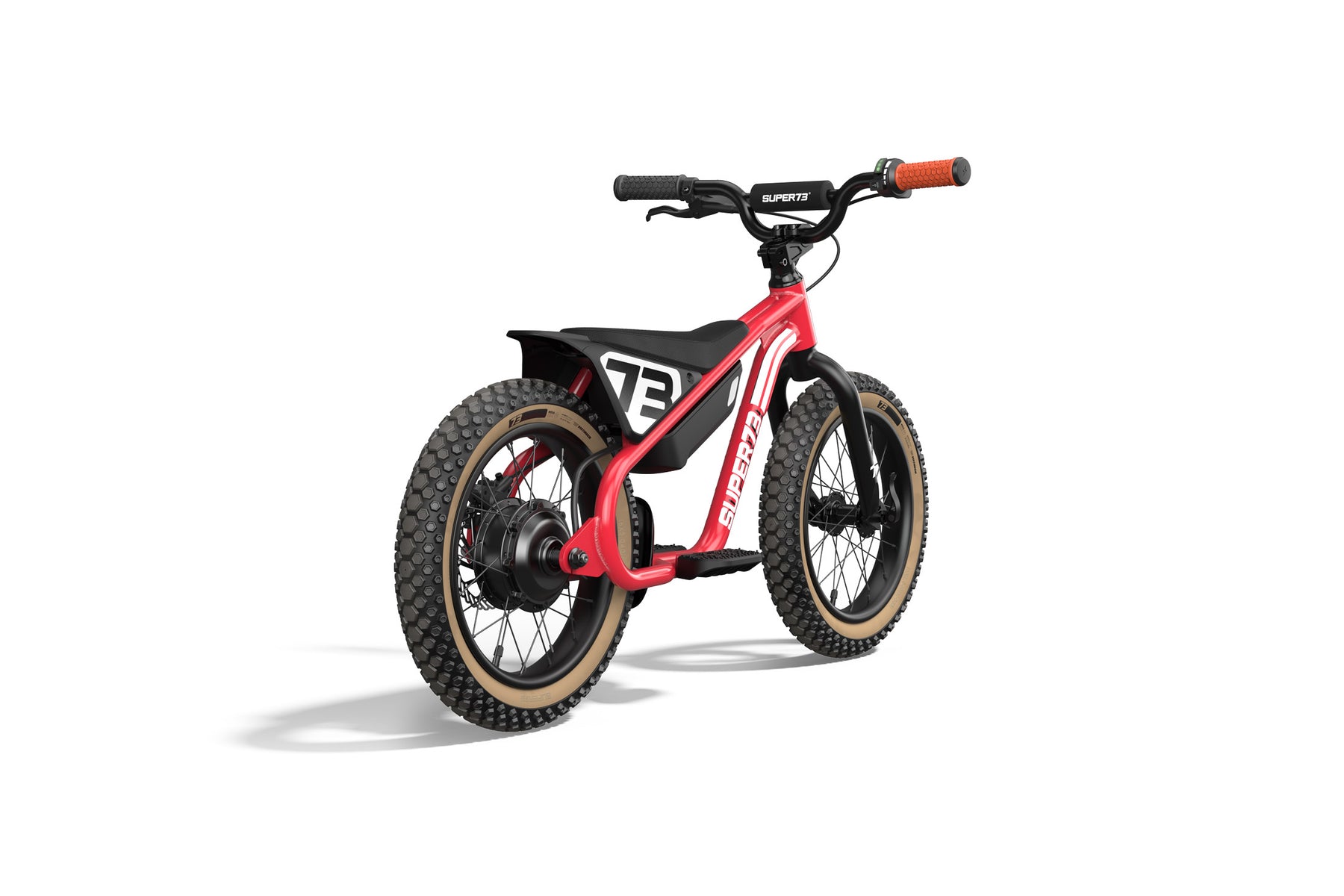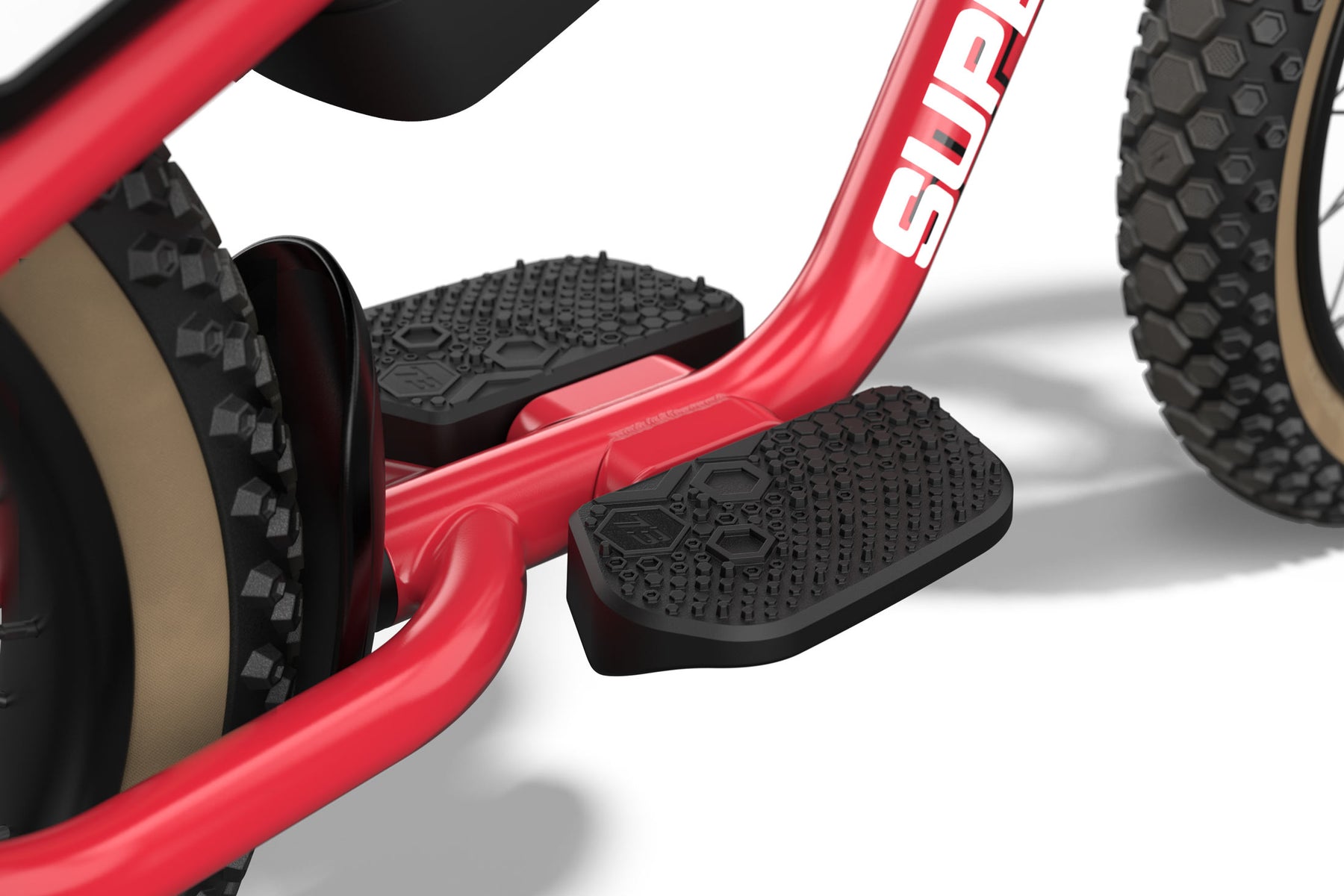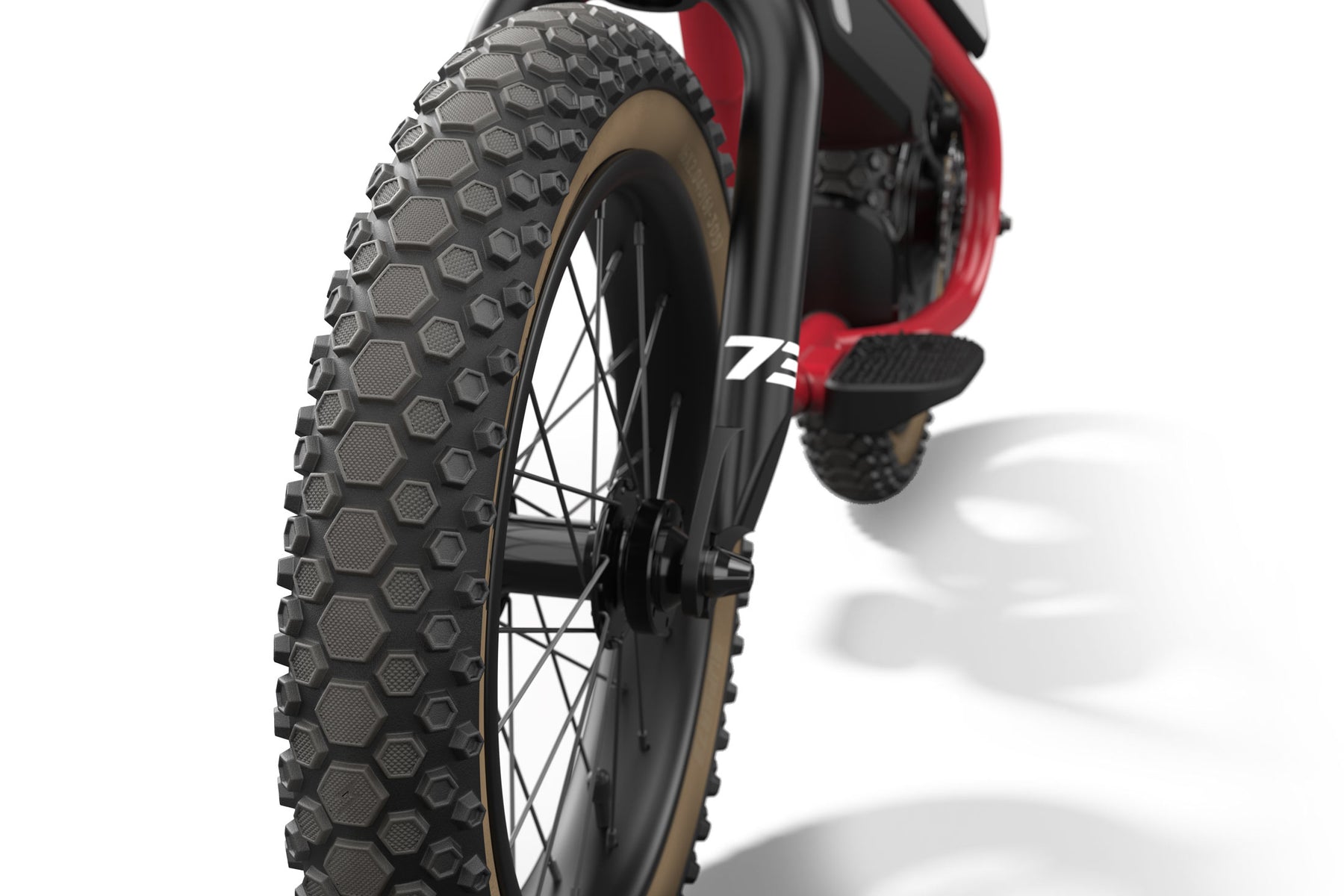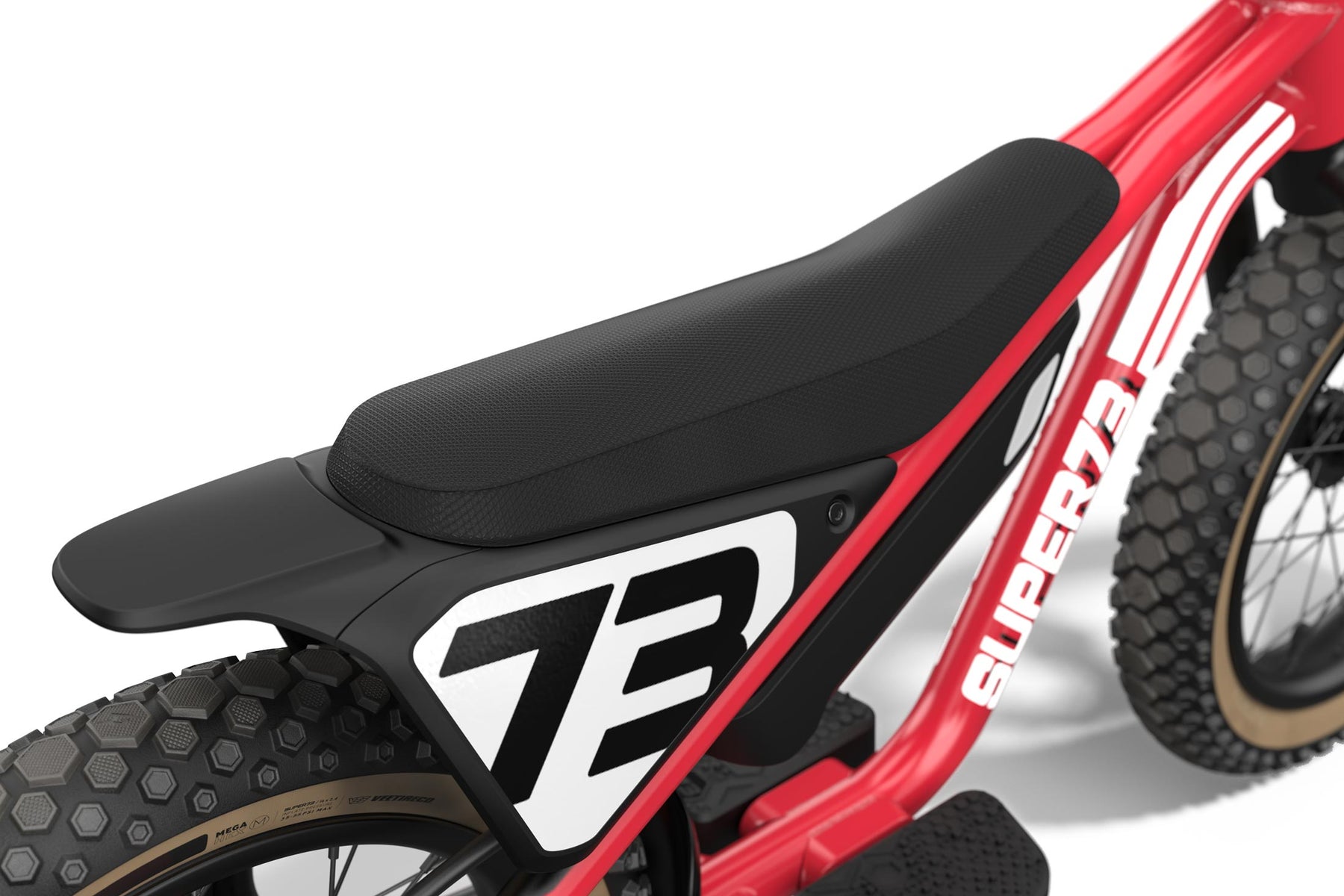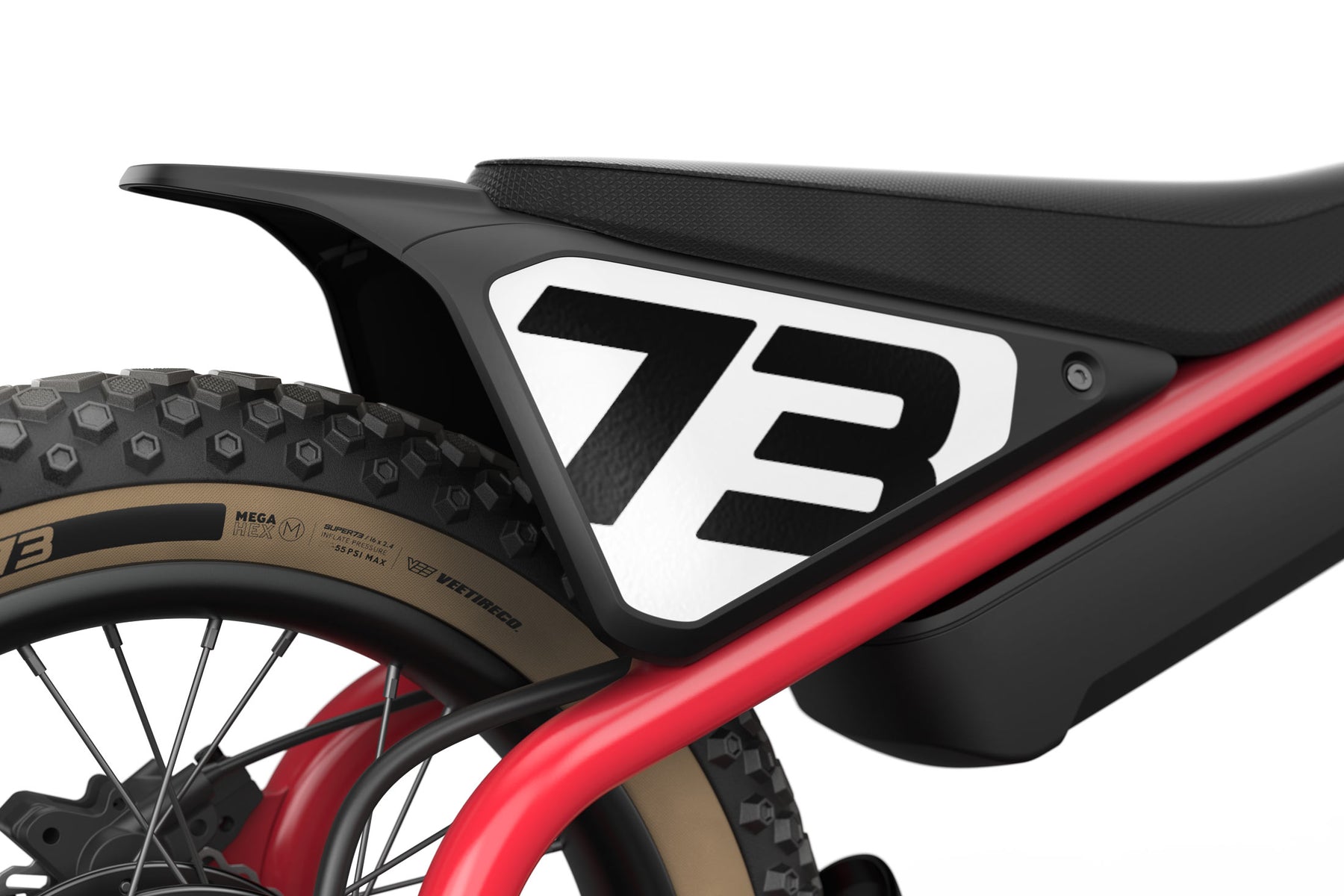 SUPER73-K1D
EMPOWER IMAGINATION WITH THE K1D
THE FIRST RIDE
Unlock their first adventure with the SUPER73-K1D. This all-new electric trainer is designed to address the challenges 4-8-year-olds typically face when learning to ride a bike for the first time. Empower your little ones to gain confidence, develop their skills, and create their own super adventures. Order now and become the coolest family on the block.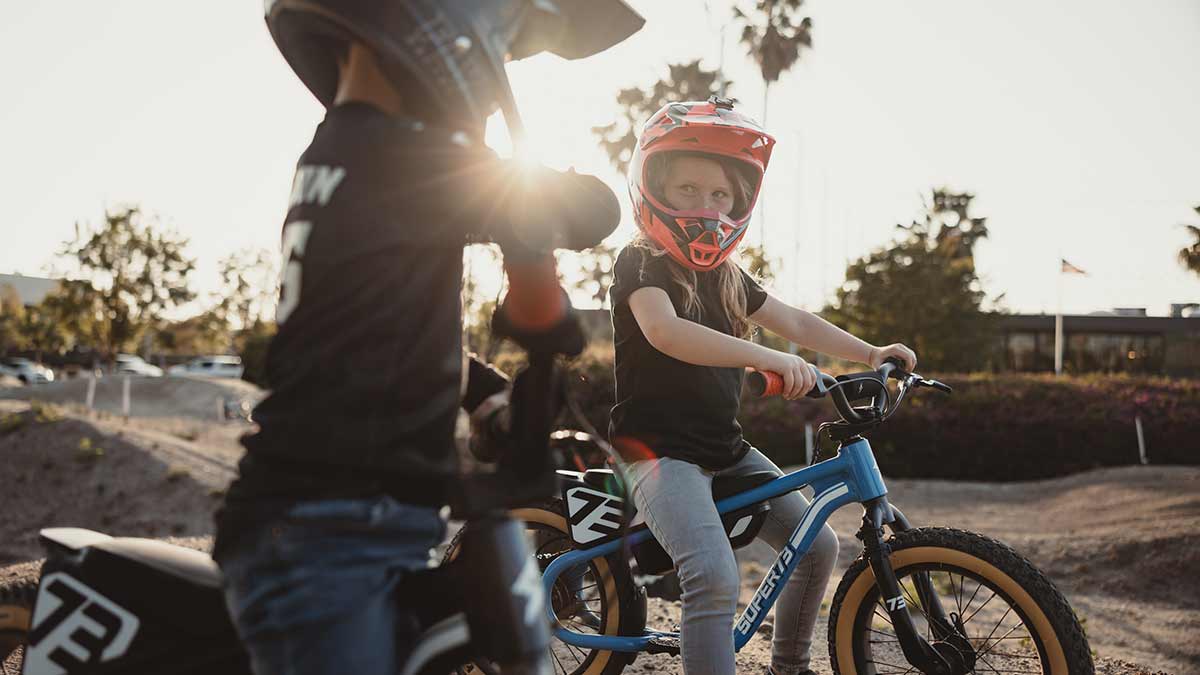 RIDE MODES
Three different drive modes allow riders to learn the fundamentals of an electric balance bike at a lower speed, then boost performance as comfort and experience increase.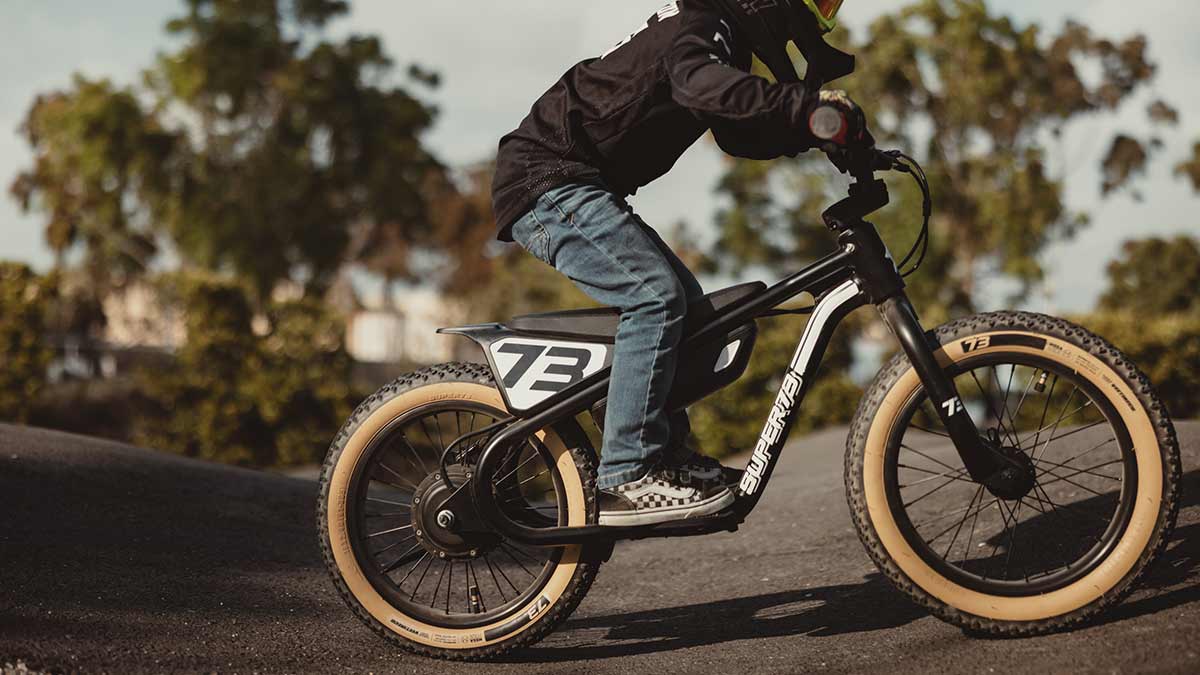 LONG MOTO-STYLE SEAT
The moto-style saddle allows for freedom of movement in varied riding situations while accommodating growth and riders of different sizes.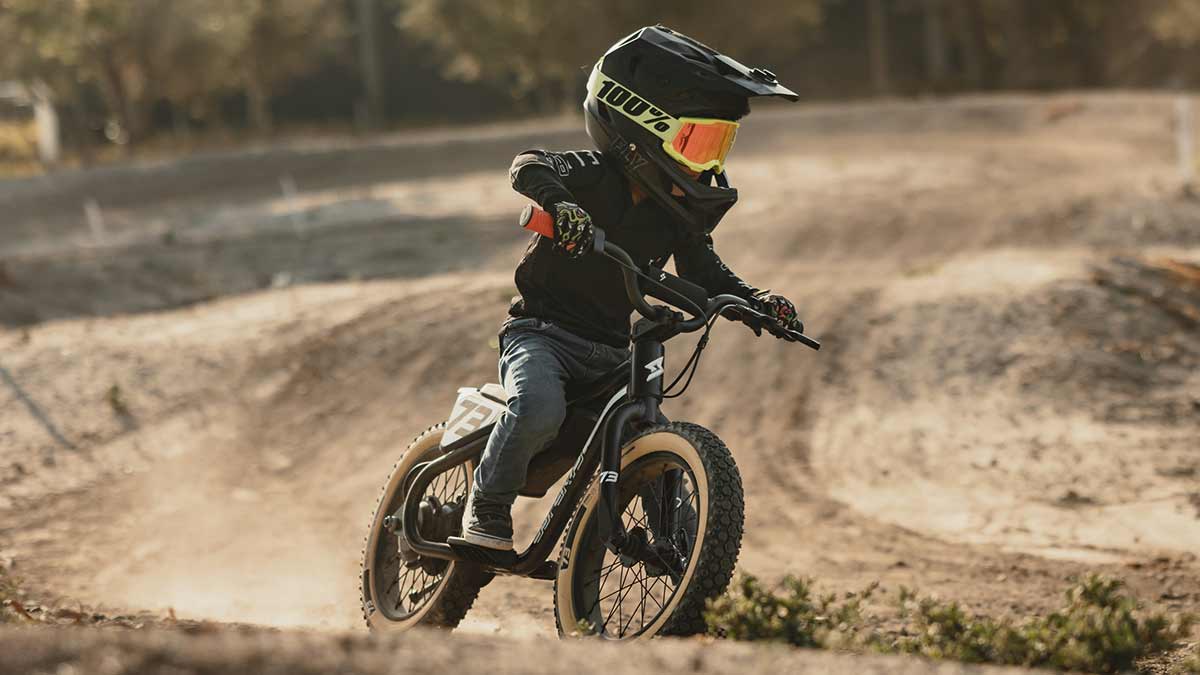 REGENERATIVE BRAKING
The K1D features a rear hydraulic brake with regenerative braking. Braking while riding the bike will transfer the kinetic energy back into the battery, thereby increasing the riding range.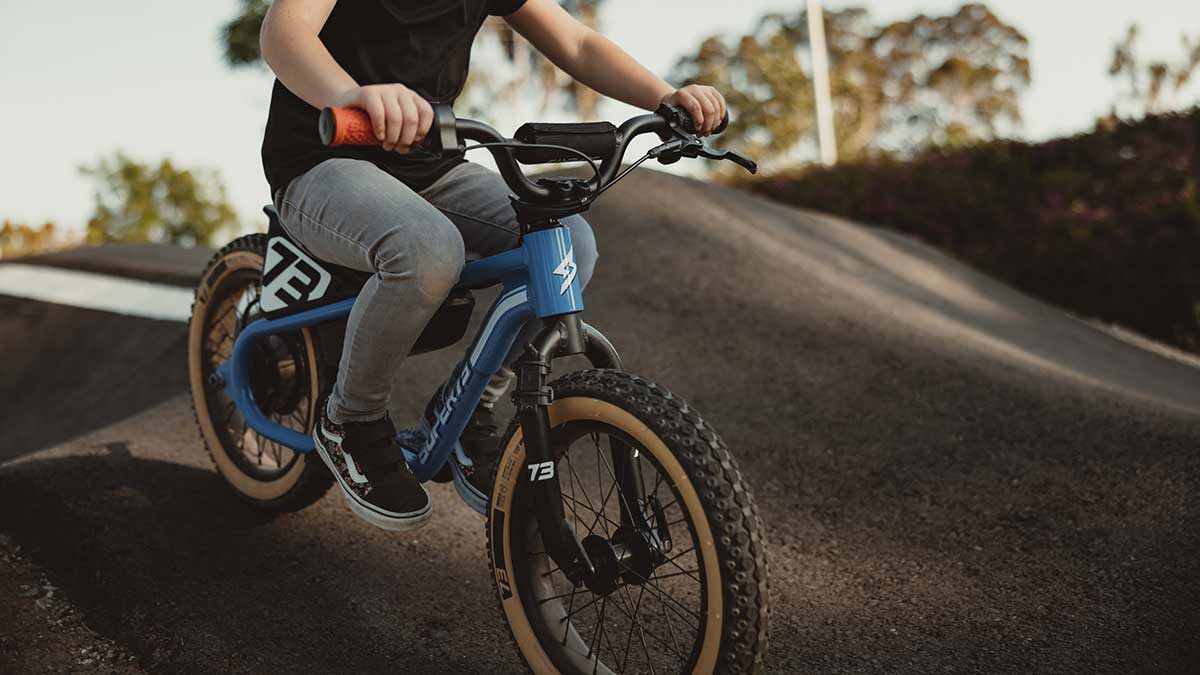 INTUITIVE RED TWIST THROTTLE
K1D comes with a red twist throttle that clearly communicates control input to new riders.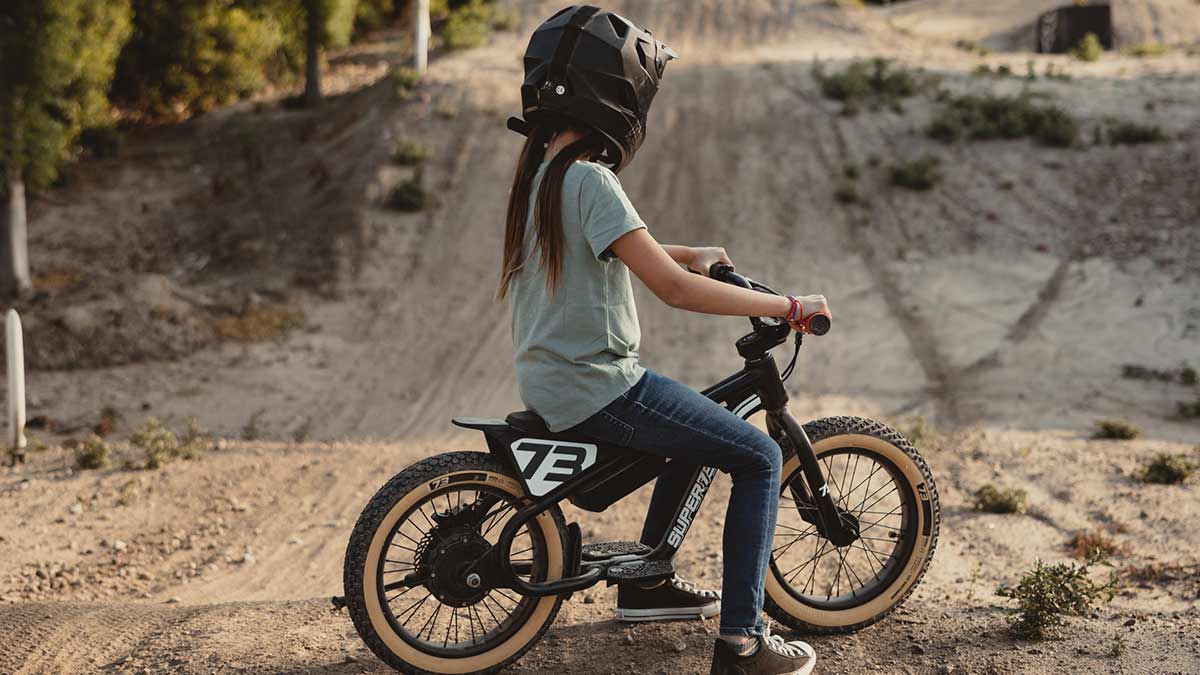 REMOVABLE BATTERY
Extend their adventure! A convenient removable battery makes charging and swapping a breeze.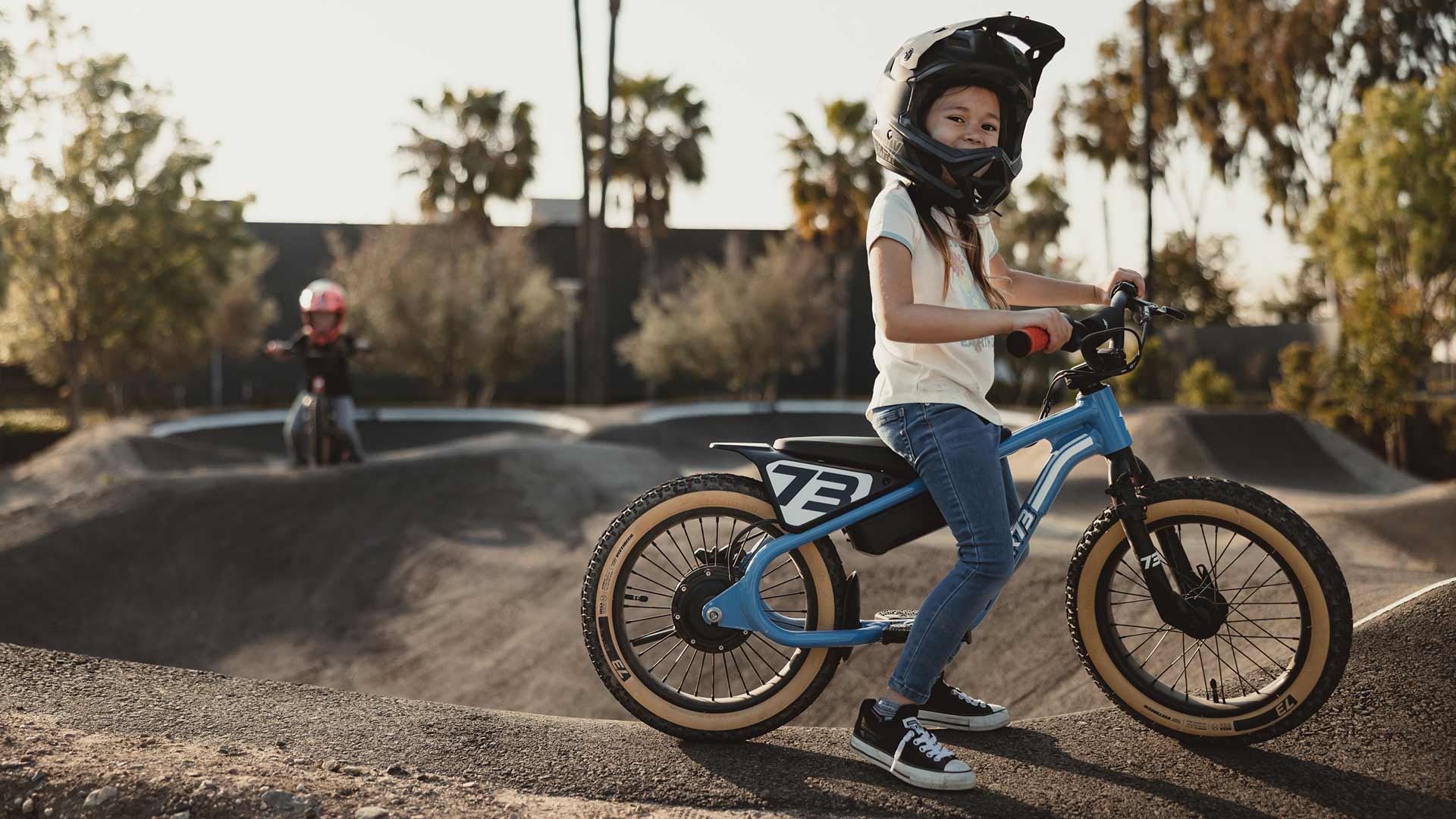 Confidence comes on two wheels
Unlock New Adventures
Built for ages 4-8, SUPER73's first electric balance bike empowers your little ones to enter the two-wheel world with an emphasis on safe riding and self-assurance. Broaden their horizons and give them the confidence they need to tackle any adventure.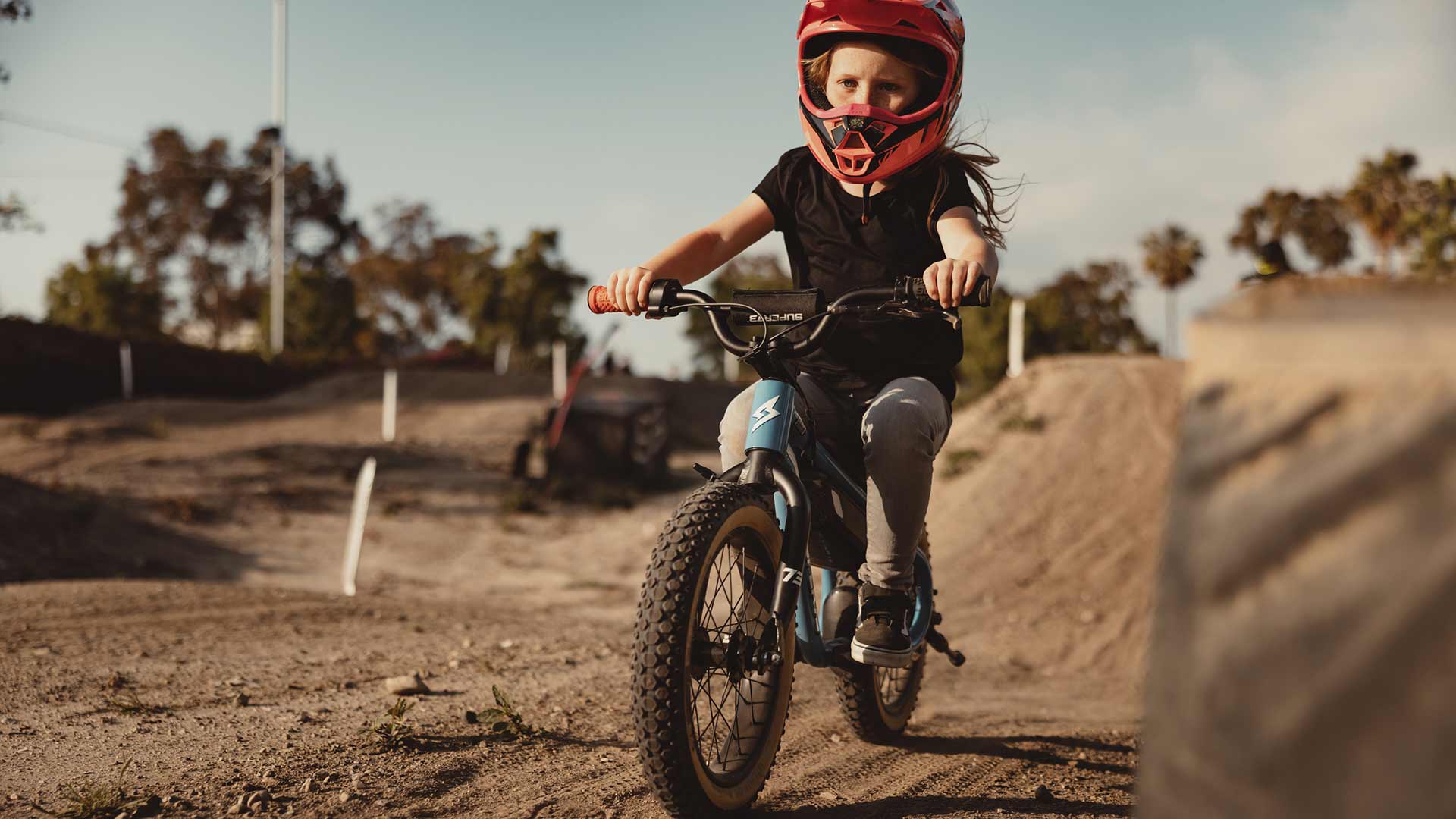 Peace of mind included with every ride
Safety First
We've anticipated every bump in the road with the K1D's regenerative braking system, durable, puncture-resistant battery, and intuitive twist throttle. Whether you accidentally drop the battery or your mini-me fancies themselves an Evel Knievel, the K1D has you covered.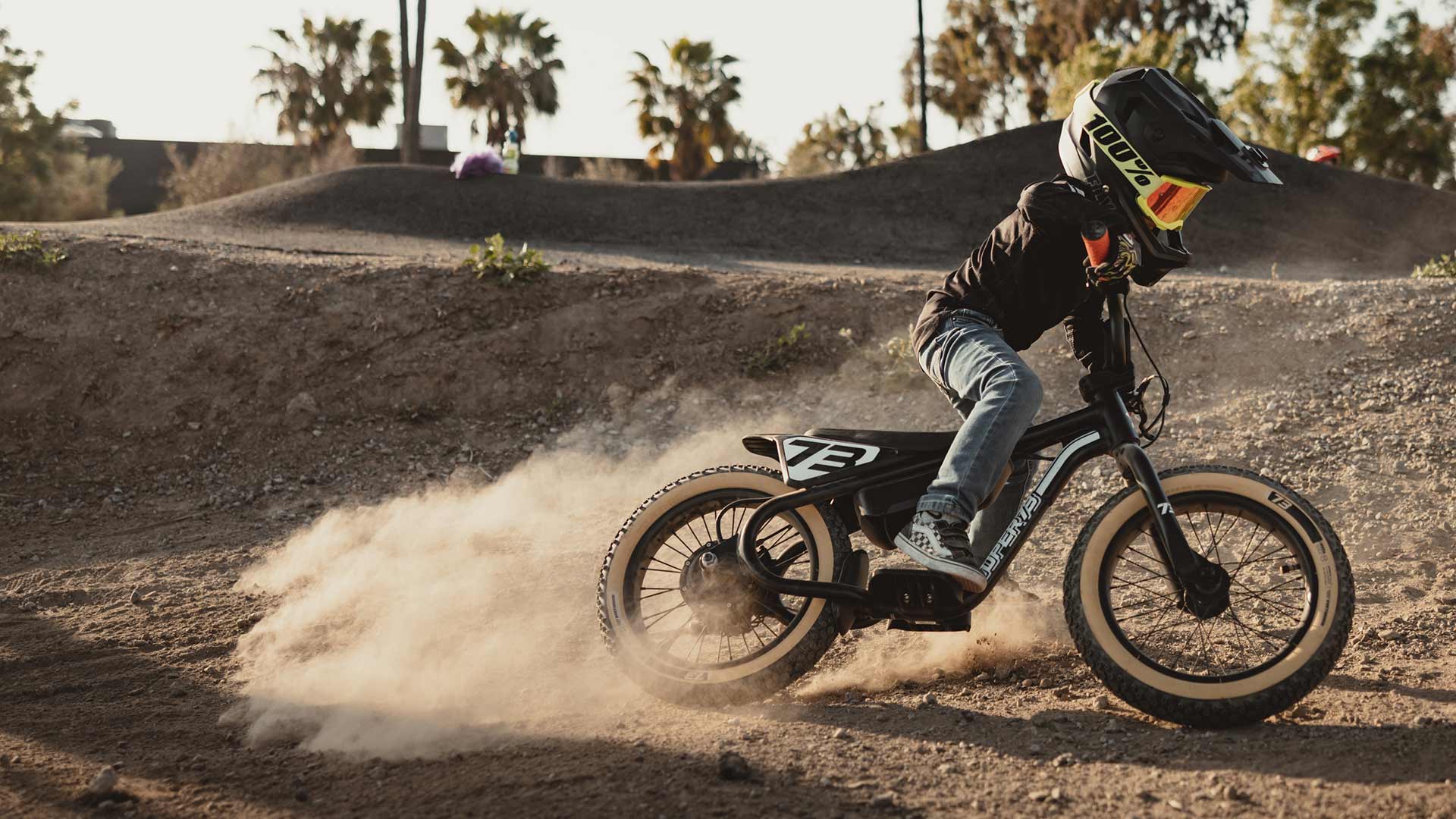 Paying homage to the young at heart
The Cool K1D
The K1D was designed to stand out. We combined the nostalgia of 80's BMX styling with futuristic Hexagon patterns for a distinctly SUPER73 feel. But it's not all curb appeal; a comfortable banana-style seat allows your child to grow with their bike while its platforms offer increased stability.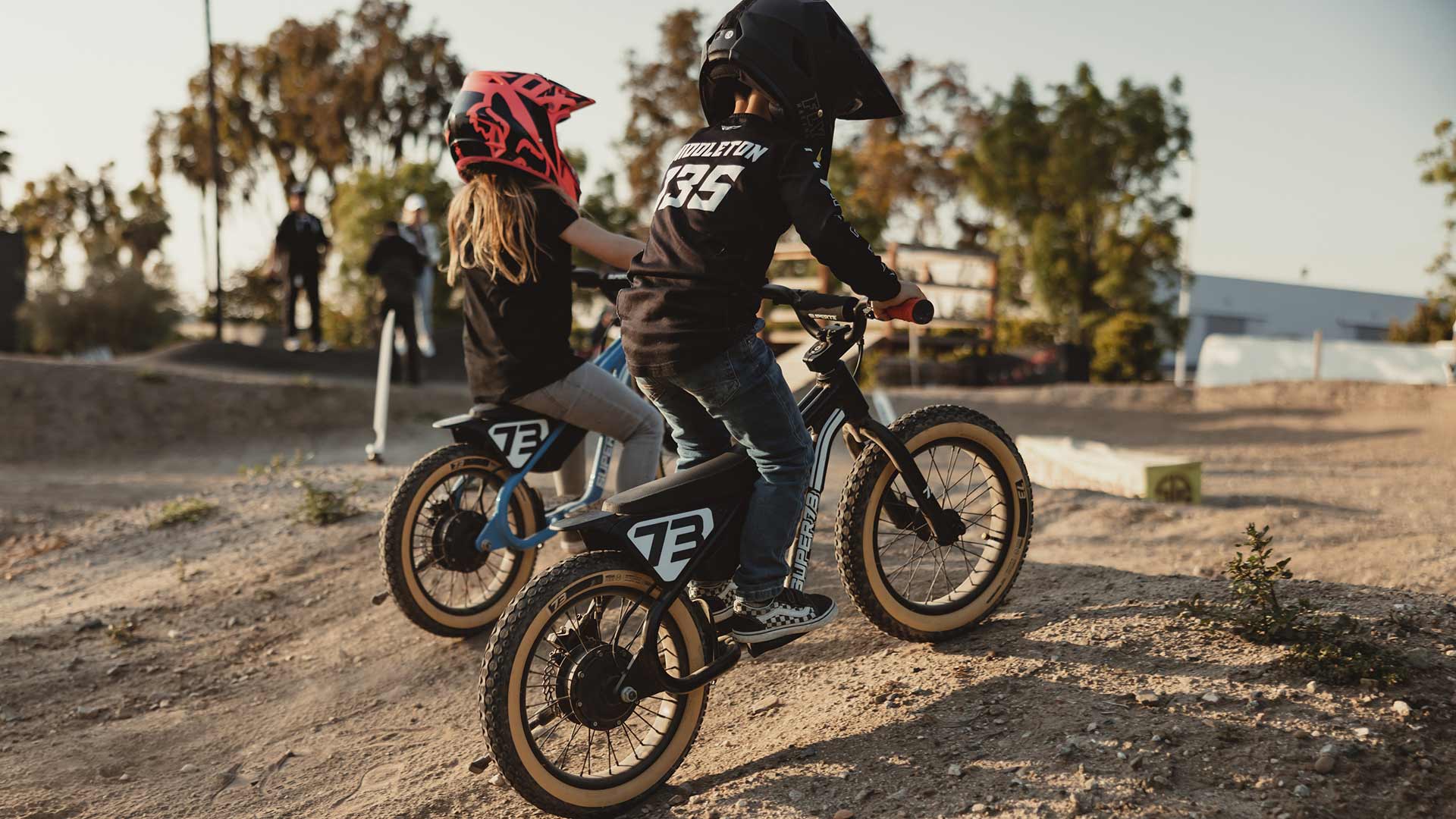 The K1D offers unparalleled performance
Regen for the New Gen
The K1D has a regenerative braking feature controlled by the throttle; when the throttle is released, the motor slows, recuperating kinetic energy. This energy is transferred back into the battery, which increases rider range. This range, paired with our longest-lasting battery, means unlimited playtime.
VEHICLE SPECIFICATIONS
Top Speed | Mode 1: Up to 7mph / Mode 2: Up to 13mph / Track Mode: 15mph*

Range | 90-120 Minutes*

Charge Time | 45 Minutes to Reach 80% State of Charge

Battery | 92.8 Wh (32V, 2.9Ah)

Motor | 750W Peak / Hub Motor / Direct Drive

Throttle | Twist Throttle

Gearing & Rear Derailleur | Single Speed

Vehicle Weight | 27 lbs

Length x Width x Height | 46" x 22" x 27"

Rider Weight Limit | 75 lbs

Seat Height | 19"

Frame | Aluminum

Suspension (if applicable) | Rigid

Brakes | Hydraulic (Rear Only)

Tires | 16" x 2.4"

Inner Tubes | 16" x 2.4"

Head Light | No

Tail Light | No

Horn | No
Getting your K1D up and running
THE FUN starts now
Each K1D initially comes in "Sleep Mode" to preserve battery life and will only work once activated; remove the battery and plug it into a charger so your family can get in on the fun ASAP!  We recommend fully charging your kiddo's new bike so that they can get the most out of their first ride.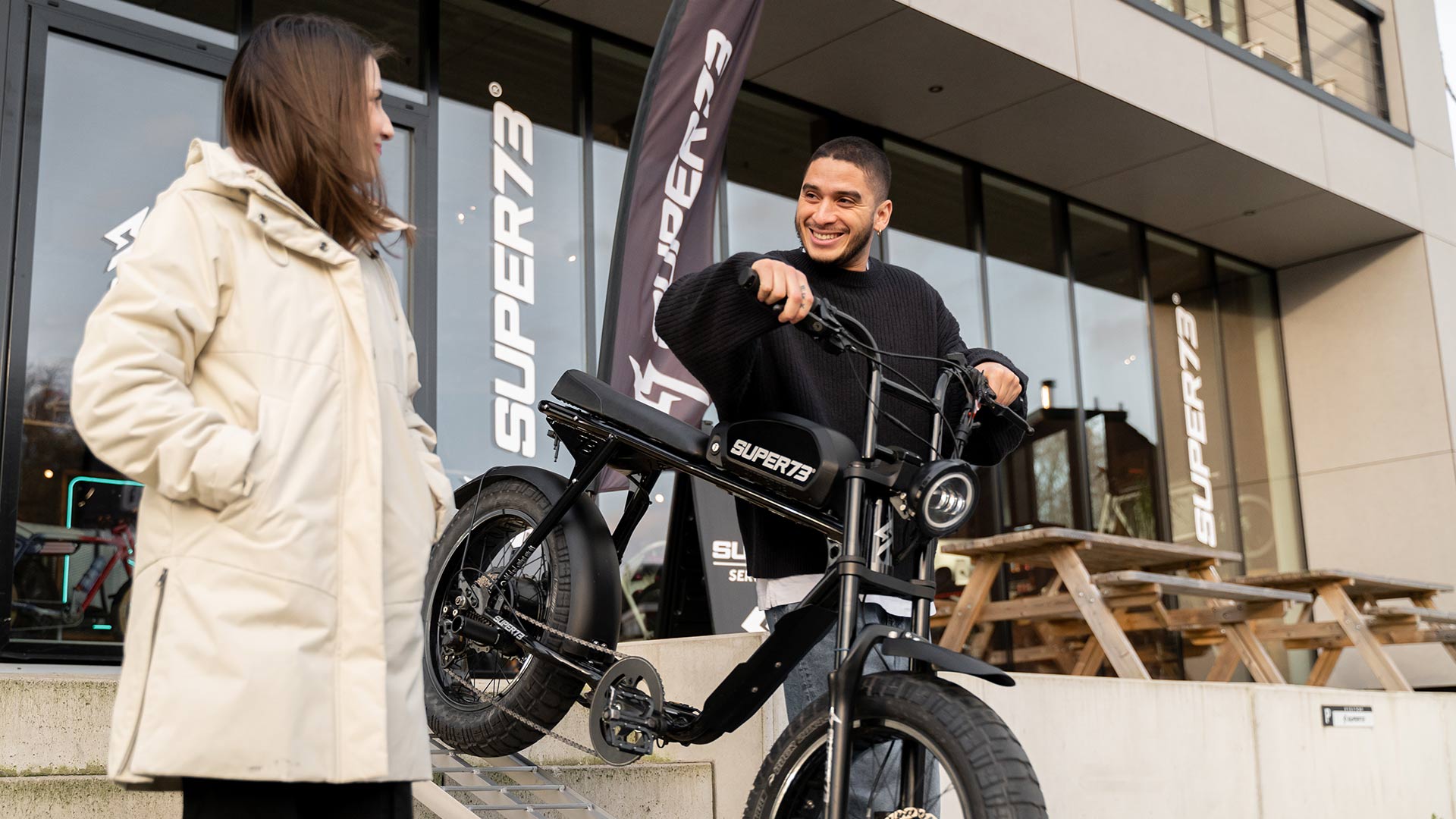 VISIT A DEALER
SUPER73 partners with bicycle, lifestyle, motorcycle, and e-mobility retailers across the country to make purchasing easy.
LITTLE BIKES FOR BIG ADVENTURES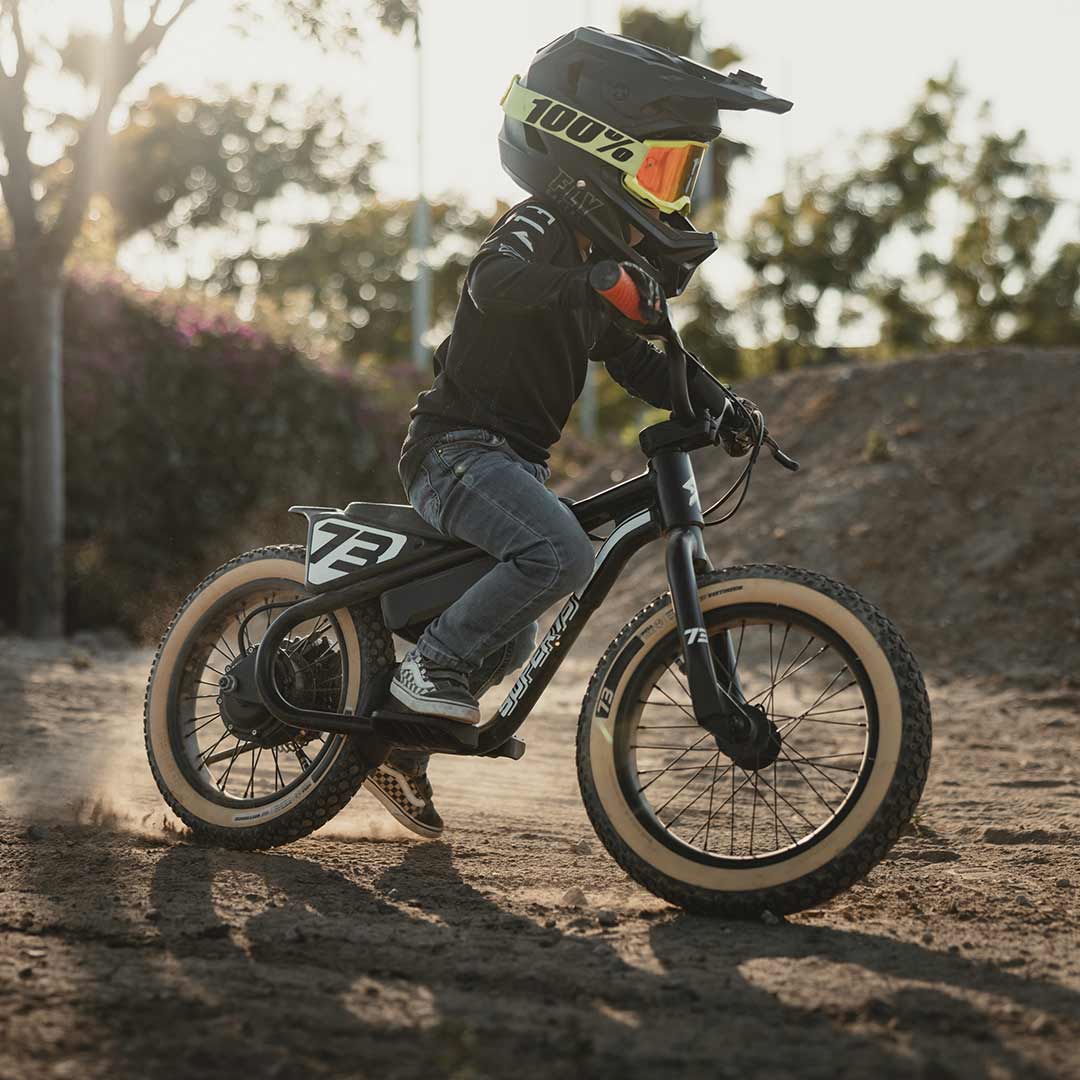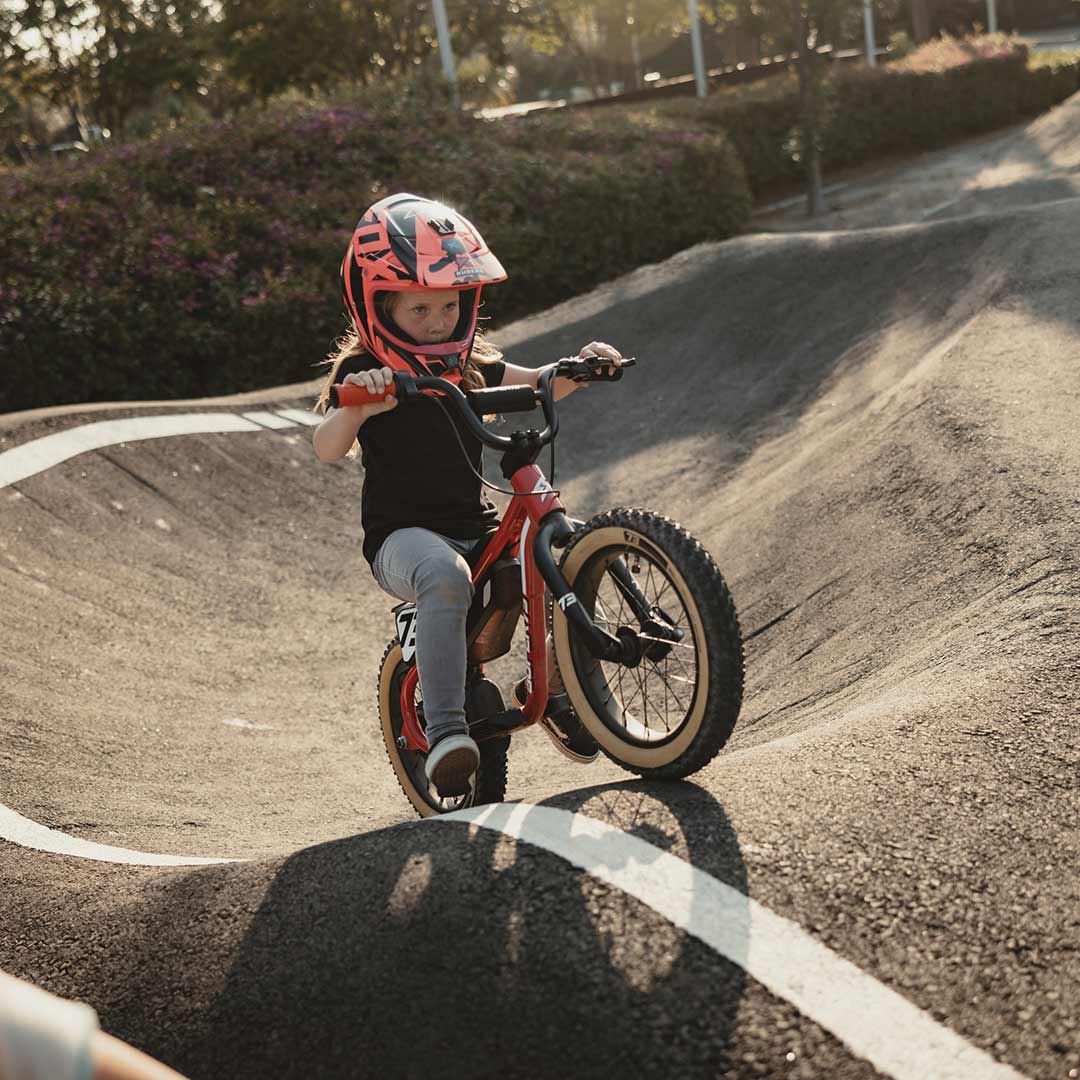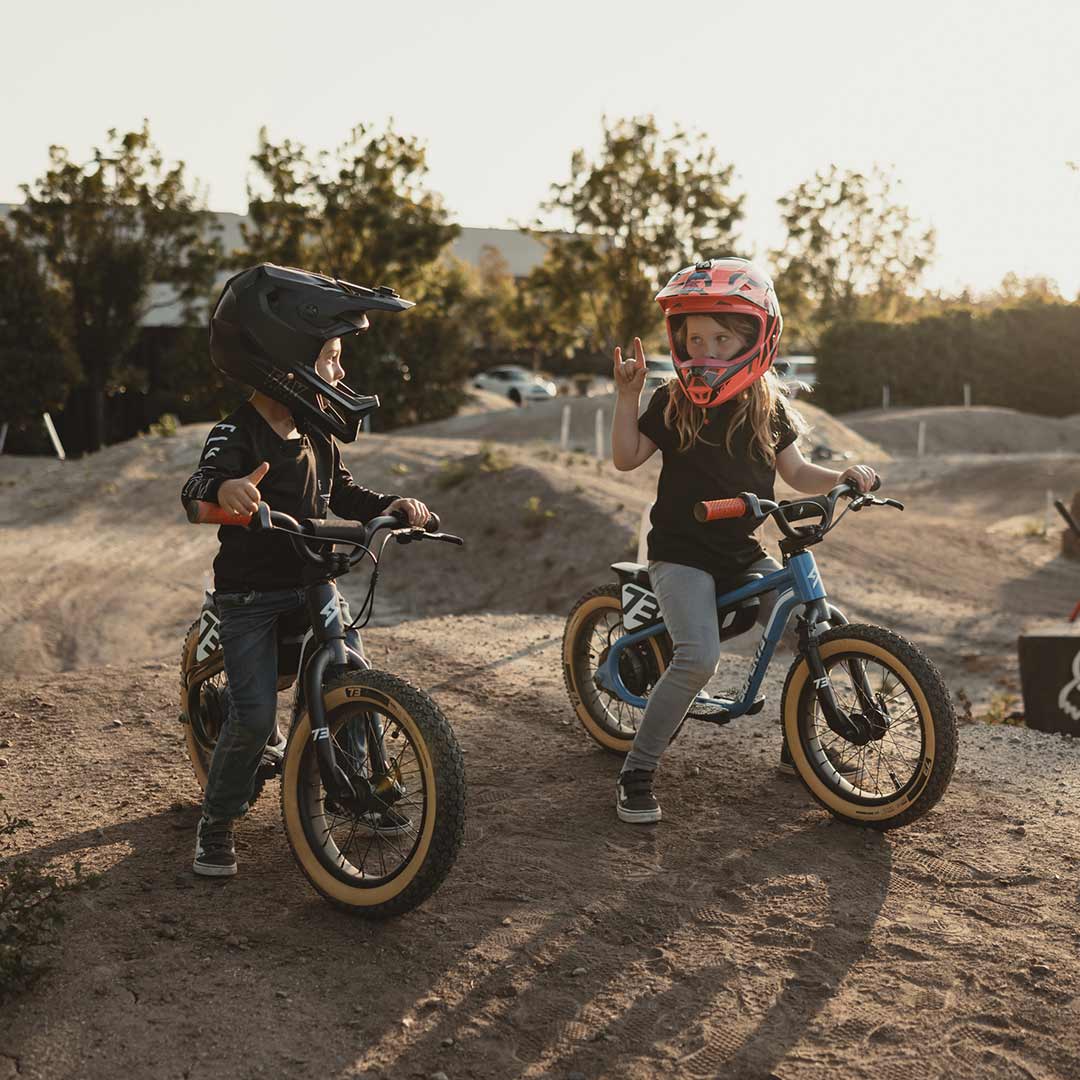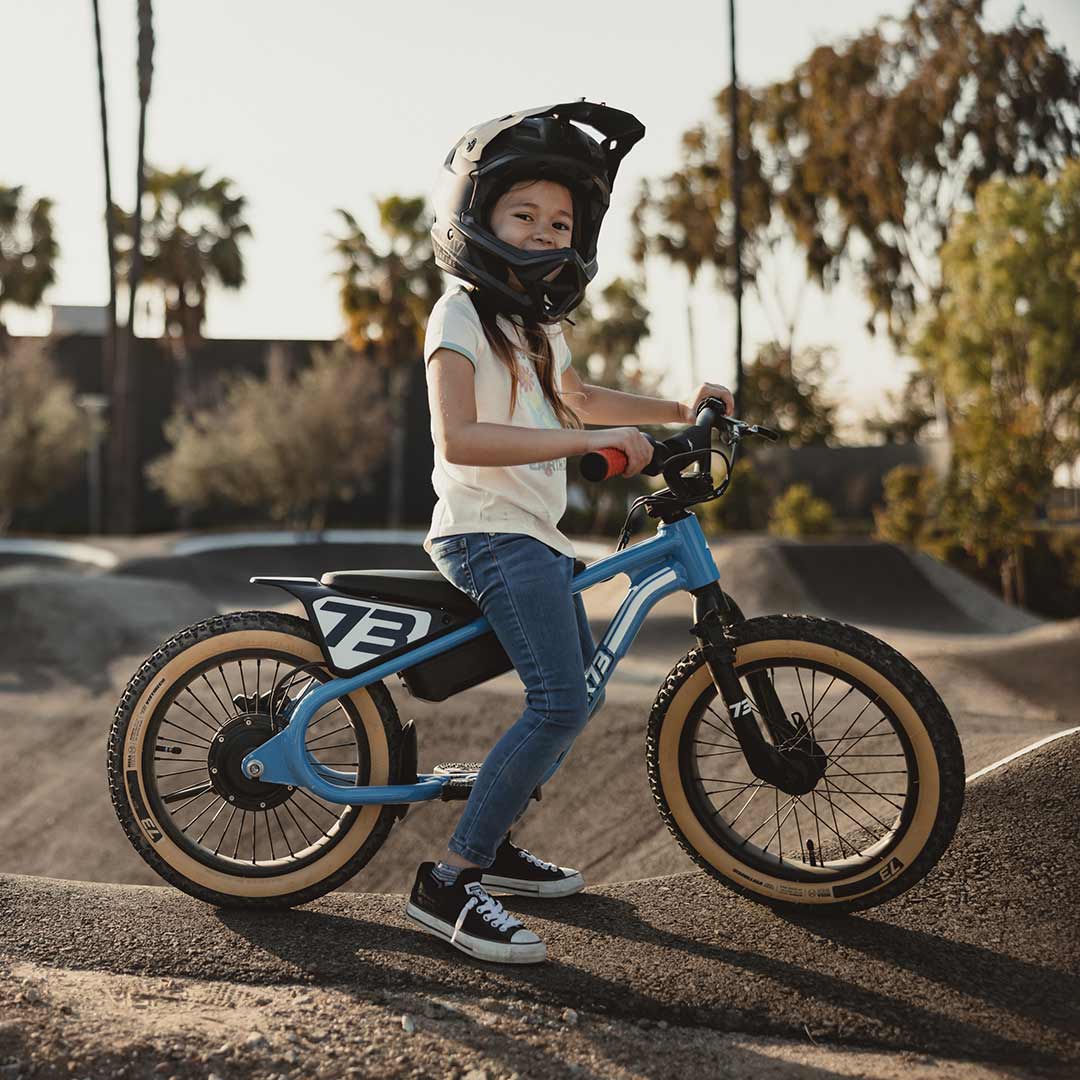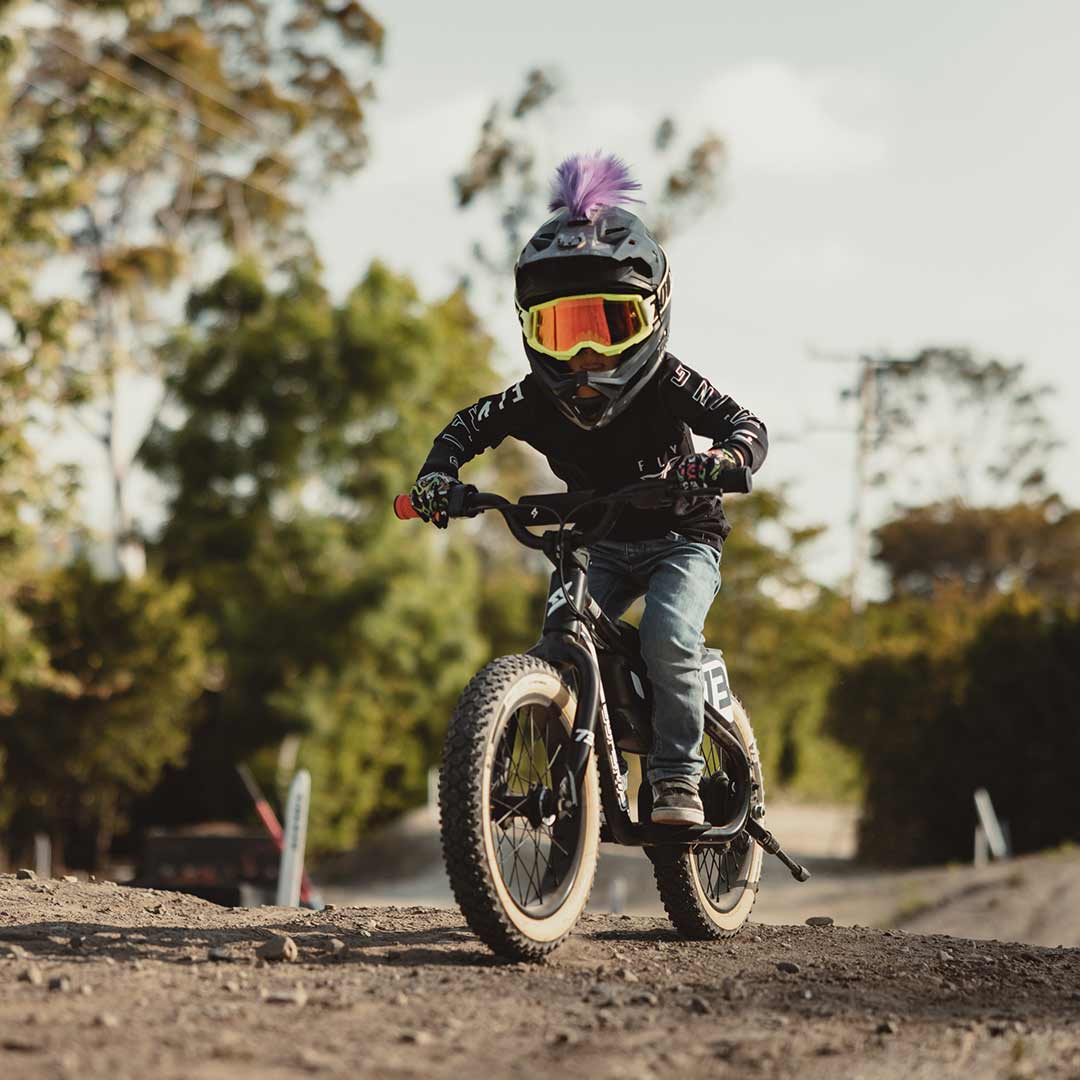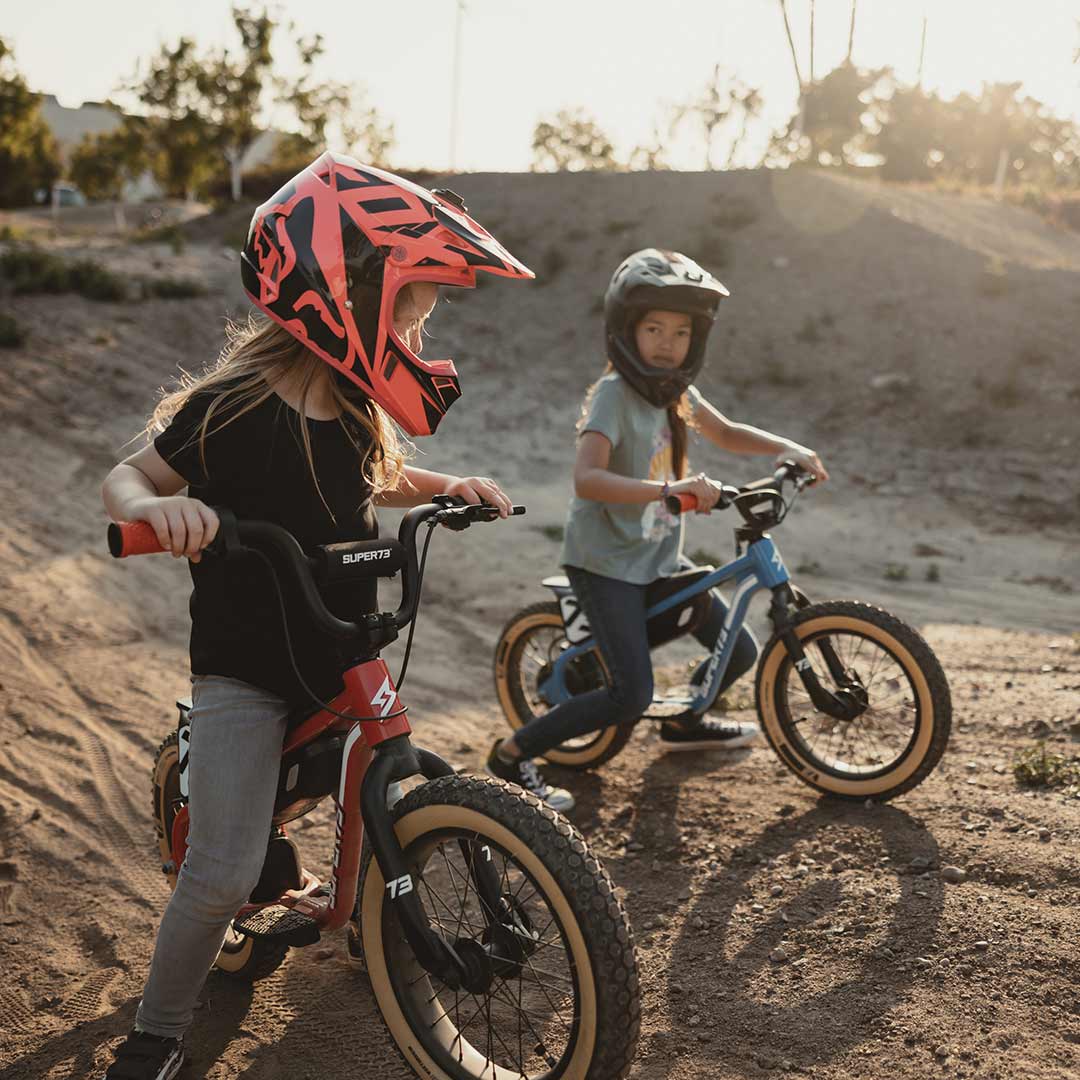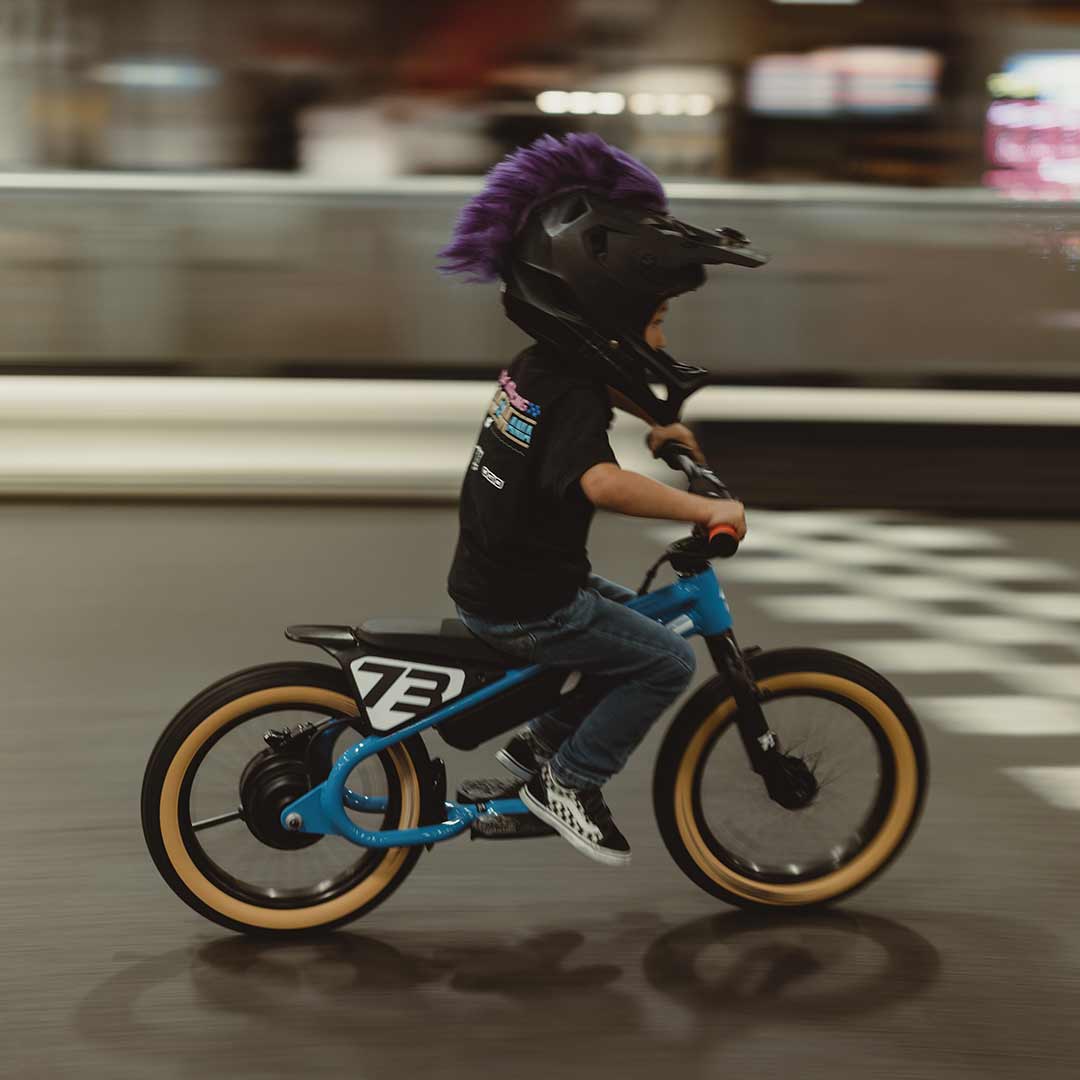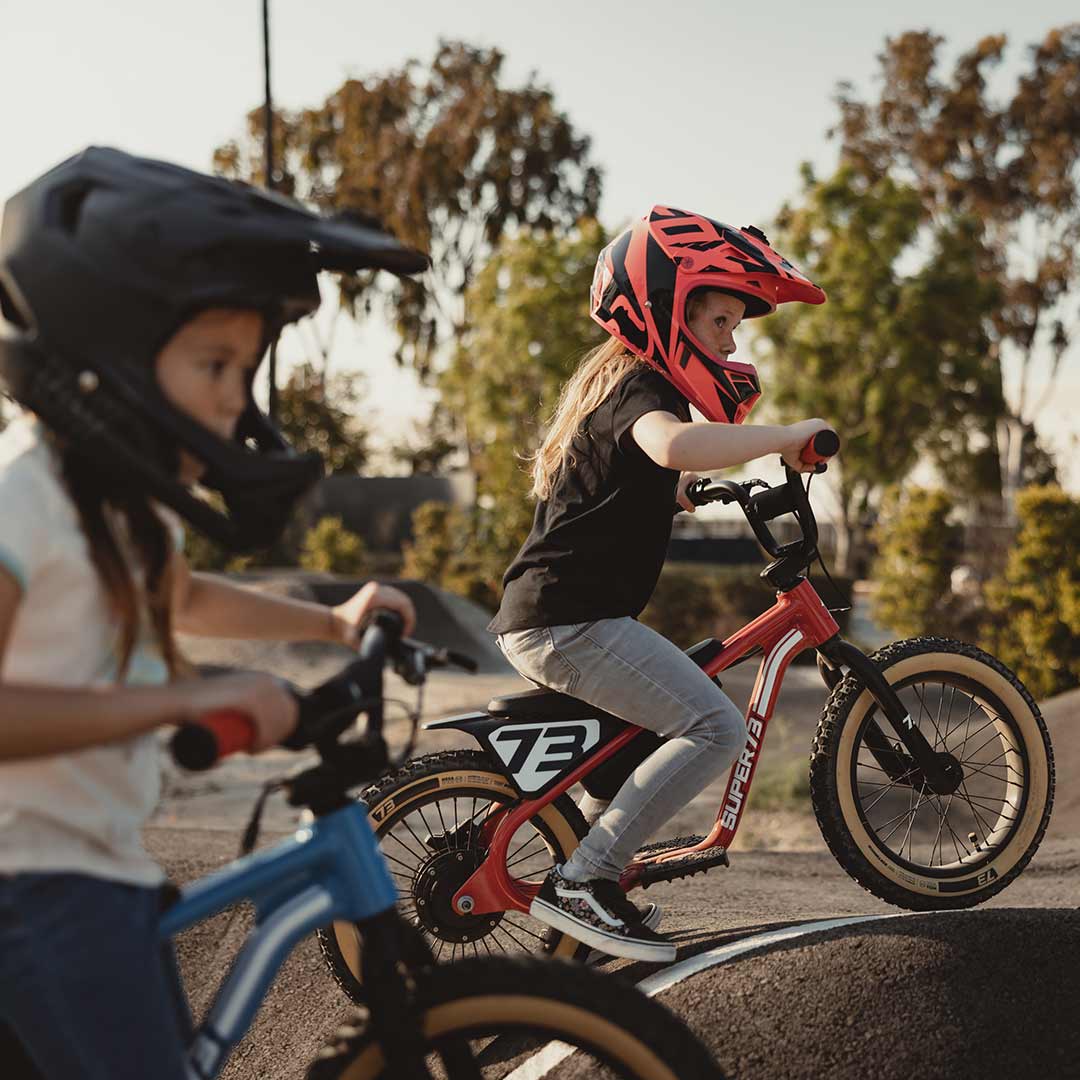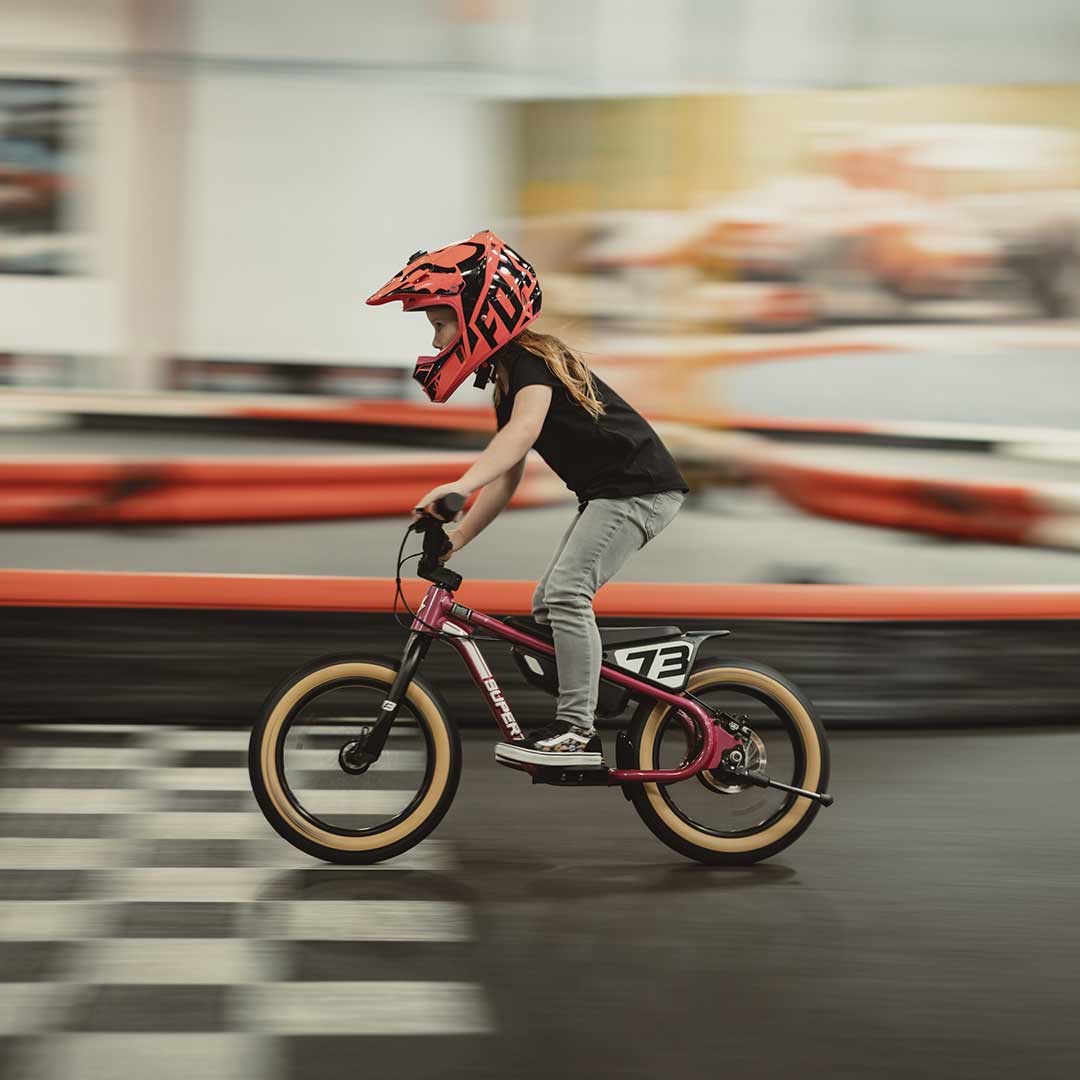 *Speed and battery range estimates depend on conditions such as rider weight, speed, temperature, wind, tire pressure, terrain, incline, etc. Mileage may vary. All bikes are subject to minor cosmetic changes. The SUPER73-K1D ships to all states, including Alaska and Hawaii. Free shipping promotions exclude Alaska and Hawaii. Final shipping costs will be calculated at checkout. Please note, shipments to Hawaii are subject to extended delivery time frames due to cargo ship transportation. The estimated delivery timeline for orders shipping to Hawaii is 4-6 weeks. Please review the Returns & Cancellation Policy and Warranty Information for this vehicle.