We love challenging the status quo and pushing the boundaries of conventional thinking. The HALO Customs team is a task force of our most creative minds dedicated to creating one-of-a-kind experiences by taking stock SUPER73s and building something truly remarkable. And by partnering with some of the world's most iconic brands, we're able to harness the full power of what makes us super.
featuring our most popular hits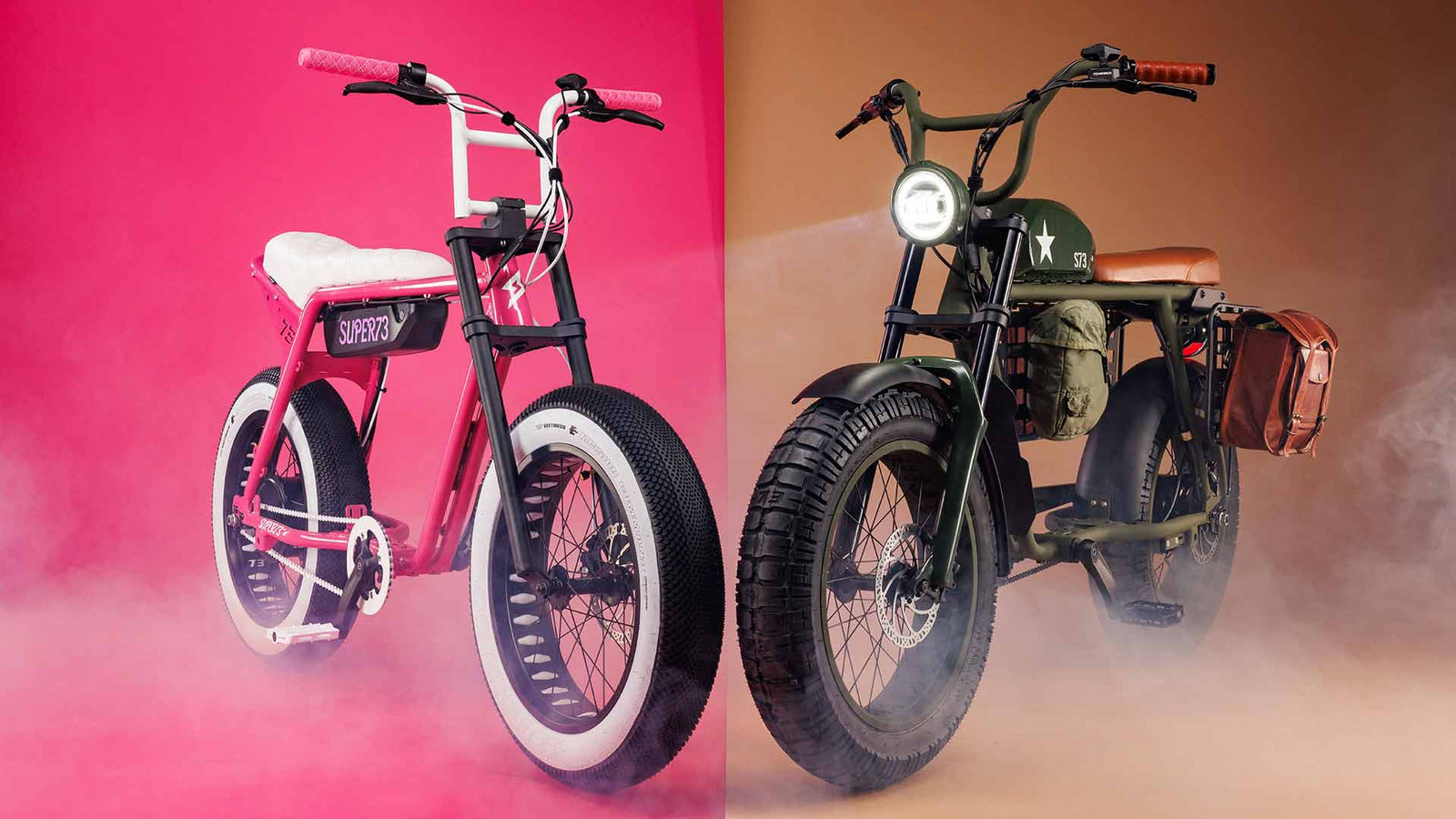 BLOCKBUSTER BUILDS
Hi Barbie! Hi Oppenheimer! The HALO team sprung into action to create two customs that captured the cultural zeitgeist of summer 2023. With the pretty-in-pink custom ZX and the army-inspired SUPER73-S2, we jumped on a trend we were sure would blow up beyond the box office.
ELECTRIC VENGEANCE
Created in partnership with Box Lunch for a special sweepstakes, this custom SUPER73-RX was designed to make the Caped Crusader himself ditch the Batmobile to go electric.
CHANGING THE GAME
Call it a hole in one! Our custom SUPER73-S2 created in honor of Top Golf L.A.'s grand opening combines the classic design of our most popular bike with the utility of a top-rate caddie.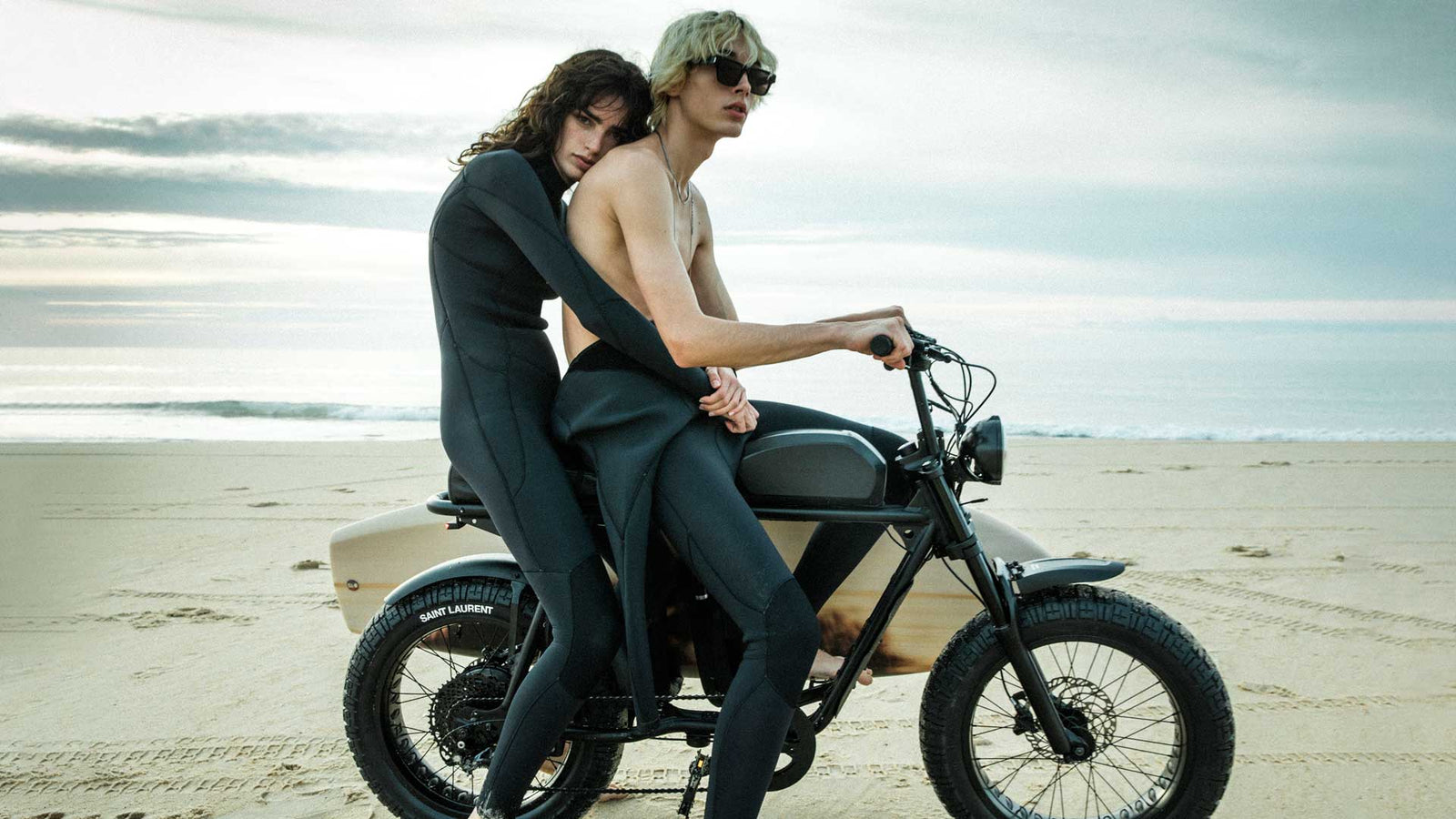 AN EBIKE, BUT MAKE IT FASHION
The Saint Laurent x SUPER73-S2 was inspired by motorcycle heritage and elegant, classic design. Its key features were conceptualized by fashion designer Anthony Vacarello who envisioned a custom that paired functionality with undeniable style.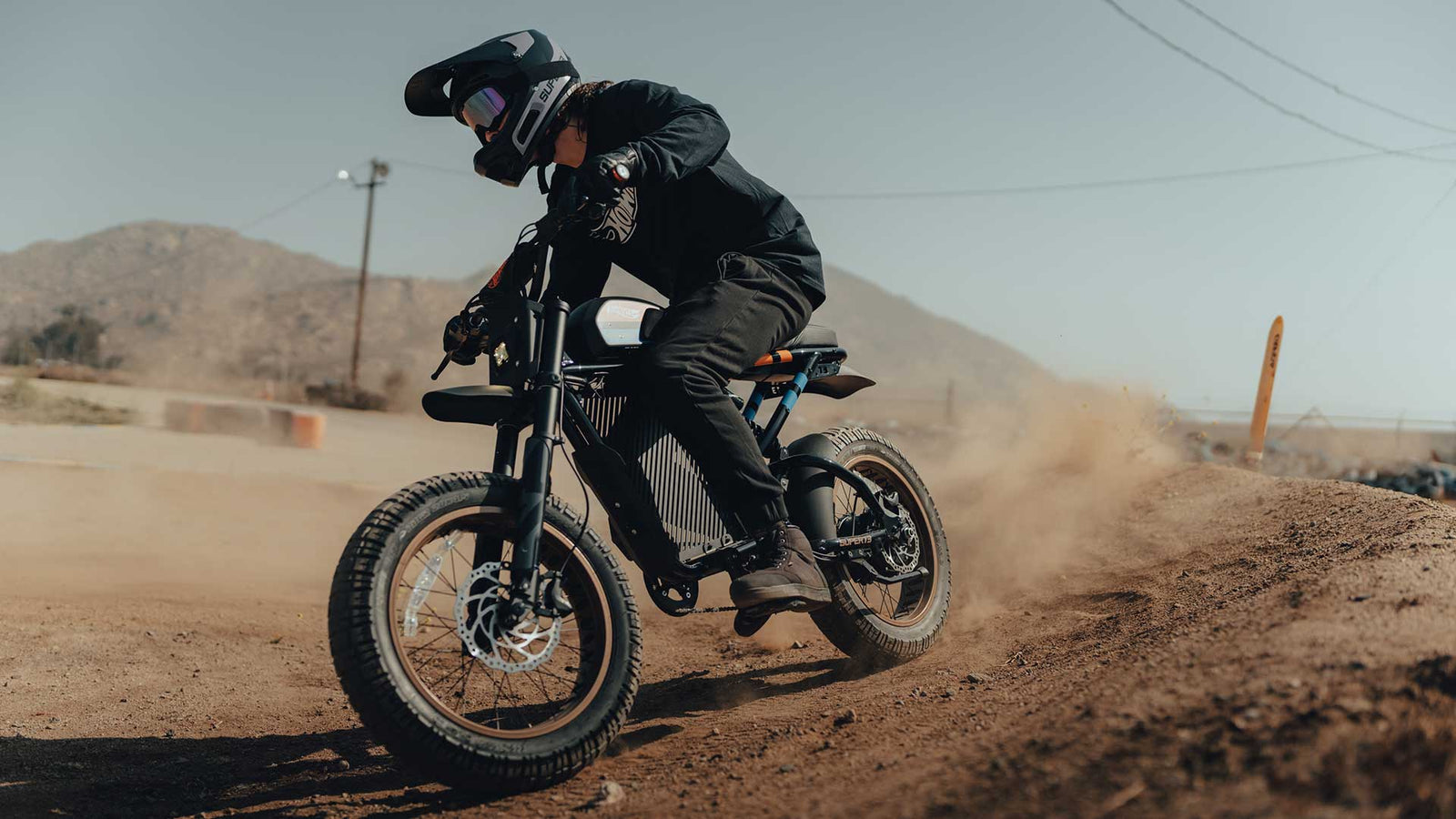 HEATING THINGS UP
Inspiring adventure and encouraging imagination, the Hot Wheels x SUPER73-RX was a dream project. This bike was fully customized to capture the spirit of what it means to be young (or young at heart) and was released with matching collectible Hot Wheels die-cast.
Shop Our Custom Looks
Get Inspired
but wait, there's more...
CHEERS, SUPER SQUAD!
We partnered with lifestyle and beverage brand Pacifico for the second year in a row to bring you this custom SUPER73-S2. The bike is featured as part of our co-branded sweepstakes, allowing one lucky winner to ride off into the sunset and live anchors up.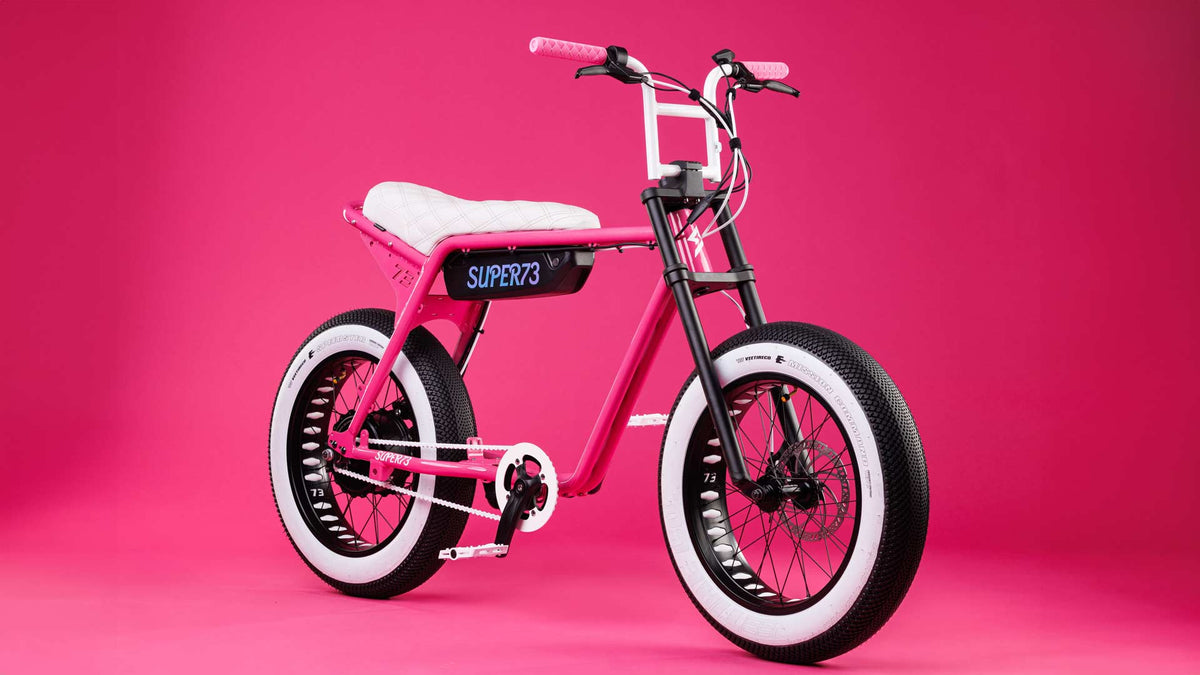 A KEN OUT OF KEN
Pink goes with everything, especially this custom SUPER73-ZX. The HALO team made a bike even Barbie herself would be proud to ride with a pink, pearlescent top coat, iridescent logo hits, and a white seat. Whether you're zipping to the beach-off or to defeat the patriarchy, this custom is the perfect accessory.
THE BOMB
HALO set out to blow your mind with a custom, Oppenheimer-inspired SUPER73-S2. This army bike comes with a military-grade textured paint application on the frame, a custom-painted battery with classic iconography, leather saddlebags, and a canteen to complete the look. "We are become cool, the creators of really awesome ebikes" (we're pretty sure that's a direct quote from the movie).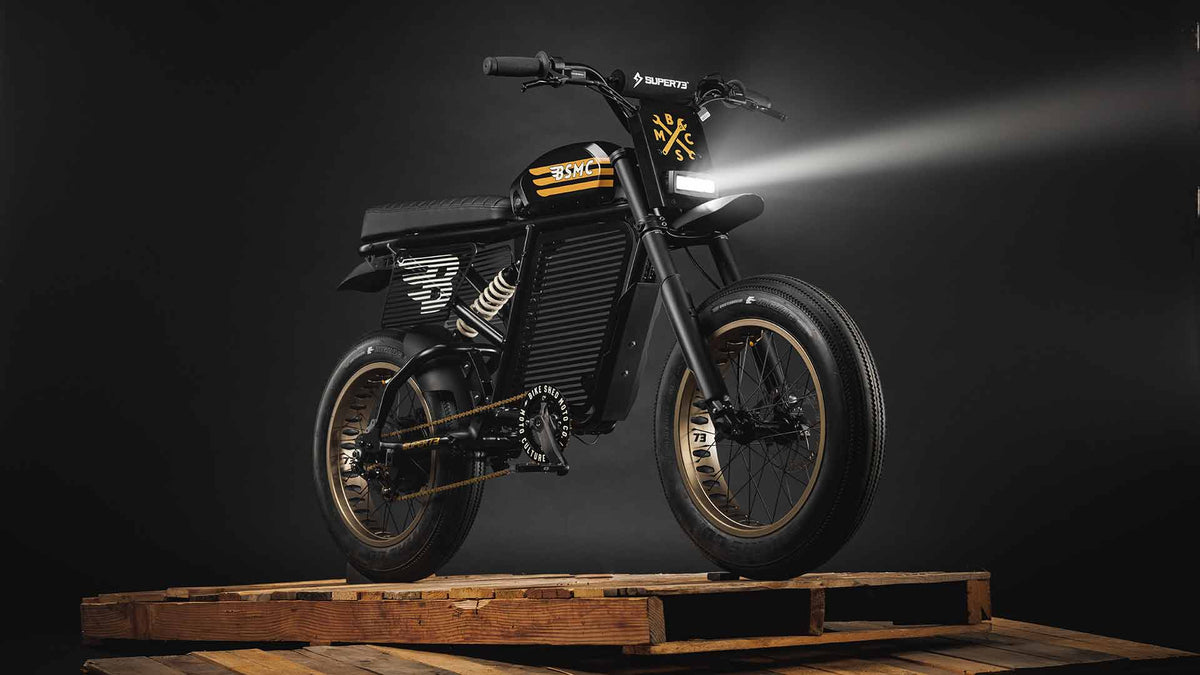 THE ROAD REBEL
Our HALO team worked to create a custom that would embody the simultaneous inclusivity and independent spirit embodied by our friends over at Bike Shed. This custom SUPER73 was part of a giveaway designed to celebrate all things moto.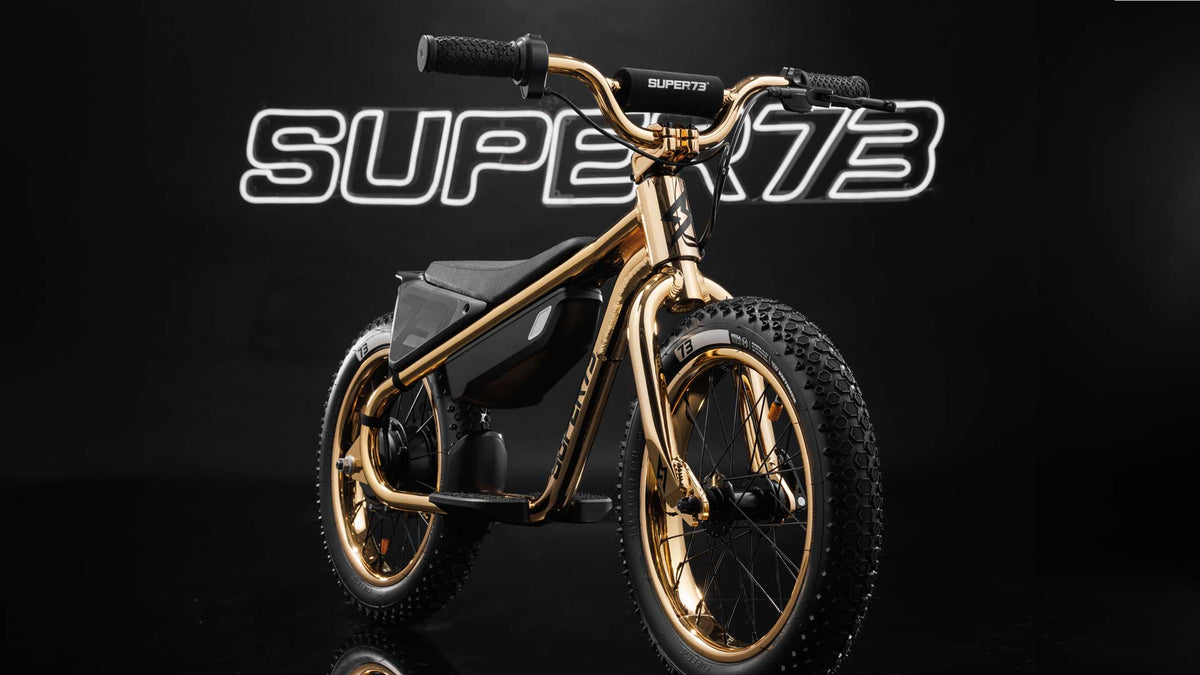 YOU'RE GOLDEN, K1D
If you know SUPER73, you know we're occasionally guilty of loving a little razzle-dazzle, and what better way to grab your attention than a 24k gold-plated K1D? Originally designed for the legendary Hasbulla, this little bike is small but mighty and the first custom to appear in our line of electric balance bikes.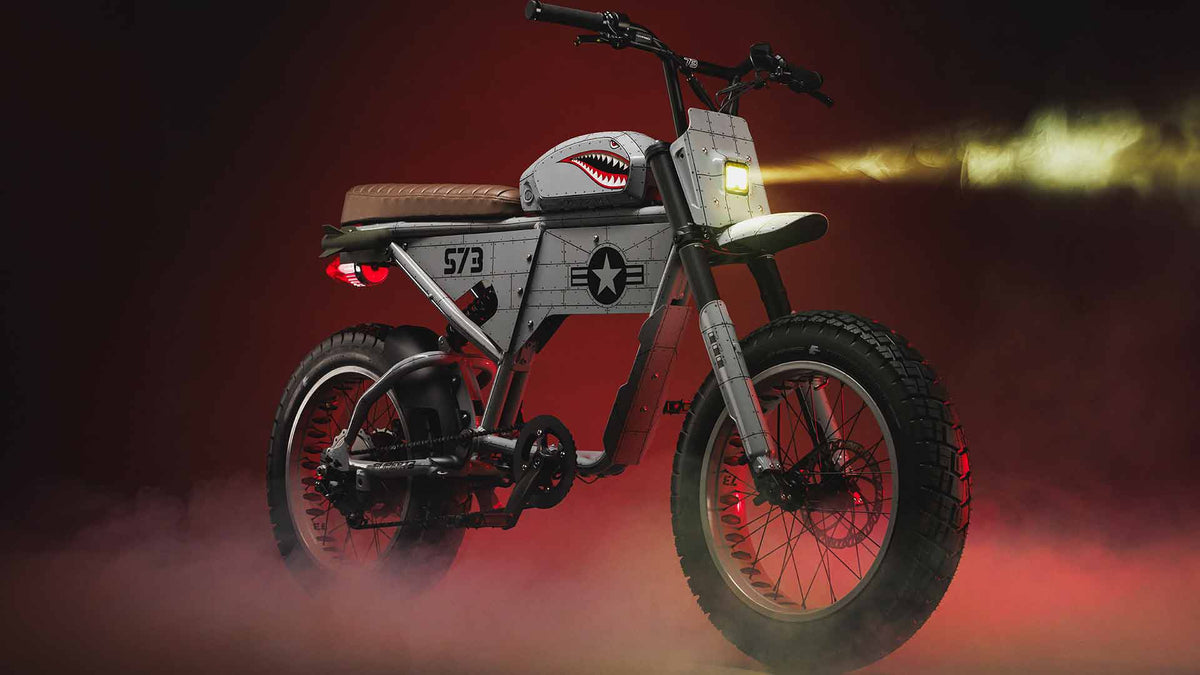 A HOME RUN
We had a blast making this groundbreaking custom for San Diego Padres star Jake Cronenworth. As requested by Jake,  the bike features detailed shark teeth on the battery, airbrushed rivets and paneling, simulated missiles, a rear brake light reminiscent of a jet engine, and an eject button.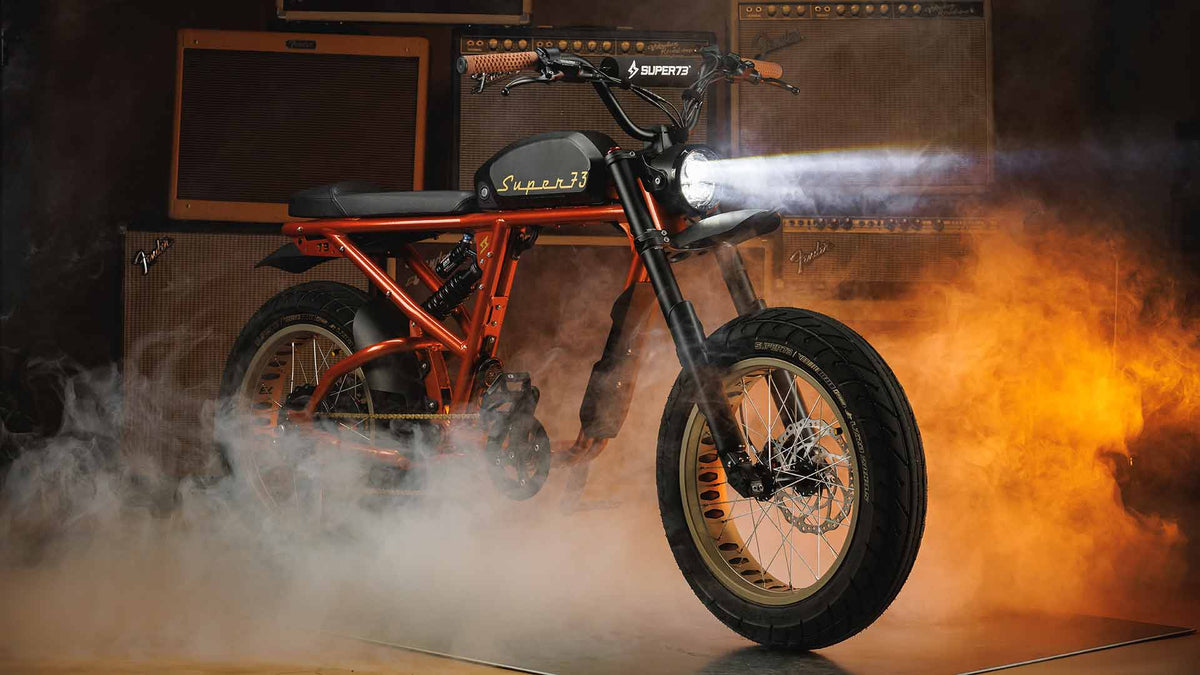 ORANGE IS THE NEW BLACK
The HALO team built a new classic with this SUPER73-S2. We wanted to bring back that legendary moto feel with traditional decals and a show-stopping orange colorway.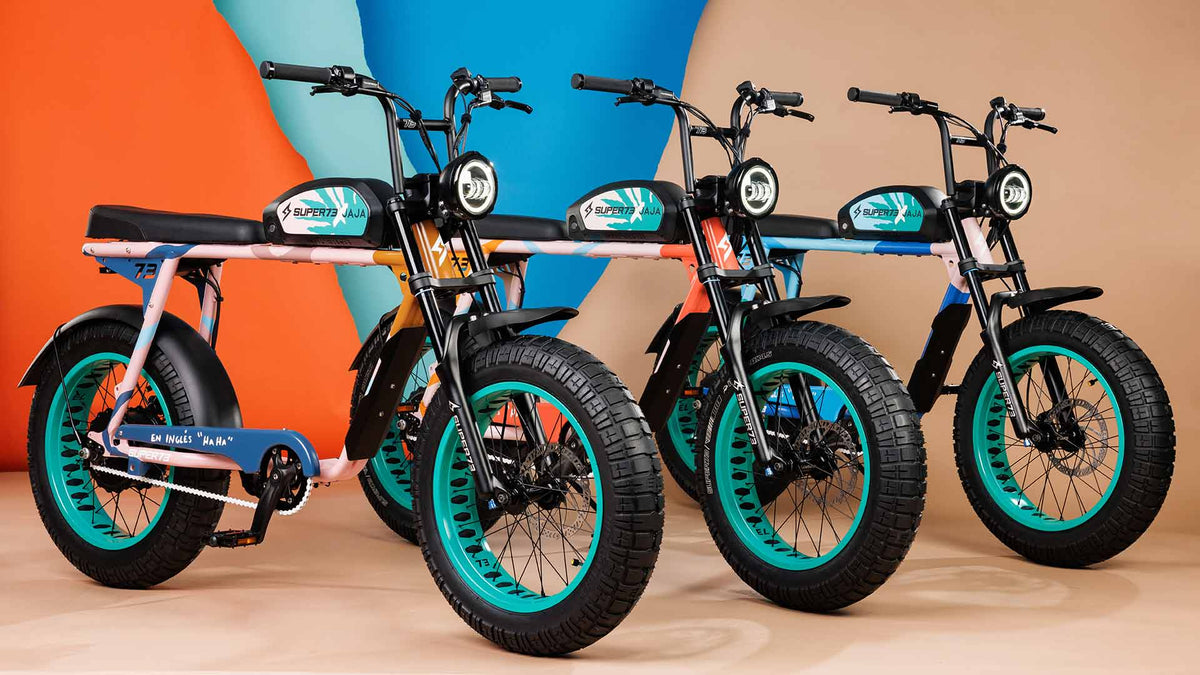 THAT'S THE SPIRIT!
We joined forces with the fine folks over at JAJA Tequila to bring you three custom SUPER73-S2s that infuse life into any party. The HALO team drew inspiration from JAJA's vibrant aesthetics and rich flavor profiles to encapsulate the essence of both brands.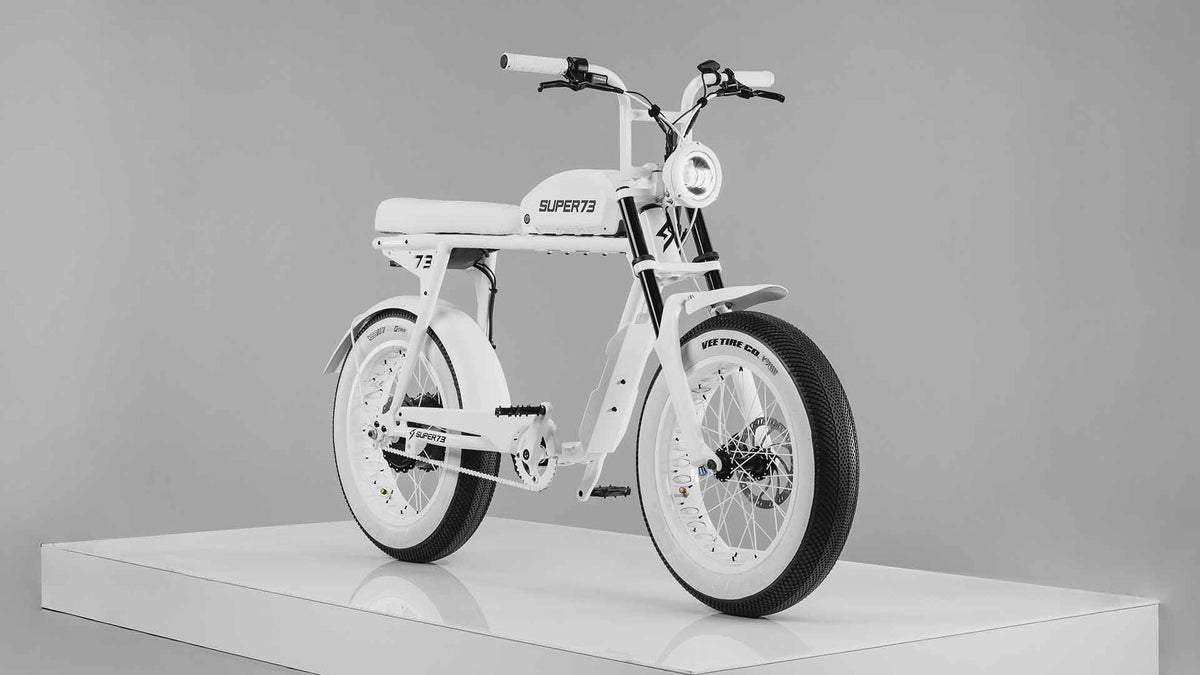 SUPER73 WHITEOUT
Our HALO team got tired of being asked, "Can you make it all black?" so they flipped the switch and made our classic SUPER73-S2 all-white instead! Top to bottom, this one requires the white glove treatment to maintain its clean aesthetic. It shines so bright in the sun, some say it even glows at night…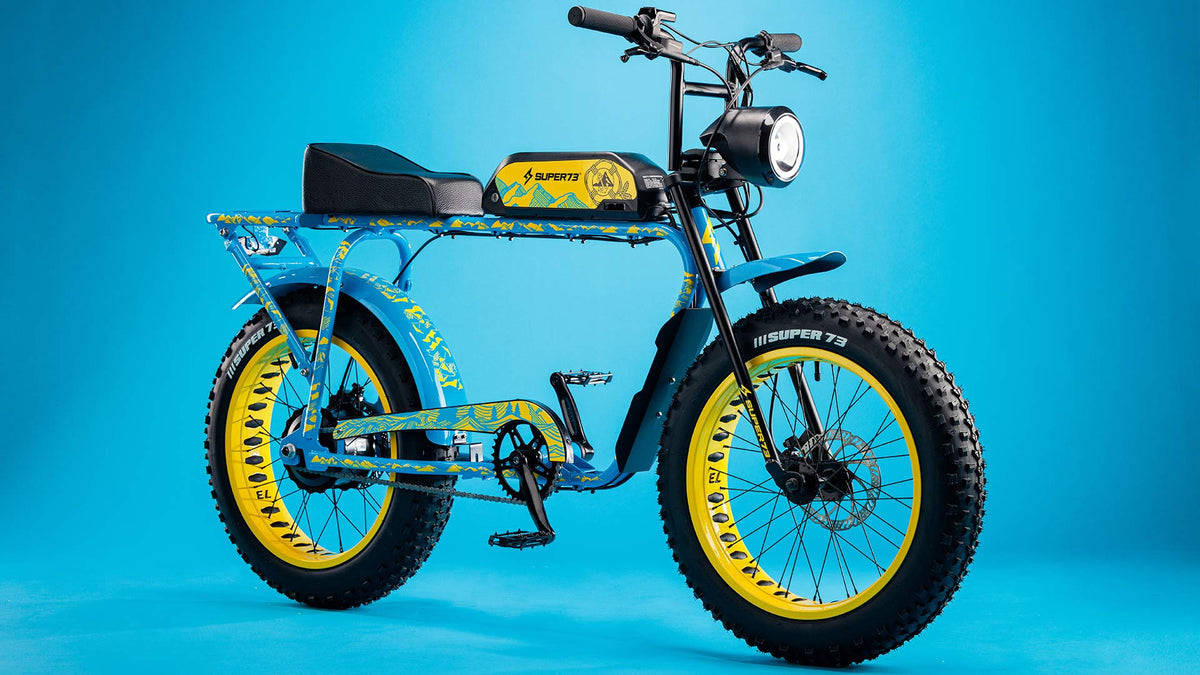 ANCHORS (AND KICKSTANDS) UP!
We took the adventure one step further with our inaugural Pacifico collaboration. These custom SUPER73-S1s were designed to both get the party started and keep it going with eye-catching details and Pacifico's signature style.
CHLOE MORETZ
Inspired by Chloe's love of classic moto culture, this custom SUPER73-RX has an aged looking seat and traditional moto-style striping to complete the look.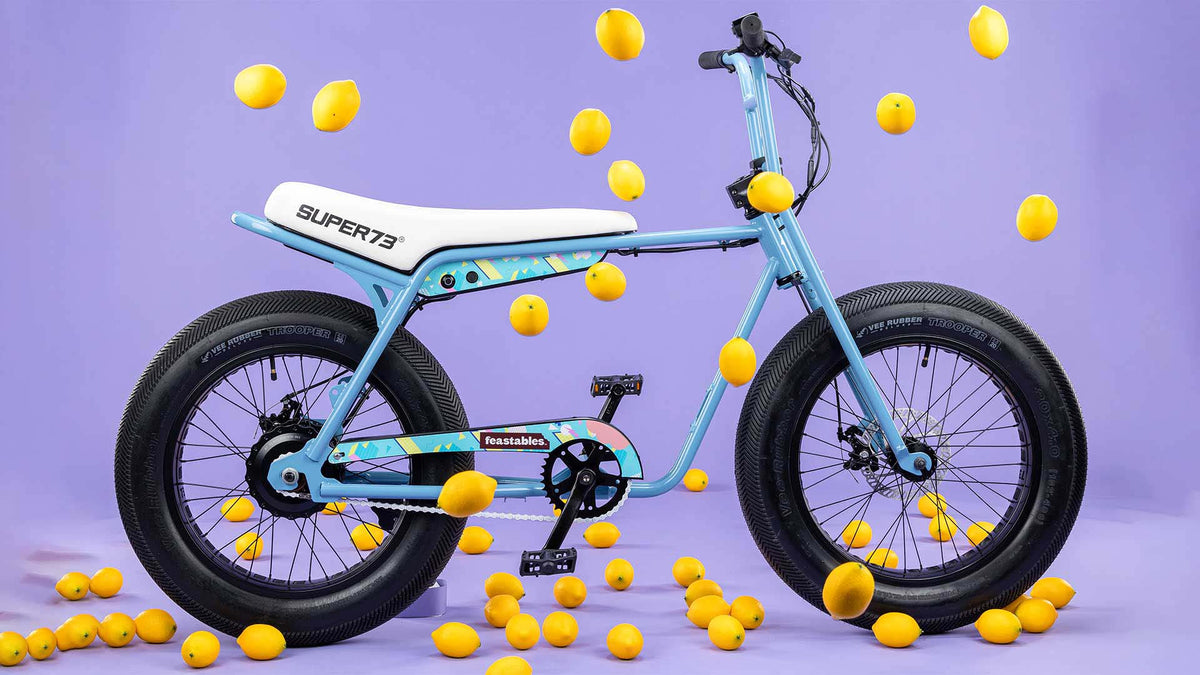 MR. BEAST FEASTABLES
We teamed up with YouTube master Mr. Beast for his Feastables Sweepstakes Spectacular to create these epic customs. The bikes were designed to embody the fun and imagination imbued in every aspect of the Feastables brand.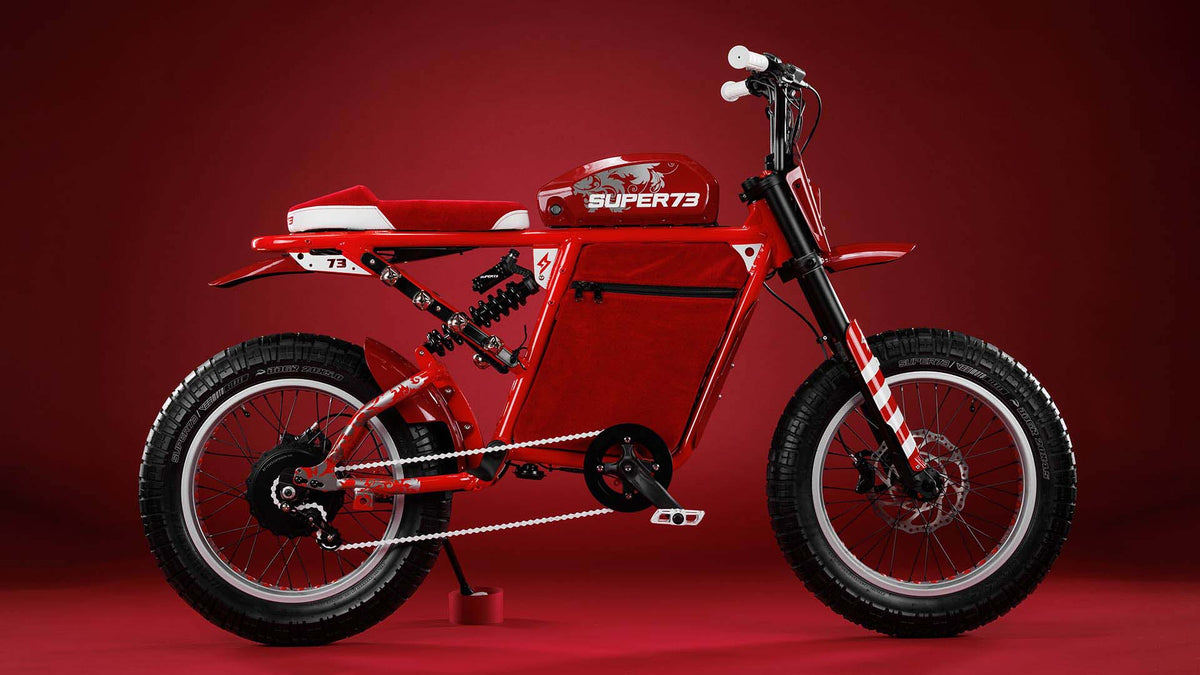 SANTA BIKE
Let's face it...Santa deserves a little love too. We created this custom to honor the big man in red complete with bells, a custom frame bag capable of holding all of your toys, and a special faux velvet seat by Saddlemen.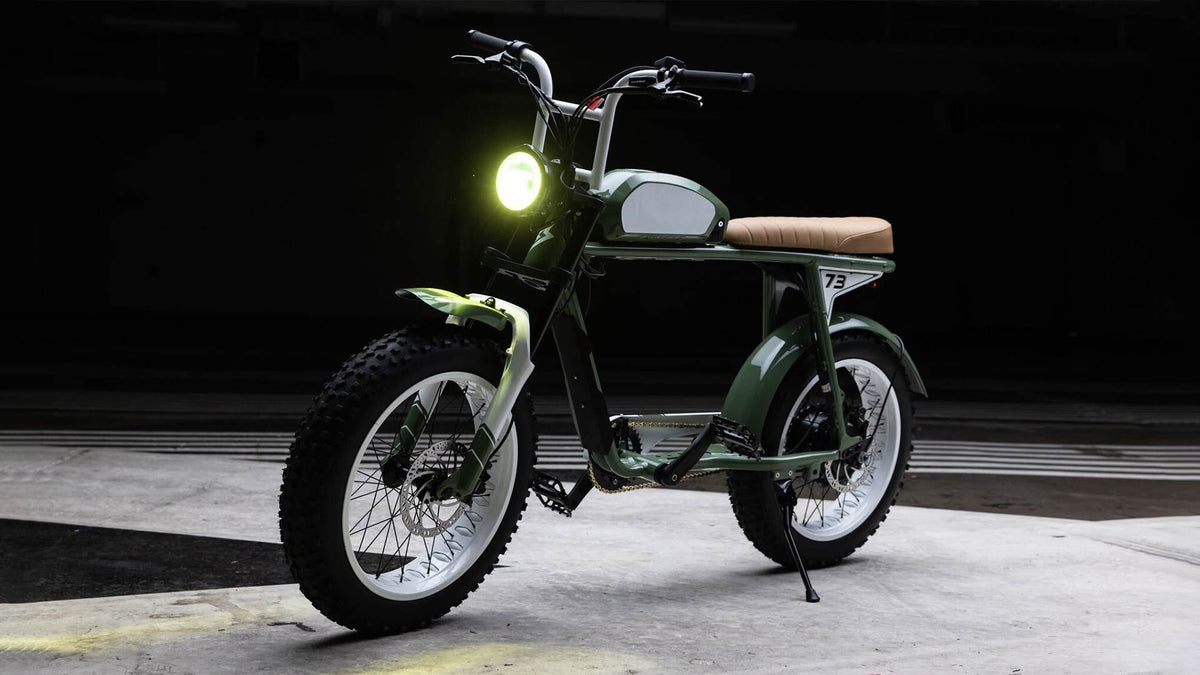 FORD BRONCO
This dream build came to life with the help of John Pangilinan, whose matching Ford Bronco project vehicle debuted at the SEMA Trade Show last year. This award winning design came complete with custom gold chains, a yellow-tinted headlight, and a bread loaf-style custom seat.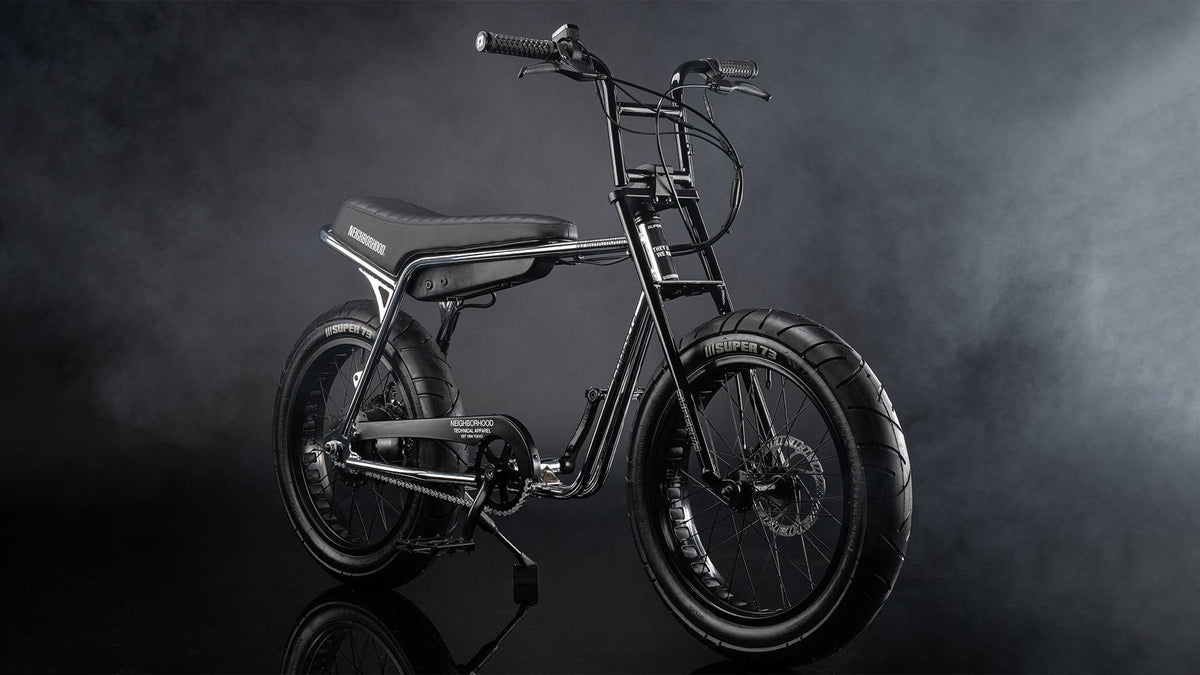 THE NEIGHBORHOOD X SUPER73
We worked with Neighborhood, one of the top, global streetwear brands to create this custom SUPER73-S1. Featuring a chrome-plated frame, a long style 'Cobra' seat, and subtle NBHD branding throughout the bike, this build was meant to emphasize both power and style.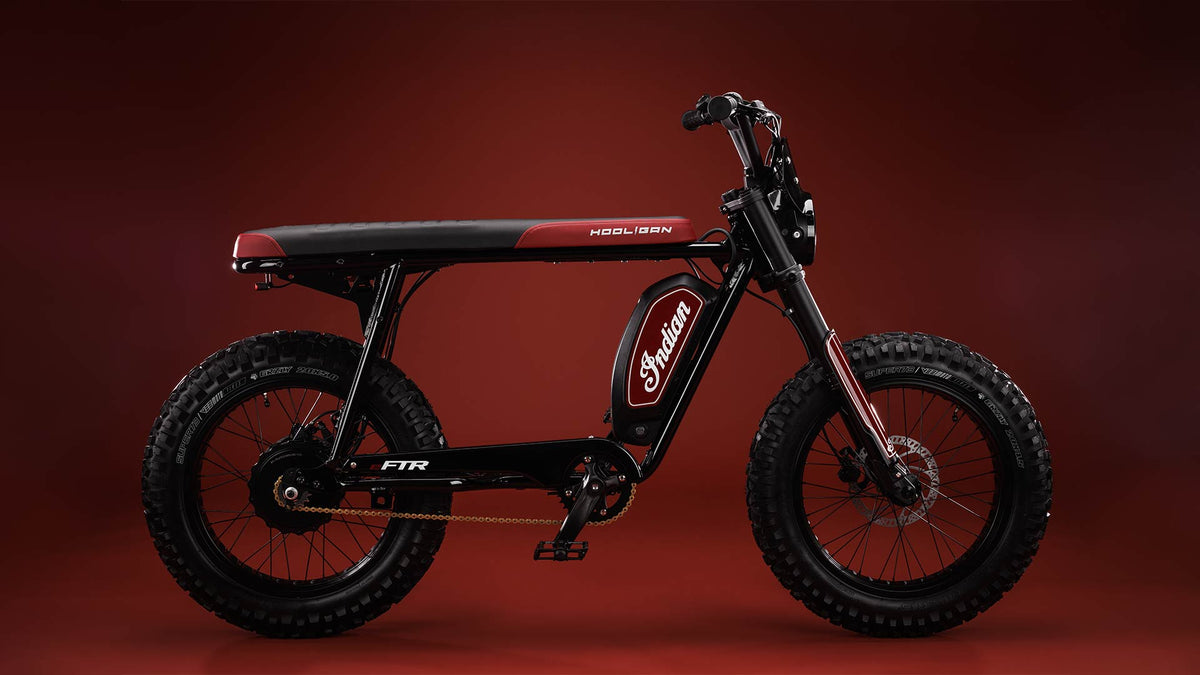 INDIAN MOTORCYCLES
The eFTR Hooligan 1.2. was engineered in collaboration with the legendary Indian Motorcycle to combine SUPER73's electric powertrain and ebike expertise with all the design elements and styling of Indian. This custom bridges the gap between motorcycle enthusiasts and ebike aficionados.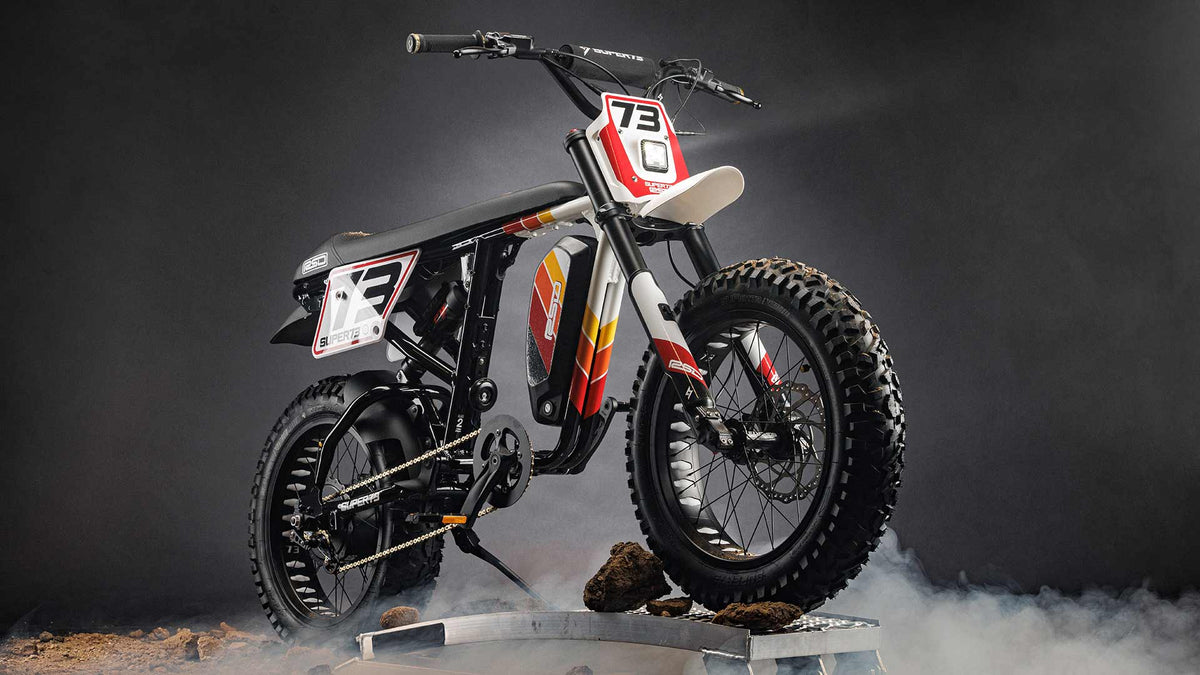 ROLAND SANDS DESIGN
We partnered with the team over at Roland Sands Design to create the RSD x SUPER73-RX Malibu, a custom that blends the effortless style of moto culture with the efficiency of an electric bike.
ROSE AVE
Made in partnership with YouTube sensation Jesse Wellens to celebrate his Rose Ave clothing line, this special edition SUPER73-S1 was designed to pair rugged style with effortless adventure.
MADHAPPY
We partnered with MADHAPPY to create a custom SUPER73-S2 in three exciting new colorways designed to replicate the colors found in nature. Launched on Earth Day, this custom was made as part of a commitment to responsibly produced products and global sustainability.
NOEL MILLER
This custom SUPER73-RX was built to pay homage to YouTube sensation Noel Miller's unique racing style. With a special paint job to match Noel's suit and helmet, this bike was meant to stand out.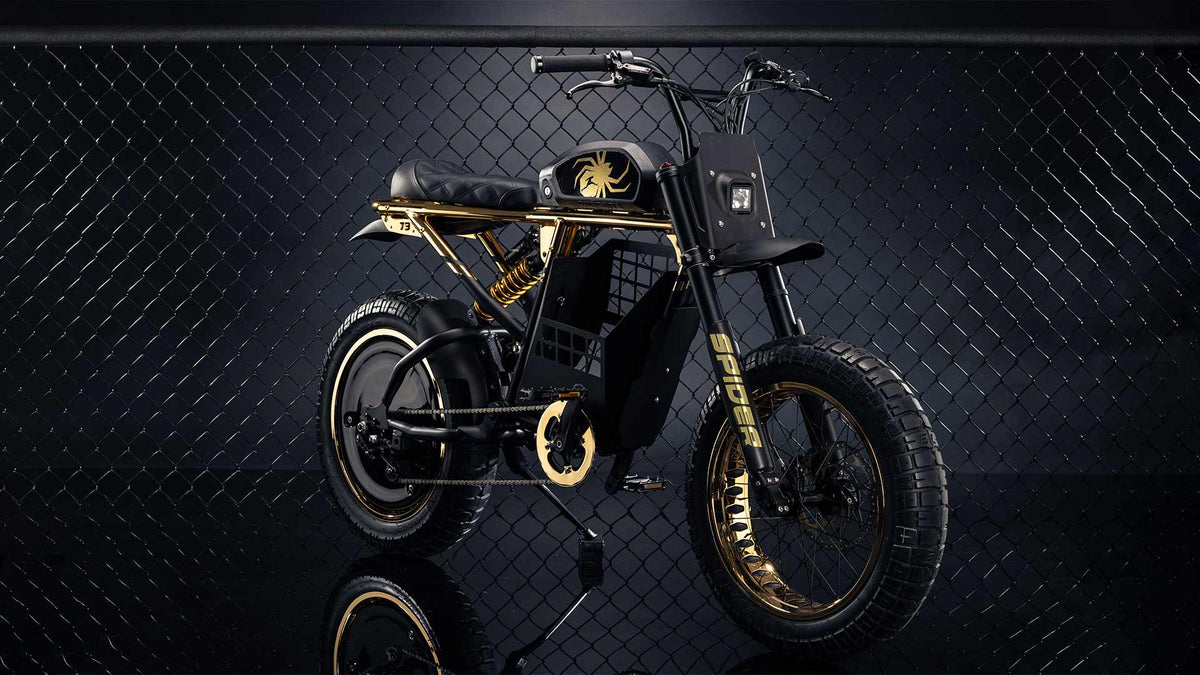 ANDERSON SILVA
What kind of custom do you create for a modern day superhero? We answered this question with our modified SUPER73-RX — powerful performance and design that packs a punch.
THE MOTOPSYCHO
We partnered with the mad scientists over at Liquid Death to create a one-of-a-kind model that we deemed "The MotoPsycho." Known for pushing the boundaries of tradition, Liquid Death helped us take this custom SUPER73-S2 to the next level.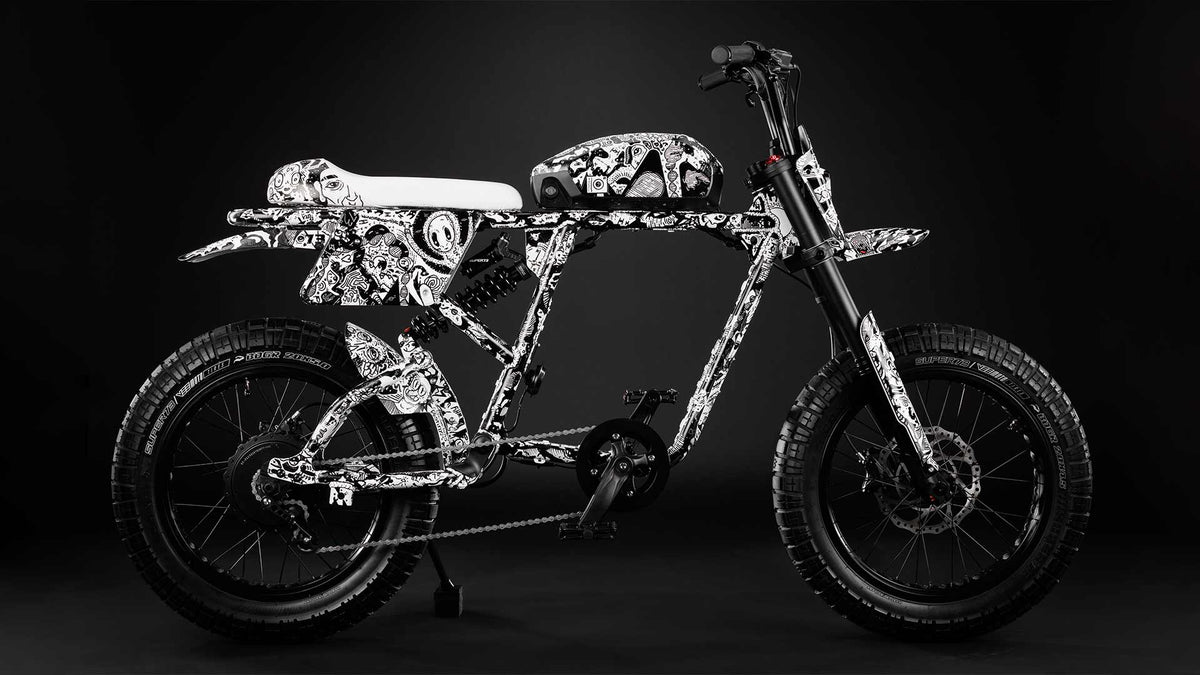 CODY NOVELL - SHARPIE BIKE
We're always blown away by what this community can do, but Super Squad member Cody Novell really took things to the next level with this custom SUPER73-RX. Through an abundance of creativity and dedication, Cody was able to design this entire custom by hand, using nothing but a Sharpie!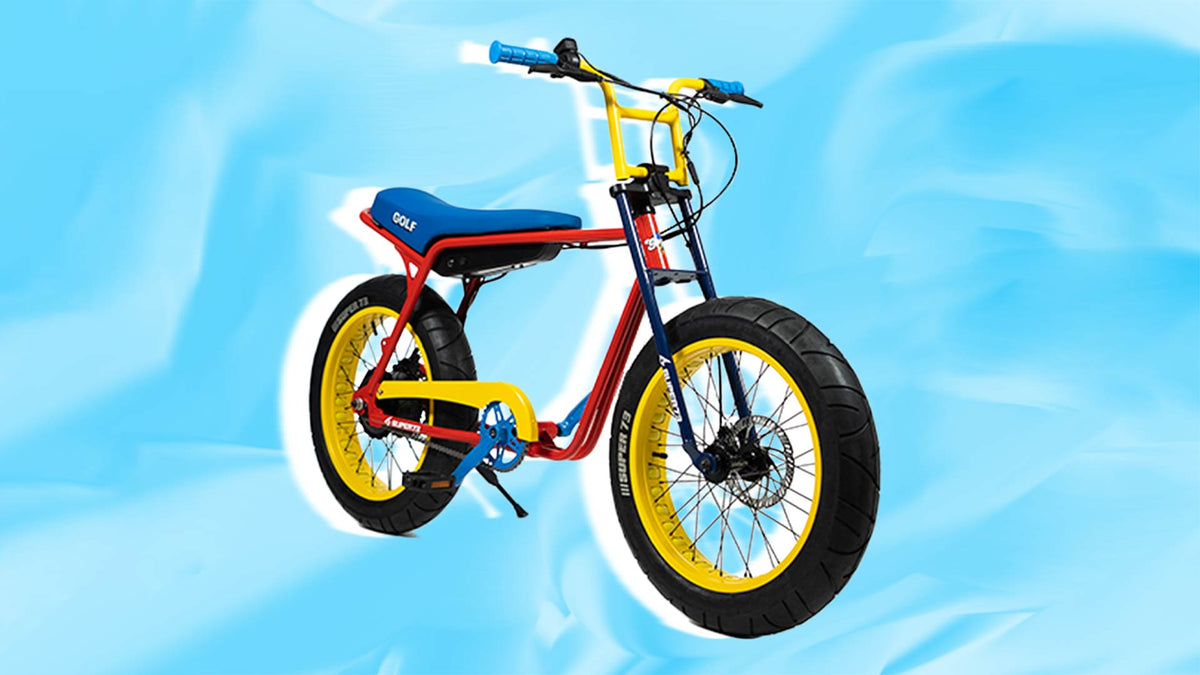 TYLER THE CREATOR - GOLF
This eye-catching custom SUPER73-Z1 was created exclusively in collaboration with Tyler the Creator and the team over at Golf Wang. Simultaneously fashion forward and unconventional, we wanted this model to do justice by such an innovative brand.
POST MALONE
We hit the ground running with one of our first custom projects ever for world renowned rapper, Post Malone. This 24K gold project was a real team effort with custom leather work, frame modification, and decal work.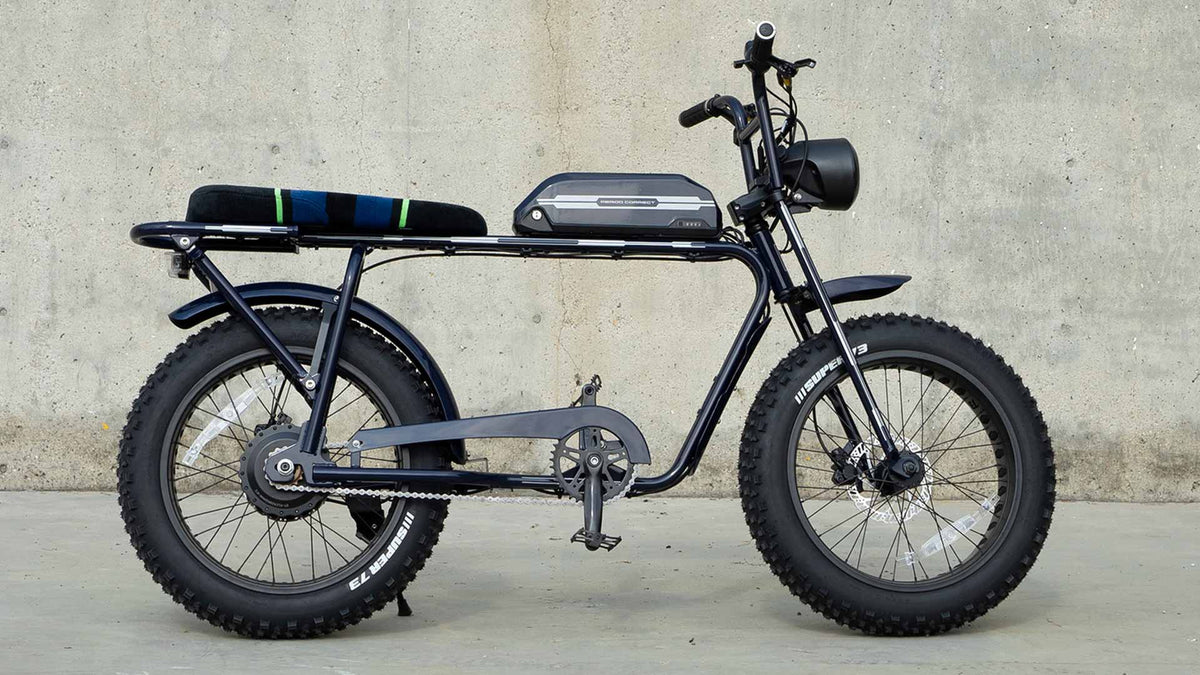 PERIOD CORRECT X SUPER73
We teamed up with Period Correct to create a custom SUPER73-S1 that James Bond himself would love. Combining classic style with modern flair, this collaboration has timeless appeal.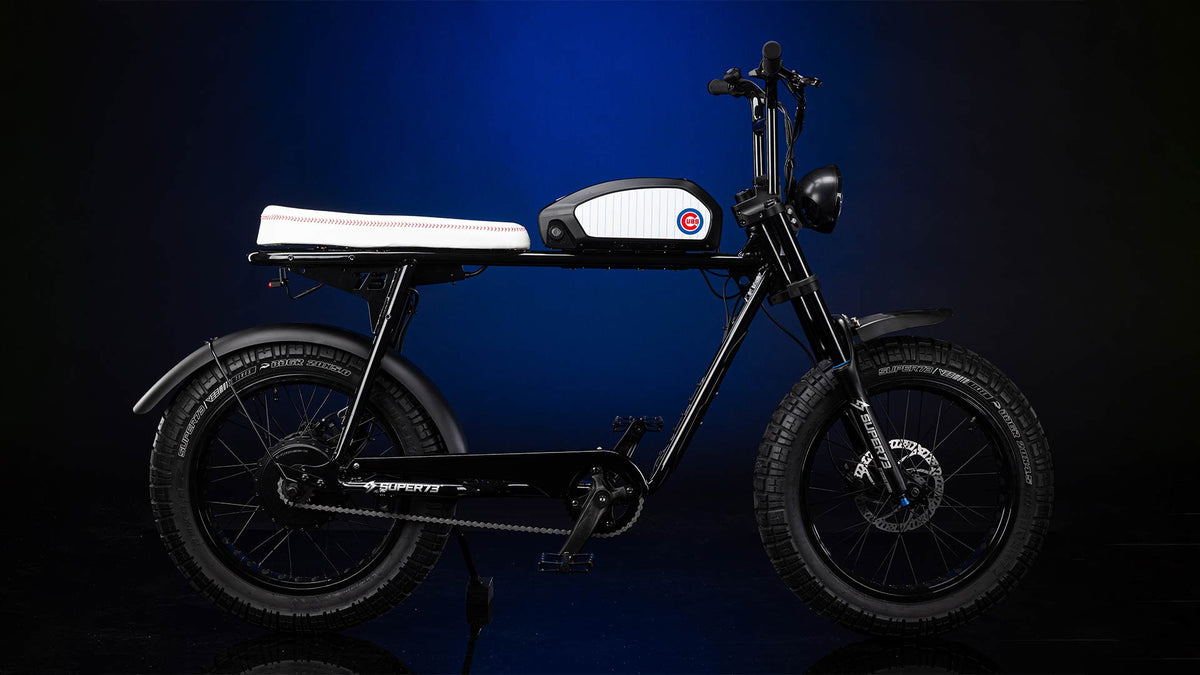 CHICAGO CUBS
 Designed to celebrate MLB legends, The Cubs, this custom SUPER73-S2 has what it takes to be classified as a "Grand Slam". With detailed stitching added to an iconic Saddleman seat and clean decal work, this bike was made to replicate the excitement of the big game.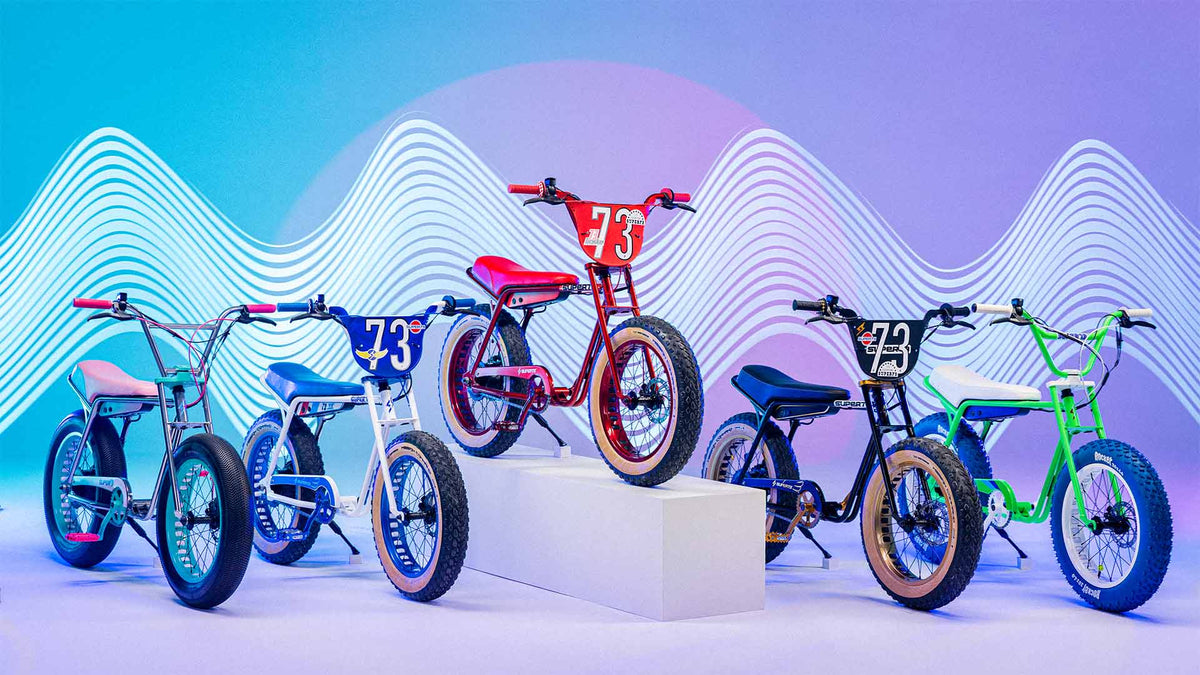 BMX MANIA
We created not one, but five custom Z-series bikes meant to pay homage to the colorful BMX lifestyle of the late eighties and early nineties. These customs were unveiled at 2022's ComplexCon and added a bold splash of character to the year's lineup.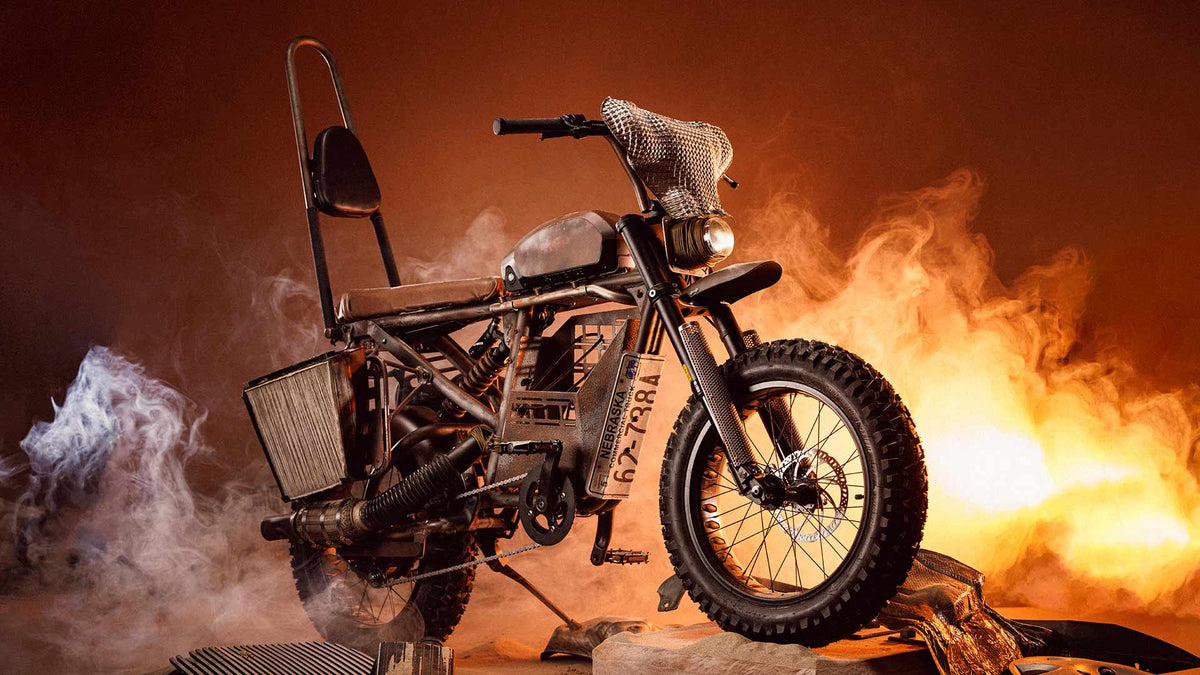 JESSE WELLENS x SUPER73
 Bringing this post-apocalyptic model to life was a fun challenge for our Halo team. Carefully pieced together to replicate a vehicle you'd find in George Miller's iconic "Mad Max"; we gave YouTube sensation Jesse Wellens a ride to remember during his annual pilgrimage to Burning Man.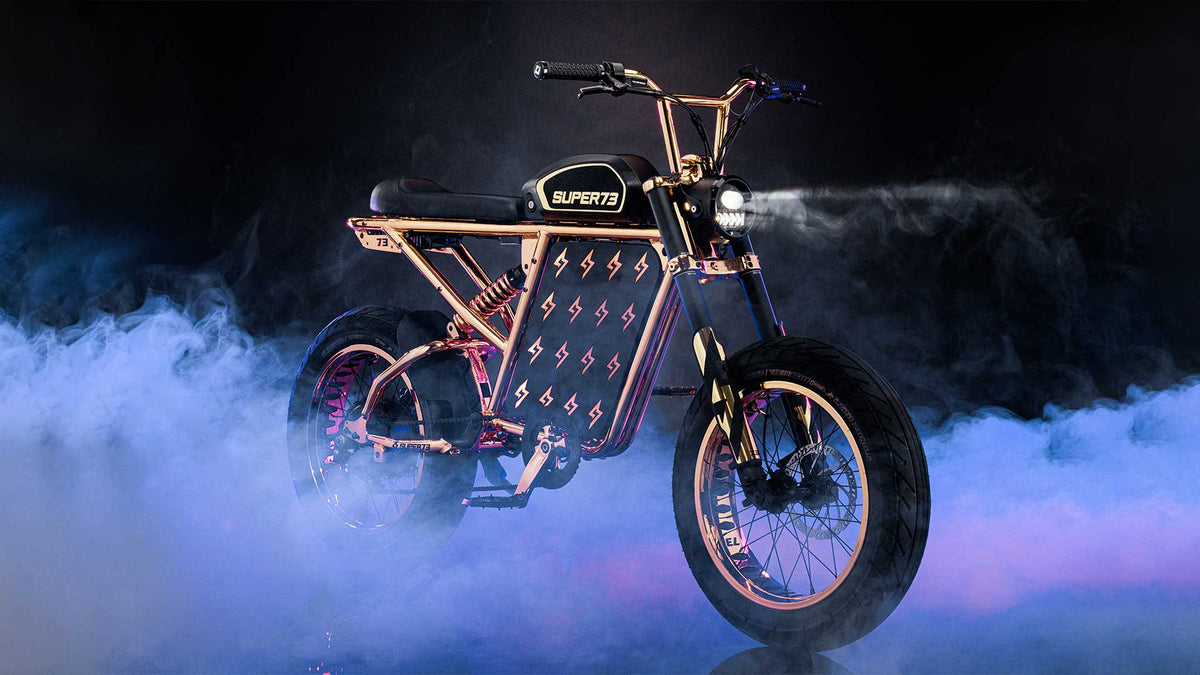 VIDSUMMIT x SUPER73
We were honored to be asked to design a custom bike for 2022's VidSummit, where the world's top viral minds and personalities converge. Our team upped the ante with an LED-paneled, gold-plated SUPER73-R Brooklyn which was unveiled exclusively for the event.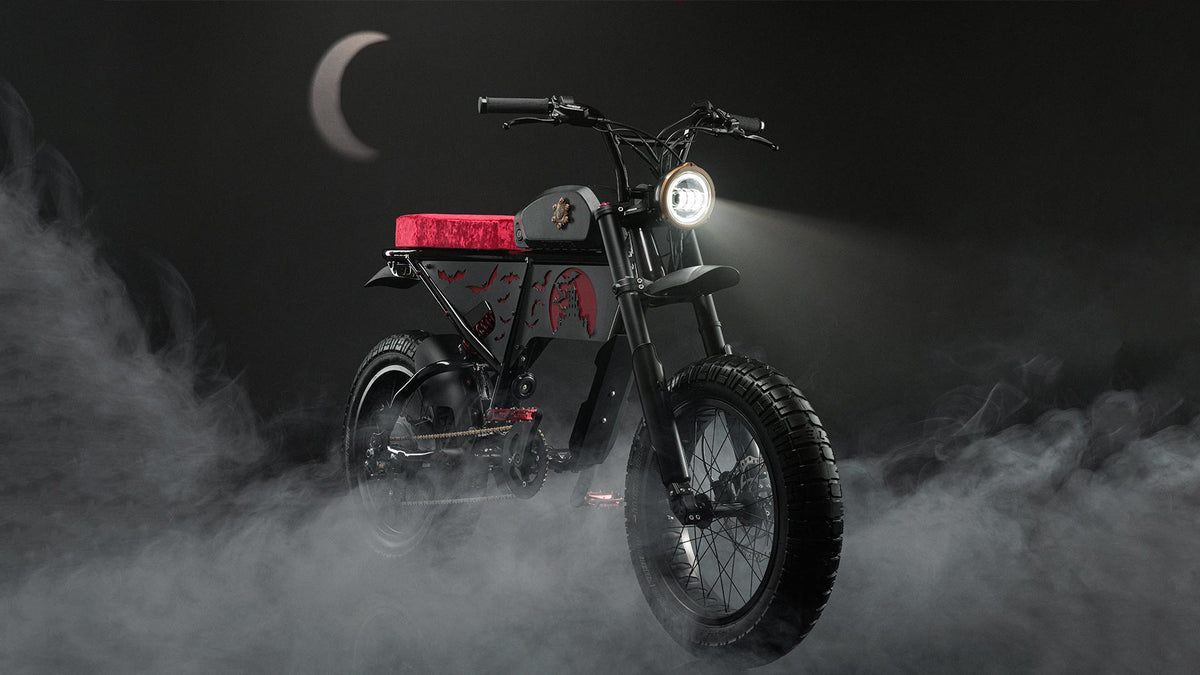 DRACULA
We didn't have many tricks up our sleeve this Halloween, but we did have one massive treat. Our team had a blast designing a bike cool enough to raise the dead with a custom, coffin-style seat and matte black detailing.